Republican frontrunner Donald Trump continued his verbal assault on Megyn Kelly Monday, telling CNN that he was not 100 percent certain he would attend Thursday's debate over concerns the Fox New host would treat him unfairly.
"I don't like her. She doesn't treat me fairly. I'm not a big fan of hers at all," Trump told "Situation Room" host Wolf Blitzer.
.@realDonaldTrump suggests he may skip Fox debate if @MegynKelly isn't fair https://t.co/KrzCfEHISH https://t.co/g8NbtTKbIF

— The Situation Room (@CNNSitRoom) January 25, 2016
The billionaire businessman said he'd "like to go to the debate," adding "we'll see what happens."
"If I think I'm going to be treated unfairly, I'll do something else," Trump said. "But I don't think she can treat me fairly actually. I think she's very biased and I don't think she can treat me fairly."
Fox News was swift to respond.
"Sooner or later Donald Trump, even if he's president, is going to have to learn that he doesn't get to pick the journalists—we're very surprised he's willing to show that much fear about being questioned by Megyn Kelly," a network spokesperson said in a statement provided to TheBlaze.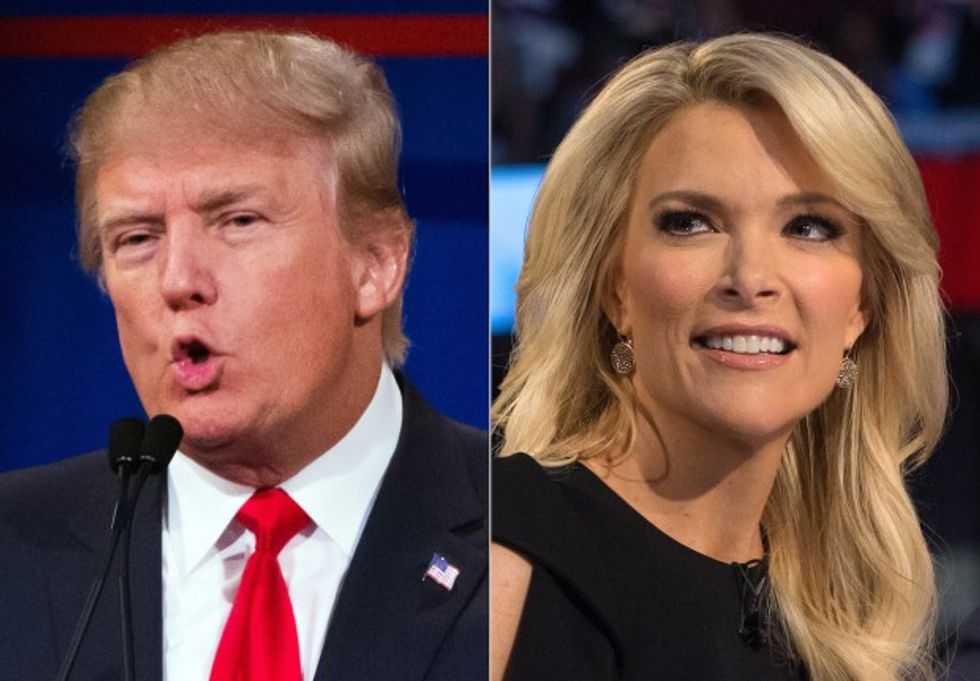 AP Photo/John Minchillo
Trump first brought up the issue of Kelly moderating Thursday's debate over the weekend. In a tweet, he said she should not allowed to question him, alleging she had demonstrated "bias" and had a "conflict of interest."
A Fox News spokesperson said at the time that Kelly "has no conflict of interest" and thanked Trump for "trying to build up the audience" for the debate.
The billionaire businessman has been at odds with Kelly since the first Republican debate last year. Trump alleged the questions from the Fox News moderators, chiefly Kelly, were unfair and aimed at sinking his candidacy. He subsequently unleashed a weeks-long attack on the network host.
For her part, Kelly has refused to return fire against Trump. She briefly addressed the "dust up" for a few minutes on her program and in an interview with Charlie Rose.
Trump's charge of bias comes a week after Kelly featured a Frank Luntz focus group on her program that offered him glowing praise and hosted his spokeswoman on her program.
—
Follow the author of this story on Twitter and Facebook: