When members of a controversial U.K. political movement known as Britain First recently took to the streets in Bury Park, Luton, carrying Christian crosses and handing out literature, it didn't take long for the group to boisterously clash with local Muslims.
In a heavily edited video posted on Britain First's social media accounts, the protesters are seen arguing with Islamic adherents after group leader Jayda Fransen appeared in the clip to explain why Britain First was hosting the first-ever "Christian Patrol" of the area.
"We're giving out newspapers. We've got our Christian crosses, and we are going through the town," Fransen explained. "We've already had a bit of hostility, but we're marching through. This is a British town and we're proud to be British."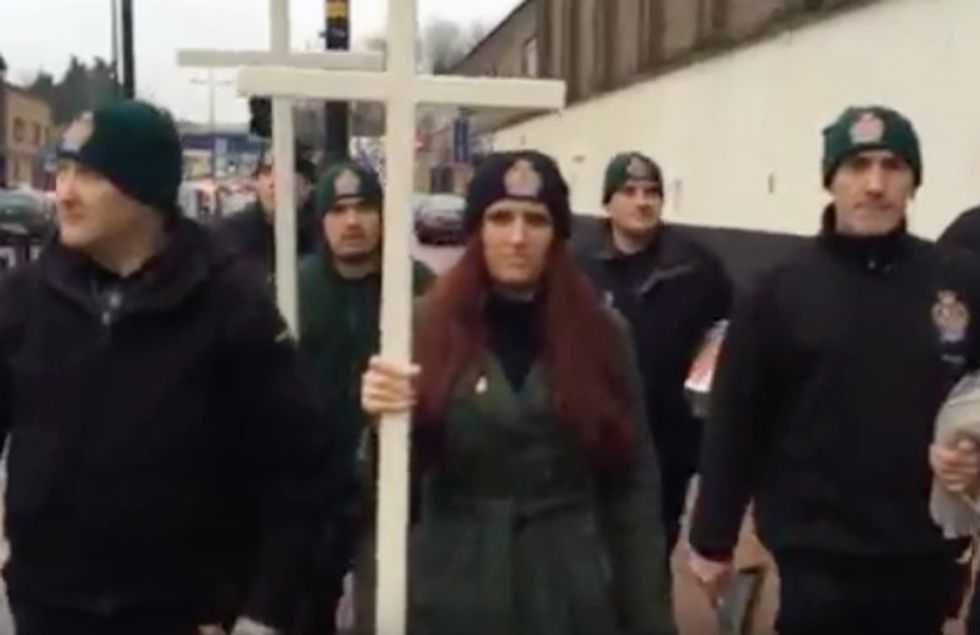 Christian protesters walk through a U.K. neighborhood (Britain First/YouTube)
What follows is footage of men who are reportedly Muslim yelling things like, "You're jealous that we're taking over." The same man who said that later barked, "F**k you. It's our country."
Fransen responded, "It's a Christian country!" with the man continuing to push back, "No, it's not ... it's not a Christian country." Unmoved, Fransen pressed on, gesturing to a large, white Christian cross she was holding and proclaiming, "See this cross. This will prevail."
Another woman who appeared to be siding with the Muslim men shouted, "The Muslims will take over! Watch!"
See the shocking video below:
At moments, the clip makes it look as though Britain First members — who shouted things like, "This isn't your town!" and "Reject the false Prophet Muhammad and follow the true savior of the world, Jesus Christ our Lord!" — were being pushed or punched by Muslims.
Fransen later said as much in the edited video, though the exact circumstances surrounding these alleged assaults were difficult to see in the video.
"We were walking through ... we just literally got mobbed. Muslims came back from every angle," she said. "They were threatening violence. People tried to attack me ... people tried to attack our activists. They're throwing things."
Britain First went on to say in a description of the video that Ludon is "perhaps the worst hotspot in the whole country for Islamists," explaining that the Christian Patrol was put together after the "recent imprisonment of an ISIS supporter" in the local area.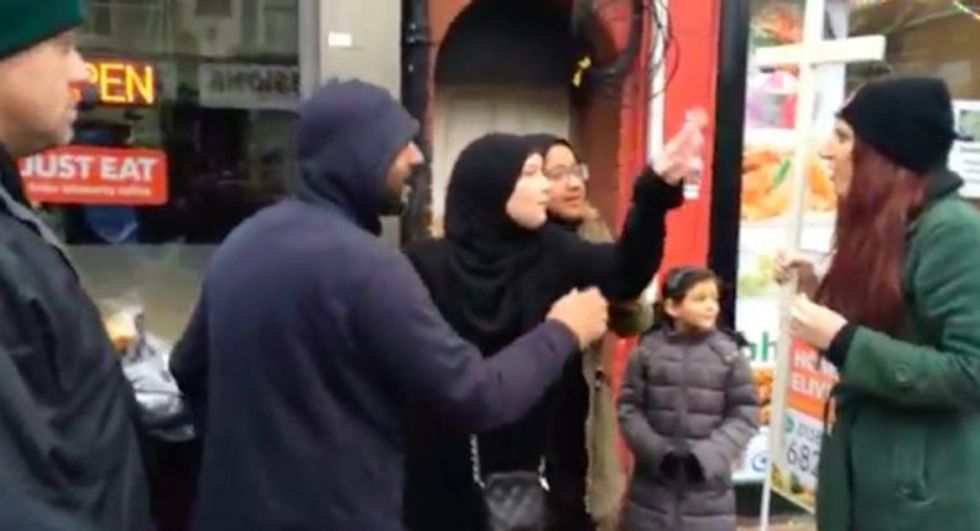 Britain First/YouTube
Other Christians later spoke out against the Britain First protest, handing flowers out to local Muslims in a show of solidarity — a move that Britain First decried, calling those Christians "gormless, trendy, politically correct, tree hugging sandle wearing hippies who only care about multiculturalism," according to Luton Today.
--
Follow the author of this story on Twitter and Facebook: