Liberty University President Jerry Falwell Jr. has endorsed Republican front-runner Donald Trump for president, the billionaire's campaign announced early Tuesday afternoon.
"I am proud to offer my endorsement of Donald J. Trump for president of the United States," Falwell said, according to a statement from the Trump campaign. "He is a successful executive and entrepreneur, a wonderful father and a man who I believe can lead our country to greatness again."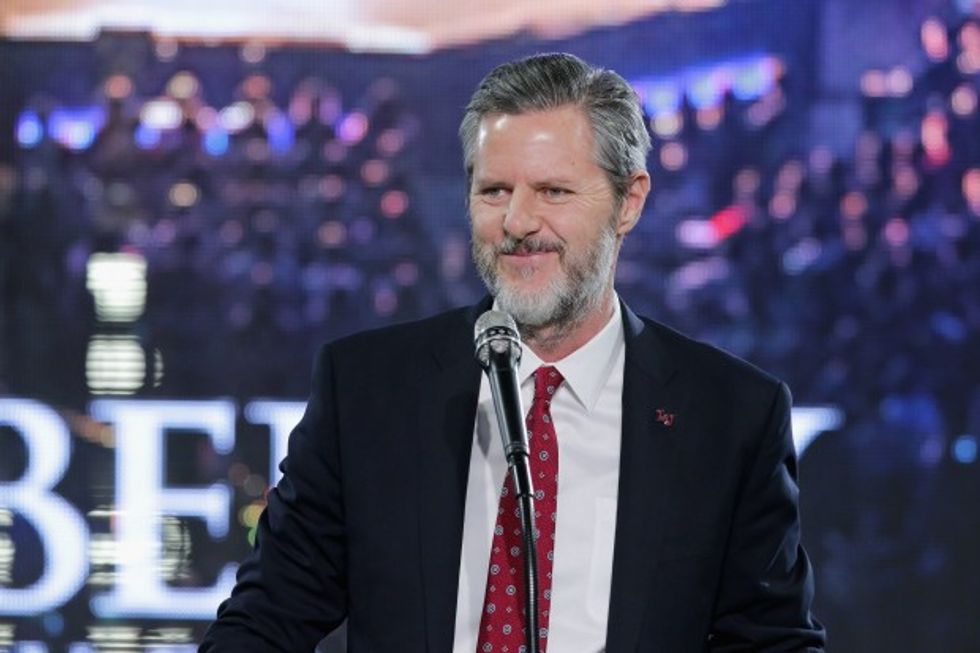 Liberty University President Jerry Falwell Jr. introduces Republican presidential candidate Donald Trump at convocation in the university's Vines Center on Jan. 18. (Getty Images/Chip Somodevilla)
In the statement, Trump called the endorsement an "honor."
"It is truly an honor to receive Jerry's endorsement," he said. "Not only is he a high-quality person, with a wonderful family, whom I have great respect for — I also consider him a very good friend and his support means so much to me."
Falwell has long been expected to endorse Trump, as he has spoken very highly of the billionaire businessman over the past several weeks. However, the move comes as a bit of a surprise given that Falwell denied last week that he would be endorsing a political candidate, citing Liberty's status as a non-profit organization. A statement from the campaign did note, however, that the endorsement is "personal and not on behalf of the university."
While introducing Trump at Liberty's convocation Jan. 18, Falwell compared Trump to his late father, famed preacher and founder of Liberty University Jerry Falwell.
"I see a lot of parallels between my father and Donald Trump," he said at the time. "Like Mr. Trump, Dad would speak his mind. … Dad explained that when he walked into the voting booth, he wasn't electing a Sunday school teacher or a pastor or even a president who shared his theological beliefs. He was electing a president of the United States to lead a nation."
According to the Washington Post, the endorsement came together over the course of the last several months as Falwell and Trump exchanged many private phone conversations.
Falwell's endorsement comes one week after former Alaska Gov. Sarah Palin also endorsed Trump. Both Falwell and Palin are expected to help Trump in rallying evangelical voters onto the Trump bandwagon.
—
Follow the author of this story on Twitter and Facebook:
[facebook //www.facebook.com/plugins/like.php?href=