The Center for Medical Progress released financial documents Thursday that they say provide evidence that Planned Parenthood profited from the sale of aborted fetal body parts.
On Monday, a Texas grand jury indicted David Daleiden, the founder of the Center for Medical Progress, and Sandra Merritt for their roles in the release of controversial undercover videos of Planned Parenthood executives appearing to negotiate the price of aborted fetal body parts with actors portraying buyers from a human biologics company.
Both Daleiden and Merritt were indicted on charges of tampering with a governmental record, and Daleiden was additionally indicted for prohibition of the purchase and sale of human organs. No Planned Parenthood employees were indicted.
But the pro-life group maintains that they have evidence that Planned Parenthood did profit from the sale of aborted fetal body parts, which is a felony in the United States.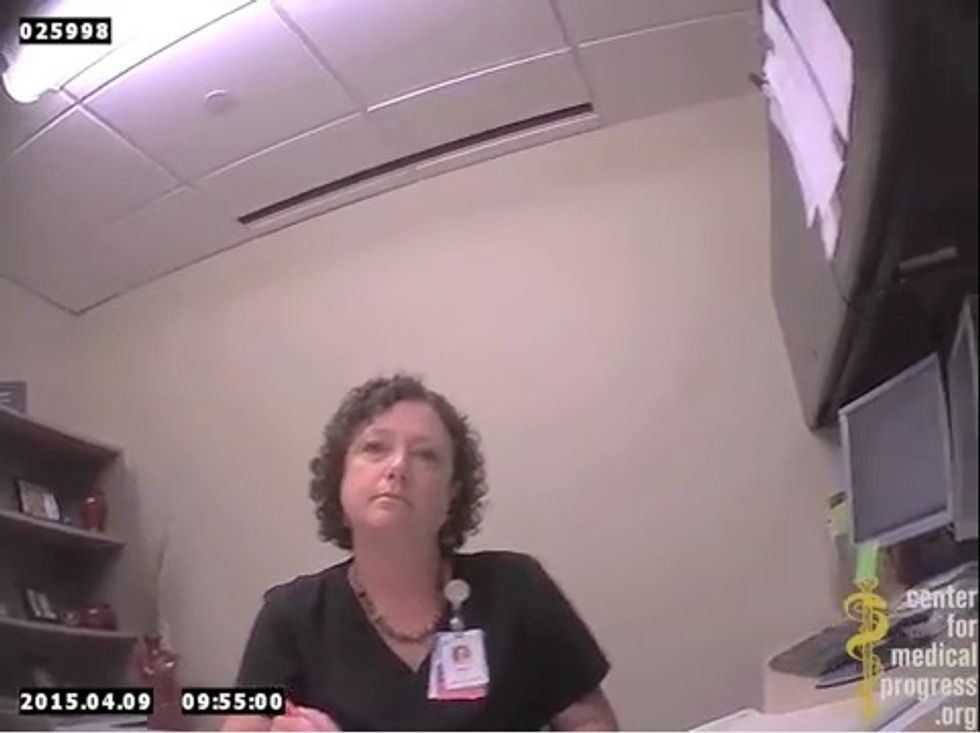 A scene from the full footage of CMP's conversation with Planned Parenthood Gulf Coast Director of Research Melissa Farrell. (Image source: Center for Medical Progress)
"Planned Parenthood Gulf Coast's Director of Research, Melissa Farrell, has overseen their program selling aborted fetal parts over the past 10 years," Daleiden alleged. He added:
Farrell admitted on camera to undercover investigators that PPGC "worded" the per-specimen charges for fetal specimens as "per consent" in order to "frame" the project budget in a way that will look legal "on paper." Whether the "consent fee" for fetal tissue is $25 or $150, it is completely outside the letter and spirit of Texas Penal Code 48.02. Farrell even suggests that a "per consent" payment can accommodate situations where a fetal specimen is unusable so a buyer would not pay for low-quality fetal parts — a clear admission that the payments are based on market value of the fetal specimens, not on reimbursement of actual costs.
"Now, Texas taxpayers can see the illegal proxy payments for fetal specimens on PPGC's own invoices to UT Medical Branch, which either inexplicably jumped from $25 per specimen to $150 per specimen over the course of one year, or demonstrate an illegal scheme to make extra money off of usable specimens," Daleiden said.
"Gov. Abbott and Attorney General Paxton must hold Planned Parenthood Gulf Coast accountable for their flagrant violation of the Texas Penal Code and their abuse of Texas taxpayers' dollars," he added.
Texas Gov. Greg Abbott (R) has said that the indictment will not impact the state's ongoing investigation.
The invoices itemize payment in two categories — one is described as a fee or reimbursement expense, and the next is itemized as a "consent payment." The documents were signed by Farrell.
Spokespersons for Planned Parenthood have maintained that they were reimbursed only for expenses.
Daleiden also pointed to a conversation the actors portraying buyers from a human biologics company had with Farrell:
"Now obviously, we don't want to end up paying for material that we can't use," the "buyer" said.
"Obviously," Farrell said.
"I just don't want it to turn into a situation where it's not financially beneficial for you," the actor tells Farrell later in the conversation.
"I'll take you up on that," she said. "We definitely want to do that."
"And I go to great efforts to demonstrate what the cost, actual cost is to us — to whomever asks — and then, this is what is budgeted," she continued. "So they know, OK, you're covering costs, there's margin, that's covering overhead, or whatever we need, just to make sure everything is covered."
Melaney Linton, president and CEO of Planned Parenthood Gulf Coast, said in a statement Monday that claims her organization profits from the sale of fetal body parts "are completely false and unfounded."
—
Follow Kate Scanlon (@kgscanlon) on Twitter