One Texas mother fought back after she discovered that a picture of her 4-year-old son had been used in a cruel meme and spread all across social media, describing her experience in a blog post published Sunday.
AliceAnn Meyer originally posted the photo of her son, Jameson, with his face covered in chocolate and marshmallows as he grinned at the camera, in 2014, the New York Daily News noted. Jameson, 4, has a rare genetic disorder known as Pfeiffer syndrome, in which the shape of a child's head and face are affected. But little did Meyer know that someone would take that photo of her son and ridicule him and his disorder by comparing him to a pug dog in a meme that rapidly spread across social media platforms.
"It was disheartening to see how many times [the photo] had been shared, and even in different languages," Meyer told the Daily News.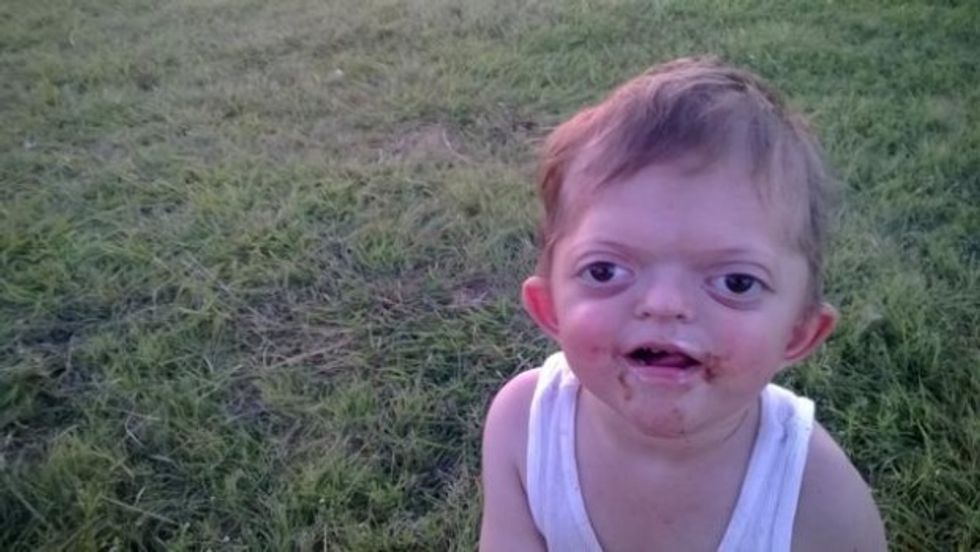 Jameson Meyer (Image source: AliceAnn Meyer)
After she saw the meme, which had been shared thousands of times on Facebook alone, Meyer immediately took action and posted information on her blog and throughout the Internet as she and her supporters lobbied to have the memes removed from Facebook, Twitter, Instagram, and elsewhere. Citing harassment and offensive content, Meyer also filed copyright claims to her original picture, since it was featured in the meme.
Meyer said that she was shocked by the number of people who did not realize how offensive and hurtful the meme was to her, Jameson, and all those who have Pfeiffer syndrome.
"One person told me the image was photoshopped, that it wasn't even a real person," Meyer told the Daily News. "That struck a chord with me."
Ultimately, Meyer wrote about her experiences in a blog post titled, "This Is My Son Jameson, and No, You May Not Use His Photo."
"I could sit idly by and tell myself that there are cruel people out there and that's the world we live in," Meyer wrote. "If you are going to laugh and share this meme, I think you should know exactly what it is you are sharing and laughing at."
Through this whole experience, Meyer hopes that her words and actions will help motivate others to stop online bullying while raising awareness for the reality of Pfeiffer disorder and the children and families who live with it and other disorders.
"I promise you that as hurt as I am that someone created this meme I am not naive enough to believe there aren't people out there who will mock and bully my child," Meyer wrote. "But, I will always do what I can to encourage people to open their minds, hearts, and lives to Jameson and kiddos like him. We always Choose Kind, and we want you to as well."
—
Follow Kathryn Blackhurst (@kablackhurst) on Twitter