Twenty years after their deaths, Tupac Shakur and Christopher Wallace, A.K.A. "Biggie Smalls" are still acknowledged as founding fathers of true hip-hop. In a new documentary entitled "Murder Rap," a former LAPD detective is claiming to know who is behind both killings.
Detective Greg Kading recently said that Grammy-winning hip-hop artist Sean "Diddy" Combs was behind the deadly drive-by shooting that killed rap legend Tupac in 1996.
Diddy, a New York native, and Tupac, from L.A., were engaged in a deep rivalry between East Coast and West Coast rappers.
Biggie Smalls, a Brooklyn rapper who had a loyal relationship with Diddy, was shot and killed six moths after Tupac in what officers claimed to be a revenge killing.
Kading, who once led a special task force to investigate the shootings, says in a documentary that Diddy paid Crips gang member Duane Keith "Keffe D: Davis $1 million to kill Shakur and his manager Marion Hugh 'Suge' Knight.
The documentary, based on Kading's book published in 2011, includes a 2008 interview with Keefe, who claims that Diddy once said to a room full of Crips that he would "give anything for Pac and Suge Knight's heads."
But it was actually Keffe's nephew, Orlando 'Baby Lane' Anderson who shot and killed the 25-year-old rapper on September 7, 1996, according to Kading. Knight managed to get away unharmed.
Kading claimed that Knight hired Bloods gang member Wardell "Poochie" Fouse to kill Biggie for $13,000 to avenge the late Shakur. Biggie,24, was shot to death on March 9, 1997, just six months after Tupac's death.
Christopher Wallace, also known as Notorious B.I.G. (AP Photo/Venus Bernardo-Prudhomme)
Over the course of investigating, Kading told the Huffington Post that he was able to corner Keffe into giving a verifiable confession about the events that led to Shakur's murder in order to dodge severe charges for another crime.
"If his intention was to just get away with it, so to speak," Kading said, "it would have been very easy for him to not include all the details that he did."
The extra details, noted in the documentary, include the confession that Combs hired Keffe to commit the crime.
Knight remains incarcerated and is awaiting trial after he admitted to running over two men outside a Compton burger stand in California last January, killing one and critically injuring another.
His attorneys have claimed that Knight was fleeing armed attackers when he ran over the men.
Kading believes Knight was behind the murder of Biggie, also known as The Notorious B.I.G., who was killed while leaving an awards ceremony at Peterson Automotive Museum in L.A.
Kading was assigned to reopen the rappers' murder cases in 2006 when Biggie's mother, Voletta Wallace sued the LAPD on accusations that they had covered up her son's real killer, whom many believed to be former LAPD cop, David Mack, a rogue officer who served 14 years in jail for a $722,000 armed bank robbery in L.A. in 1997.
Many more, however, have asserted that both Biggie and Tupac's deaths can be linked to a decades-long "war" between the East Coast and West Coast.
Tupac's death remains a mystery to this day. No killer was ever charged in his murder.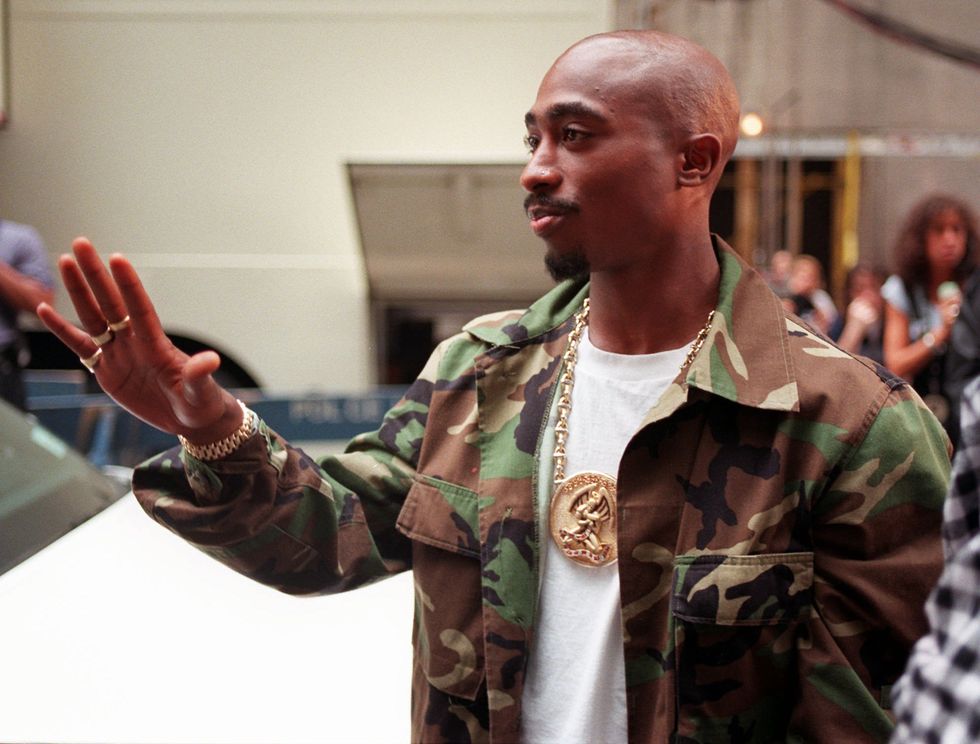 Rapper Tupac Shakur arrives at New York's Radio City Music Hall, Wednesday, Sept. 4, 1996. The famed New York City landmark will be rocking later in the evening when the 13th Annual MTV Video Music Awards take center stage. (AP/Todd Plitt)
Since the deaths occurred two decades ago, additional informants who might have been able to offer insight into the rappers' murders have died, and it seems unlikely that Kading's claims will ever go to court.
Unless he's sued by one of the accused, such as Diddy or Knight.
"I don't think any rational person looks forward to getting sued," Kading told Huffington Post. "But if I did, I would not shy away from it. I am very, very confident in the case. I'm confident in the evidence."
"It's been the worst-kept secret in Compton," filmmaker Mike Dorsey said of Kading's claims.
"I have absolute closure in the case already," Kading said. "There is no doubt in my mind that we've discovered the truth and we're presenting the truth. So as far as the murders go, they're solved."
The documentary was released in the U.S. Tuesday via iTunes and is now available to rent.
---
(H/T: Huffington Post)