Mark Burnett and Roma Downey are known for producing family friendly and Bible-based entertainment, but it was their personal stories of immigrating to the U.S. and achieving the "American dream" that took center stage during Thursday's National Prayer Breakfast.
The husband and wife duo each shared their individual rags to riches stories, with Burnett telling the more than 3,000 people in attendance at the Washington Hilton in Washington, D.C., about his move decades ago from London to Los Angeles after leaving the British Army at age 22.
Burnett said that he had "zero skills" at that time, but that he had a friend who was living in Los Angeles and working as a chauffeur. That friend had suggested that Burnett also consider doing the same job, but available positions were apparently hard to come by.
It didn't take long, though, for a different job posting to catch Burnett's eye: a live-in nannying position in Beverly Hills.
"It paid $125 per week and the job included a room, a car — and even cable TV," he said, noting that it involved cleaning and child care.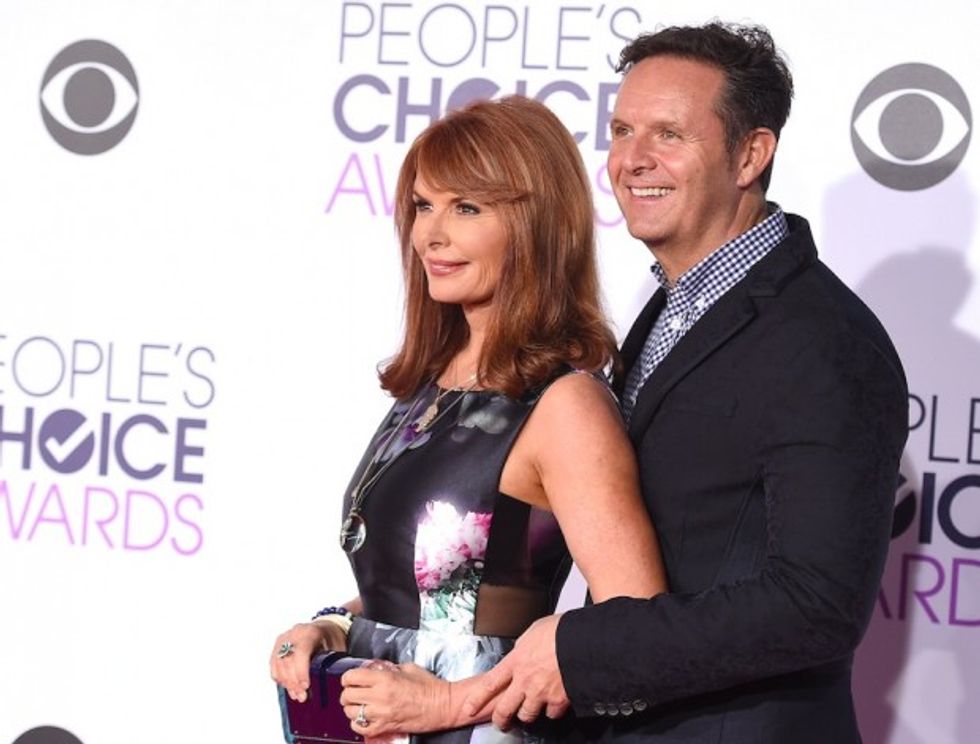 Roma Downey, left, and Mark Burnett arrive at the People's Choice Awards at the Microsoft Theater on Wednesday, Jan. 6, 2016, in Los Angeles. (Jordan Strauss/Invision/AP)
Burnett said that his friend was skeptical, saying that the position likely wouldn't work out.
"I remember him saying, 'How are you going from being a commando yesterday to Mary Poppins today?" he said. "I was desperate, so I showed up that night ... for a job interview. It was crazy."
Burnett said that the husband who was interviewing him for the job made no bones about the fact that he couldn't understand why the 22-year-old Army veteran would be seeking a live-in nannying and housekeeping position.
"I can irons shirts with a crease so sharp you can shave with it," Burnett recounted saying in a desperate attempt to sell himself.
To his surprise, he landed the job — his first position after immigrating to the U.S. Today, he's one of the most successful TV producers.
"I began the next day in America as a domestic-help nanny housekeeper," he said, describing the position as a springboard that helped him achieve the American dream. "It's just really amazing."
Burnett later went on to become a firebrand in Hollywood, creating shows like "Survivor," "The Voice," and "The Bible," among many others. And in 2014, when Burnett became president of  MGM Television and Digital Group, he said that something fascinating happened.
"I was given an office on the top floor of MGM ... [with an] incredible view of the Hollywood sign [and] Beverly Hills and then it dawned on me," he said. "I looked out the window ... and I could actually see the house where I was a nanny."
He added, "This can only happen in America! It's the American dream."
Downey, too, shared her story of growing up amid violence in Northern Ireland, describing one incident that unfolded when she was just 10 years old and visiting her mother's grave site.
"A fierce gun battle broke out in the cemetery and I narrowly missed being shot," Downey said. "The bullet hole singed the coat I was wearing and missed my head by inches. Surely I must have had an angel looking over me that day."
Producer Mark Burnett (L) and his wife actress Roma Downey arrive at Operation Smile's 30th Anniversary Smile Gala at the Beverly Hilton Hotel on September 28, 2012 in Beverly Hills, California. (Getty Images)
As she grew up, Downey said that the American dream, for her, "represented freedom and opportunity," saying that the yearning to achieve it had been born in her heart as a youth.
Like her husband, Downey, too, moved to the U.S., initially living in New York City, where she worked checking coats in an expensive restaurant and typically received very small tips.
She recalled how talk show legend Regis Philbin once showed up to the restaurant and tipped her $20 — an act that absolutely stunned her, considering the much smaller tips she was used to getting.
Then, a few years later — having found success acting — Downey said that she was in Los Angeles starring on "Touched By an Angel" when she was called back to New York to appear on Philbin's show. She told him the story and he had a good chuckle.
"Checking coats one minute. Starring on TV the next," she said, citing the American dream.
As TheBlaze previously reported, during a separate speech at the National Prayer Breakfast, House Speaker Paul Ryan (R-Wis.) also took aim at critics of prayer in the press and on social media. During his final prayer breakfast while in office, President Barack Obama also delivered a message about not allowing fear to take over.
Listen to Billy Hallowell report on the National Prayer Breakfast on TheBlaze Radio's "Pure Opelka."