Shortly after an attack that — given the weapons brought by the Palestinian assailants — might have resulted in a bloodbath near Jerusalem's holy sites Wednesday, Palestinian and Israeli leaders held vastly different photo ops, which offered insight into their attitudes toward terrorism.
To recap: three Palestinian men from the West Bank armed with knives, Carl Gustav rifles and pipe bombs, arrived at the Damascus Gate of Jerusalem's Old City where they shot and stabbed two female Israeli police officers, killing 19-year-old Hadar Cohen, who was recruited only two months ago.
The assailants were swiftly killed by other members of the Israeli Border Police unit that was patrolling the area at the time.
Palestinian President Mahmoud Abbas, just hours after the attack, invited to his office the families of Palestinians who were killed while launching violent attacks on Israelis. The president's office posted video of the meeting on YouTube and gave it prominent placement in the center of the president's office website's home page.
"Your sons are martyrs," Abbas told the families, according to the Israeli newspaper Yediot Aharonoth. Abbas' invitees included relatives of a Palestinian assailant who killed a dual U.S.-Israeli citizen and two Israelis Oct. 13.
In a clear sign of support for terrorists,PA Pres Abbas met w/ the families of 11 Palestinians who murdered Israelis https://t.co/MDkptlpAz5

— Ofir Gendelman (@Ofir Gendelman) 1454570096.0
By contrast, Israeli Prime Minister Benjamin Netanyahu Thursday visited the policewoman wounded in the Jerusalem attack the day before and lauded her for helping prevent what might have been a massacre.
"Hadar operated heroically, resolutely, and courageously. She gave her life in order to save the lives of many others. All of us join Hadar's family in mourning. May her memory be a blessing," Netanyahu posted on Facebook, adding that the police had "thwarted a huge terrorist attack."
At her bedside, Netanyahu praised the wounded policewoman — whose name was not released — for her actions. Here's the photo from his visit: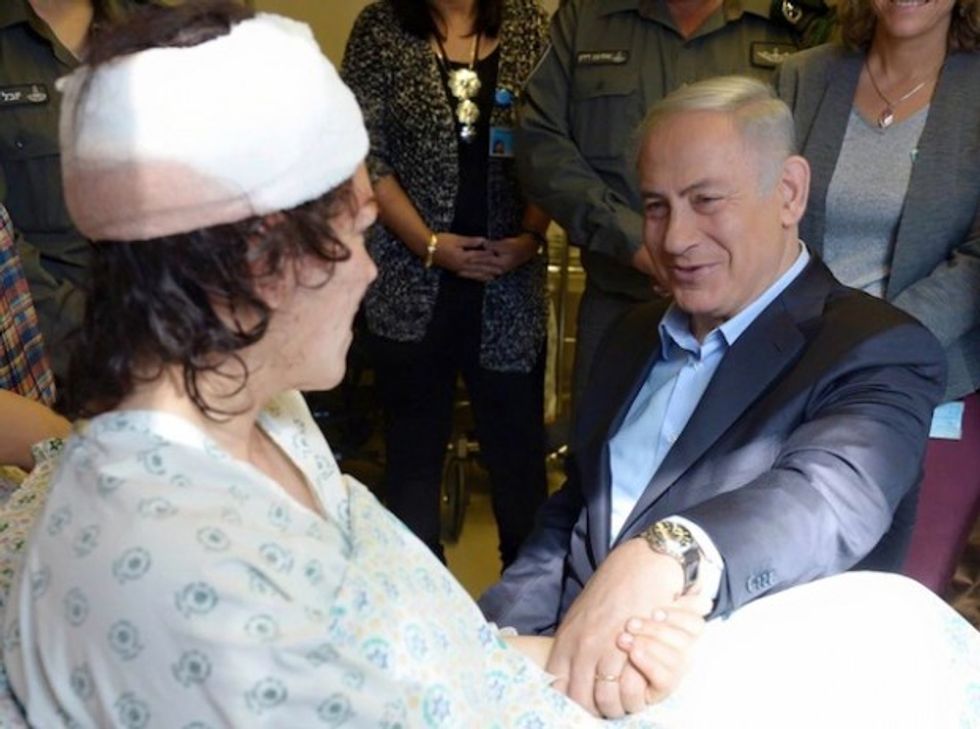 Israeli Prime Minister Benjamin Netanyahu visits a female Border Police officer wounded Wednesday in a Palestinian attack in Jerusalem. (Image source: Israel Government Press Office)
"Your reactions and your resourcefulness prevented terrible disasters. The entire Israeli people embrace you and hope that you will recover quickly," Netanyahu said according to a transcript provided by his office.
The unnamed police officer told Netanyahu, "We are here to protect civilians. This is what we were drafted for and this is why we are here. … I understood that Hadar saved my life."
Netanyahu vowed Thursday to fight the wave of nearly daily violent Palestinian attacks on Israelis that began in September, and compared the Palestinian terrorism to Islam-fueled attacks around the world.
"Islamic terrorism is inundating the world and inciting millions in many countries, from Jakarta to Africa to California. We are part of this turmoil, it is not skipping over us, and we are fighting it with great strength and will continue to do so," Netanyahu said.