During a Friday press conference at the White House, President Barack Obama heralded the just-released unemployment numbers, dropping to 4.9 percent in the latest report.
"This is the first time it's dipped below 5 percent in almost eight years," Obama said. "Over the past six months, wages have grown at their fastest rate since early 2009."
But when pressed by a reporter about the lower workforce participation rate, Obama said that for the January report, it wasn't that fewer people were looking that prompted the lower unemployment rate.
"This jobs report shows workplace participation didn't drop. That wasn't the reason unemployment rate dropped," Obama said.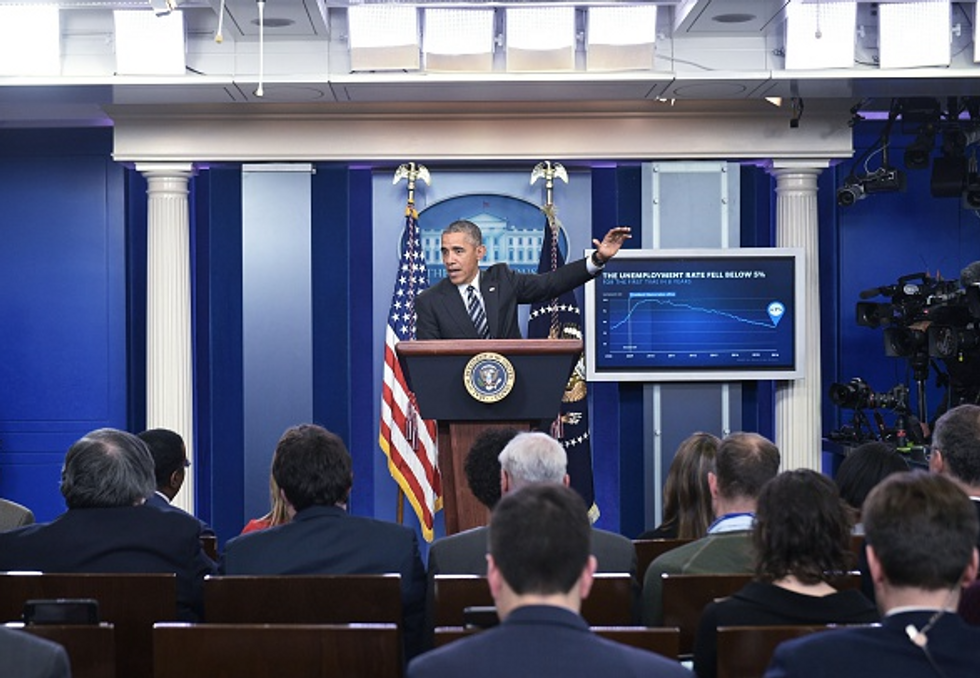 President Barack Obama speaks on the economy in the Brady Briefing Room of the White House Friday. (Mandel Ngan/AFP/Getty Images)
The unemployment rate measures only those participating in the workforce, those working or looking for work. Thus, in previous reports, much of the decline in the unemployment rate came because larger numbers of people had stopped looking for work.
The unemployment rate for January 2016 was 4.9 percent, a small drop from 5 percent in December 2016. In January 2015, the unemployment rate was 6.1 percent.
The January 2016 report said that the workforce participation rate was at 62.7 percent, up nominally from 62.6 in December 2015. In January 2015, the workforce participation rate was 62.5.
Obama went on to explain reasons for that being that the workforce is now an older population, which might have been inclined to stop looking for jobs. He further blamed it on the the "hangover from 2007 and 2008" economic crisis.
"Young people, high school dropouts, came of age in the recession," Obama said. "We have to make special efforts on getting them into job training and get them into community colleges."
Some have just been unemployed for too long, Obama said. But he said a stronger employment picture would encourage greater participation.
"Some folks have been out of the labor force for a long time and may not be equipped for the labor market today," Obama said.