SAN FRANCISCO (AP) — Brett Favre and the late Ken Stabler, a pair of kindred-spirit QBs who each won a Super Bowl, were elected to the Pro Football Hall of Fame on Saturday.
Also voted in for the class of 2016 a day before the Super Bowl were modern-day players Kevin Greene, Marvin Harrison and Orlando Pace, coach Tony Dungy, contributor Ed DeBartolo Jr., and senior selection Dick Stanfel.
The freewheeling Favre, as expected, was a first-ballot entry, a reward for a long and distinguished career, mostly with the Green Bay Packers, that included three consecutive NFL MVP awards from 1995-97 and a championship in the 1997 Super Bowl.
In this Dec. 9, 2007, file photo, Green Bay Packers quarterback Brett Favre reacts to a 46-yard touchdown pass to tight end Donald Lee during the second half of an NFL football game against the Oakland Raiders in Green Bay, Wis. Favre will be inducted into the team's Hall of Fame and have his jersey retired next year. Favre writes on his official website that it will be an honor to have his name placed among others such Bart Starr, Curly Lambeau, Ray Nitschke and Vince Lombardi, to name a few. (AP Photo/Morry Gash, File)
Stabler, a left-hander nicknamed "Snake" for his ability to slither past defenders, goes into the Hall as a senior selection about six months after dying of colon cancer at age 69 — and just days after researchers said his brain showed widespread signs of chronic traumatic encephalopathy.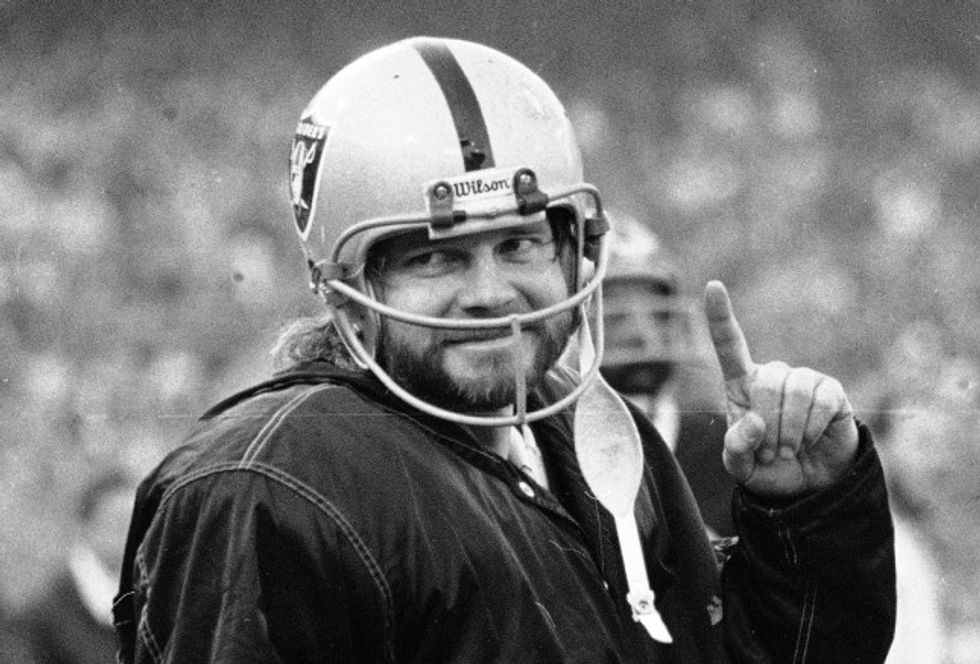 In this Dec. 27, 1976, file photo, Oakland Raiders quarterback Ken Stabler, who was sidelined in the second half, gestures during the AFC championship game in Oakland. (AP Photo/File)
CTE is a disease linked to repeated brain trauma and associated with symptoms such as memory loss, depression and progressive dementia. It has been found in the brains of dozens of former football players, including one of last year's Hall inductees, Junior Seau, who committed suicide in 2012 at 43.
Stabler was the 1974 league MVP and helped the Oakland Raiders win the 1977 Super Bowl.
Favre played for 20 seasons, eventually retiring — after famously vacillating about whether to walk away from the game — as the NFL's career leader with 6,300 completions, 10,169 attempts, 71,838 yards and 508 TDs. He never met a pass he was afraid to throw, no matter how ill-advised it might have seemed, and wound up with a record 336 interceptions, the trade-off for his high-risk, high-reward, entertaining style.
Before Green Bay, he briefly was a member of the Atlanta Falcons. Afterward, he had short stints with the New York Jets and Minnesota Vikings.
Five nominees were eliminated in the final vote: coach Don Coryell, running back Terrell Davis, offensive lineman Joe Jacoby, safety John Lynch, and quarterback Kurt Warner.
Earlier Saturday, the selection committee reduced the list of 15 modern-day finalists by cutting wide receiver Terrell Owens, running back Edgerrin James, safety Steve Atwater, guard Alan Faneca and kicker Morten Anderson.
A candidate needs 80 percent of the vote to get in.
The induction ceremony is in August in Canton, Ohio.