It is no secret that former Florida Gov. Jeb Bush — the very early GOP presidential favorite — has struggled to catch any traction on the road to the White House. Glenn Beck, though, shared Monday a new "really honorable" theory about why Bush might still be in the running.
According to Beck's theory, Bush knows there is no path to the nomination but is convinced that someone has to stop his biggest rival and No. 1 critic, fellow Republican hopeful Donald Trump.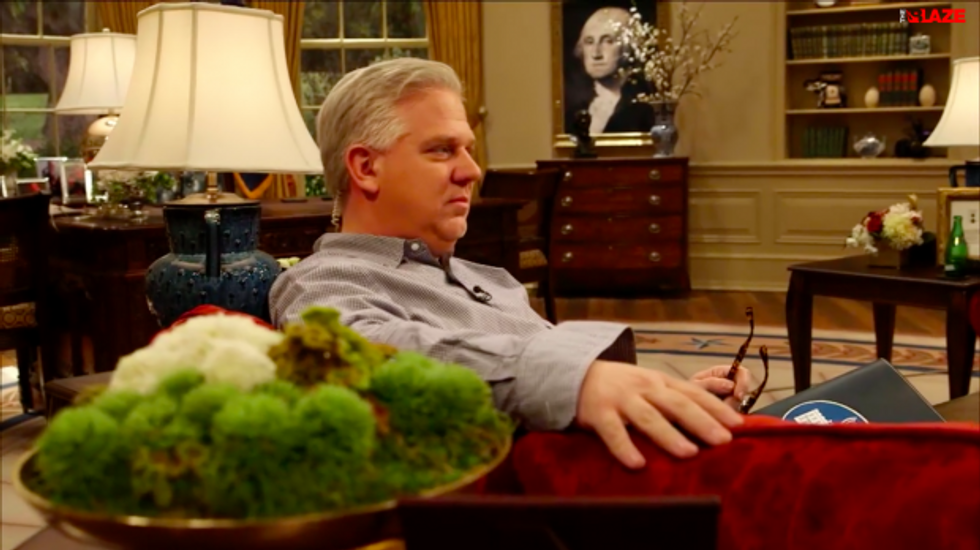 Glenn Beck discusses Jeb Bush's campaign on The Glenn Beck Radio Program Monday. (Image source: TheBlaze TV)
"This would make Jeb one of the most honorable men you could ever imagine. He's going through this humiliation because he and the family believe something, somebody has got to stand up and say these things about Donald Trump," Beck said on The Glenn Beck Radio Program.
The radio show host came up with the theory after watching Bush's mother and former first lady Barbara Bush discuss Trump, telling CNN that she's "sick" of the billionaire and that, "I don't even think about him."
"When she said, 'I don't think about him,' that is the lowest insult you can give to somebody," Beck said.
Beck suggested that members of Bush's family might have told the former governor that someone has to stand up to Trump's rhetoric and policies, even if that means losing the nomination.
"He's gone to the family and said, 'I can't take this beating.' And the family has said, 'You've got to. You've got to. This guy can't be president of the United States. Look at what he says about women. Look at how he responds to the military,'" Beck said.
Should this theory ever prove true, Beck says it would make Bush "really honorable."
Complimentary Clip from TheBlaze TV The full episode of The Glenn Beck Program, along with many other live-streaming shows and thousands of hours of on-demand content, is available on just about any digital device. Click here to watch every Glenn Beck episode from the past 30 days for just $1!
—
Follow the author of this story on Twitter: