Following his win in the New Hampshire primary Tuesday night, Republican front-runner Donald Trump claims that fellow GOP presidential hopeful New Jersey Gov. Chris Christie called him for a "long talk."
Trump revealed the information on MSNBC's "Morning Joe" Wednesday morning after show guest co-host Robert Costa asked Trump if he's reached out to Christie in the last 12 hours.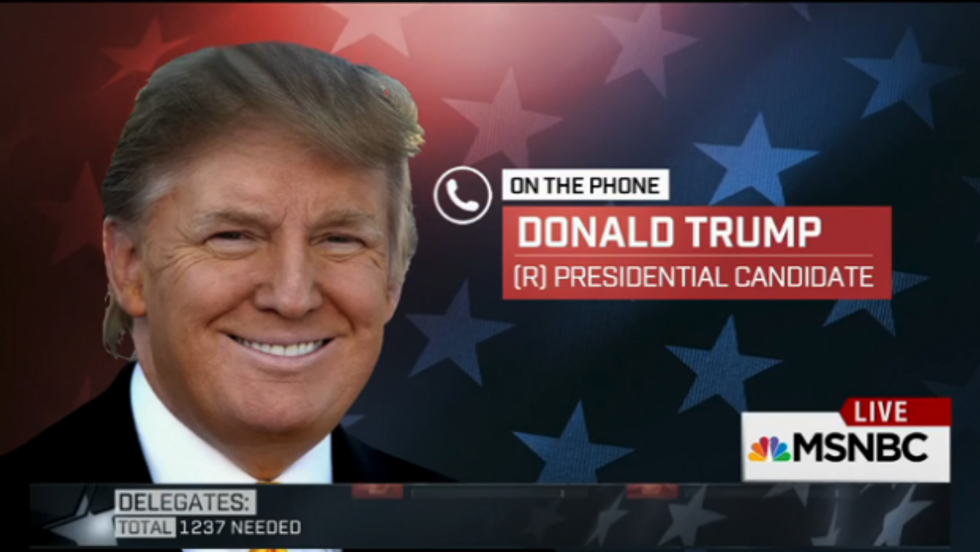 Image source: MSNBC
"I think that Chris did an amazing job in terms of the debate, as a prosecutor, and he's a friend of mine," Trump told the panel in response.
"And he actually called me last night, and we had a long talk and he's a little disappointed because he really did do a great job, he did an amazing job during that debate," he added. "I was witness to it because I was standing next to Marco [Rubio], who I like very much, and it was a strange kind of a situation, and Marco understands that, and he'll be able to fix it I hope."
Christie had another extremely disappointing night in New Hampshire Tuesday, as he finished the night in sixth place with just 7.5 percent of the vote, according to Politico — a far cry from what the governor hoped for.
While the exact motive and reasoning behind Christie's call will probably never be made public, Christie, who has called Trump a friend, could become the first 2016 Republican presidential candidate to leave the race and endorse Trump.
Following his dismal result Tuesday night, Christie's campaign announced that he would be returning to New Jersey Wednesday to "take a deep breath" and to re-evaluate the future of his presidential campaign.
Listen to Trump's comments below. The relevant portion of the interview begins around 7:50.
—
Follow the author of this story on Twitter and Facebook:
[facebook //www.facebook.com/plugins/like.php?href=