An Iranian-backed militia led by a commander who is classified by the U.S. government as a "global terrorist" was seen in a video this week equipped with an apparently American-made M1 Abrams tank in Iraq, a research organization reported.
The Long War Journal, a publication of the Washington-based Foundation for Defense of Democracies, reported that the video included images of the Shi'ite militia, known as Kata'ib Sayyid al Shuhada (KSS), using the Abrams tank.
The journal reported that the KSS flag was spotted 16 seconds into the video flying atop the tank. Here's a screenshot of the tank from the video posted on Feb. 5: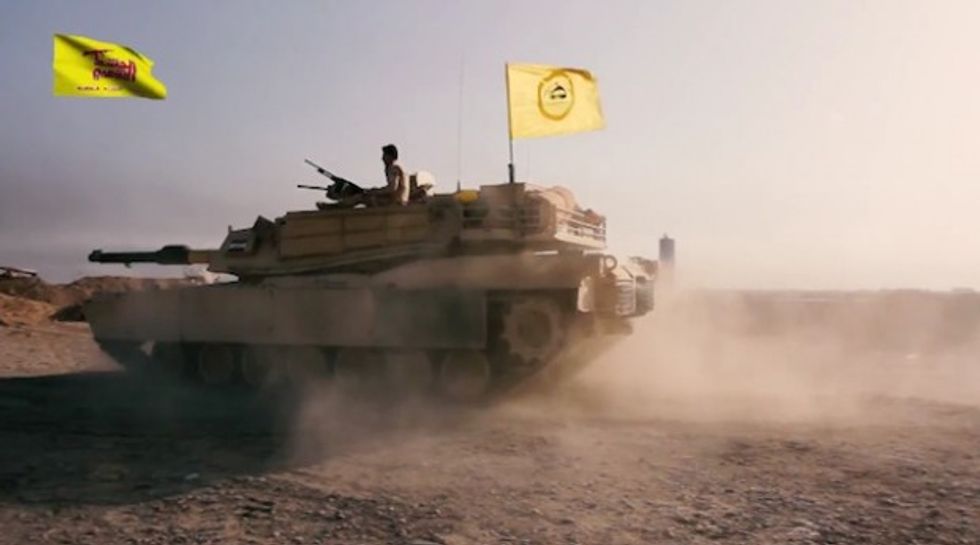 The Hezbollah Brigades, a U.S.-designated foreign terrorist group, has also been seen using the U.S.-made tank. (Image source: YouTube)
The video included images of various Shi'ite militias that operate under the Popular Mobilization Forces which are fighting the Islamic State.
The Long War Journal, which reports extensively on militant groups operating in the Middle East, pointed out that the video did not specify where or when the images were captured, but that it was likely in Iraq's Salahadin province where KSS has been battling the Sunni militants.
The leader of the force, Abu Mustafa al-Sheibani, was named in 2008 by the U.S. as a "Specially Designated Global Terrorist."
Upon making the designation, the U.S. Treasury Department noted, "Al-Sheibani's network – consisting of several hundred members – conducted IED attacks against Americans in the Baghdad region."
The Long War Journal reported that the Shi'ite Hezbollah Brigades has also previously boasted using an M1 Abrams tank. That group, too, is designated by the U.S. as a foreign terrorist organization.
Read the full report from Long War Journal's Threat Matrix blog at this link.