In the past week, 1960s former child star Terry Burnham's name began popping up in newspapers, on social media sites and a variety of websites related to the classic television series "The Twilight Zone."
Before she passed away in October of 2013, actress Terry Burnham had not appeared on television or made a ripple in the media since 1971 when she starred in an episode of the Catholic-themed television series, Insight.
Why was a woman who passed away over two years ago suddenly "trending?" The two words that might explain the recent interest in Terry Burnham — dignity and tribute.
Before her passing in 2013, Burnham had been out of the public eye for decades. In fact, Burnham seemed to shun the spotlight, not responding to the many requests she would be sent for autographs — mostly sent from Twilight Zone fans who recalled her stirring performance as a small child who visits her adult self in a 1960 Twilight Zone episode titled, "Nightmare As A Child."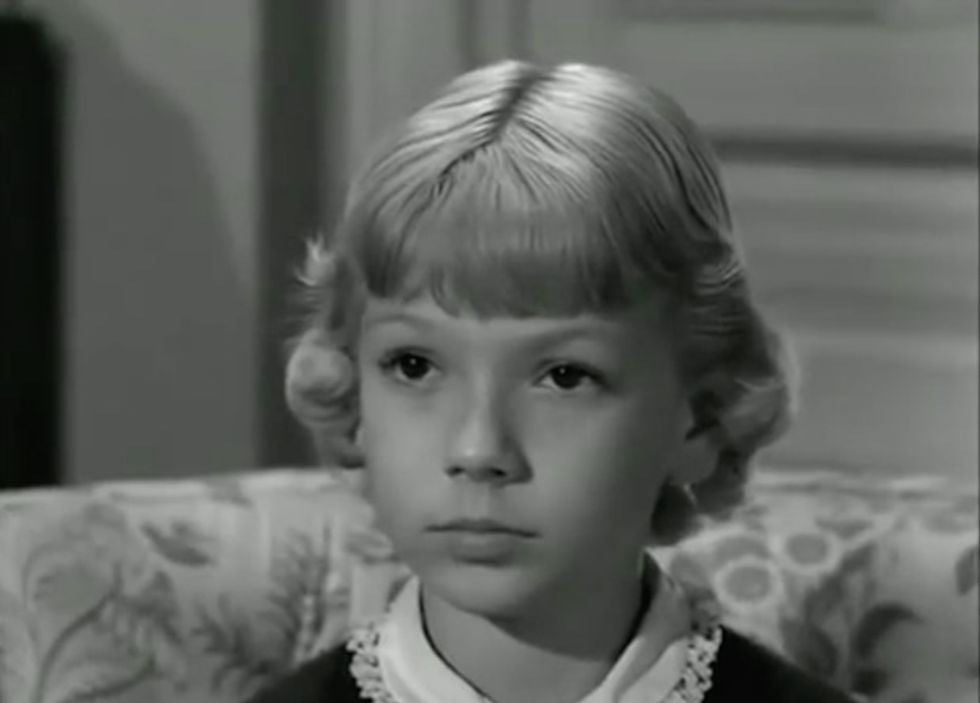 Image source: YouTube
Burnham's Twilight Zone episode, still highly regarded by fans, made the reclusive actress' autograph a sought after commodity. Many fans attempted to connect with her, only to have their requests go unanswered. Additionally, Burnham never attended any of the Twilight Zone conventions held across the country.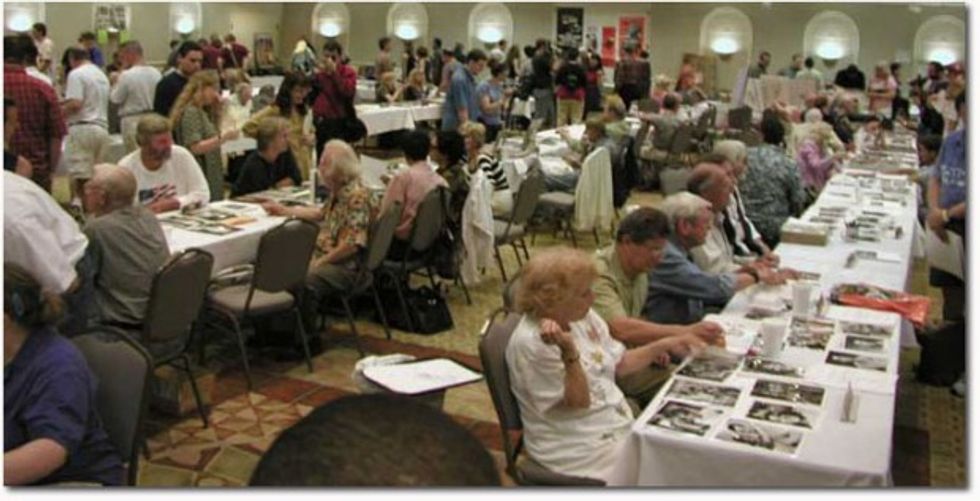 2002 Twilight Zone Convention, Image source: TwilightZoneMuseum.com
Andrew Ramage, the man behind the online Twilight Zone Museum and a fundraising campaign to memorialize Burnham, told the Los Angeles Daily News Burnham was "the Holy Grail of 'Twilight Zone'."
The longer she stayed out of the spotlight and would not respond inquiries from fans, the more the interest in Burnham's life grew. In 2006, a cache of personal effects (acting contracts, medical records, love letters and photos) from Burnham turned up at a flea market. Some of the images were reportedly sold on eBay, leading a small group of collectors from around the world to secure the lion's share of the actresses personal items.
According to the Daily News report, the collectors who purchased the actress' effects did so with the intention of returning them to her. Again, Burnham did not respond to their efforts to connect with her.
In October 2013, Burnham passed away. She was reportedly destitute and alone, with no family members around to claim her remains.
When someone passes in Los Angeles county and no family members can be located, the remains are cremated and held for three years before being placed in a "common grave," the equivalent of a mass grave.
The reality of Burnham's ashes being relegated to an unmarked grave moved one fan to action. A New Yorker named Reuben Febus discovered California would allow non-family members to claim the ashes of someone if the costs were covered.
Despite living on a small, fixed income, Febus paid the $340 dollars for Burnham's ashes and has been looking into a couple of options for giving her a formal final resting place.
Speaking with TheBlaze, Febus, a lifelong autograph collector spoke about the emotional moment when it became clear to him Burnham deserved a dignified funeral.
"I realized she was more than an autograph...she was a human being," Febus said, adding, "she's the little sister I never had."
Despite saving Burnham's ashes from the "common grave" in California, Febus told us he has been unsuccessful in his efforts to convince local officials to permit him to place her remains alongside her parents in their grave. If he cannot get California to bend the rules, Febus has also contacted the Actor's Fund in New York, requesting Terry's ashes get placed in small, marked grave a cemetery in nearby Westchester County.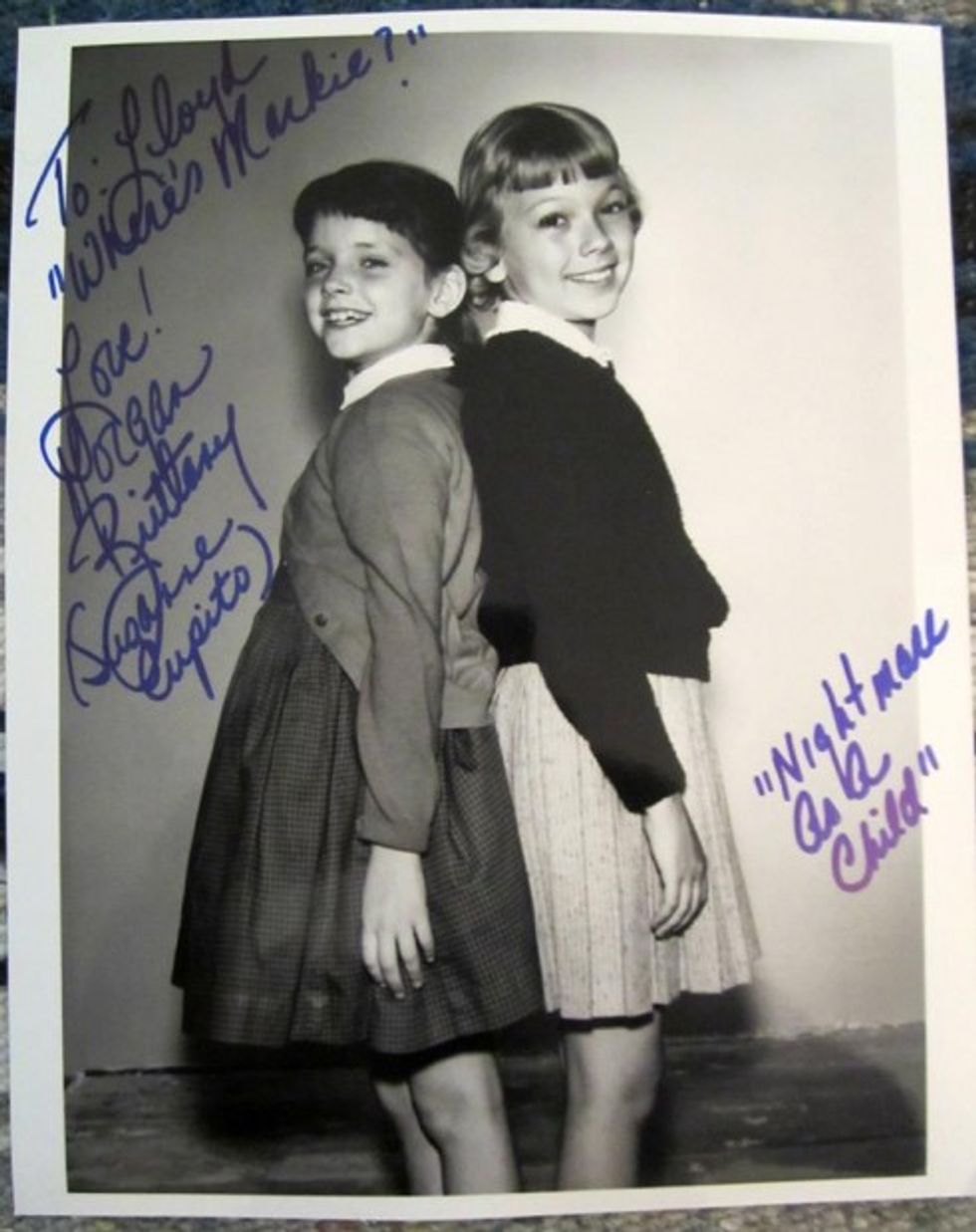 Morgan Brittany and Terry Burnham / Image source: Facebook
Actress Morgan Brittany, who appeared with Burnham in the Twilight Zone and another early 60s television show called "Thriller," shared her memories of Burnham and spoke candidly about the difficulties child stars face when Hollywood decides.
"You are no longer useful," she said.
Listen to Brittany's interview here.
Watch the opening scene from "Nightmare As A Child."
(H/T: 
Los Angeles Daily News
)
--
Follow the author of this story on Twitter and Facebook: