MT. PLEASANT, S.C. — During a presidential campaign rally, Texas Republican Sen. Ted Cruz vowed to rebuild the U.S. military while also battling waste and political correctness in the military bureaucracy.
"Rebuilding our military is a task for our next commander in chief. It does not mean just pouring back into the Defense Department the vast sums of money that President Obama drained out," Cruz told a supportive crowd on the deck of the historic U.S.S. Yorktown, docked at Mt. Pleasant.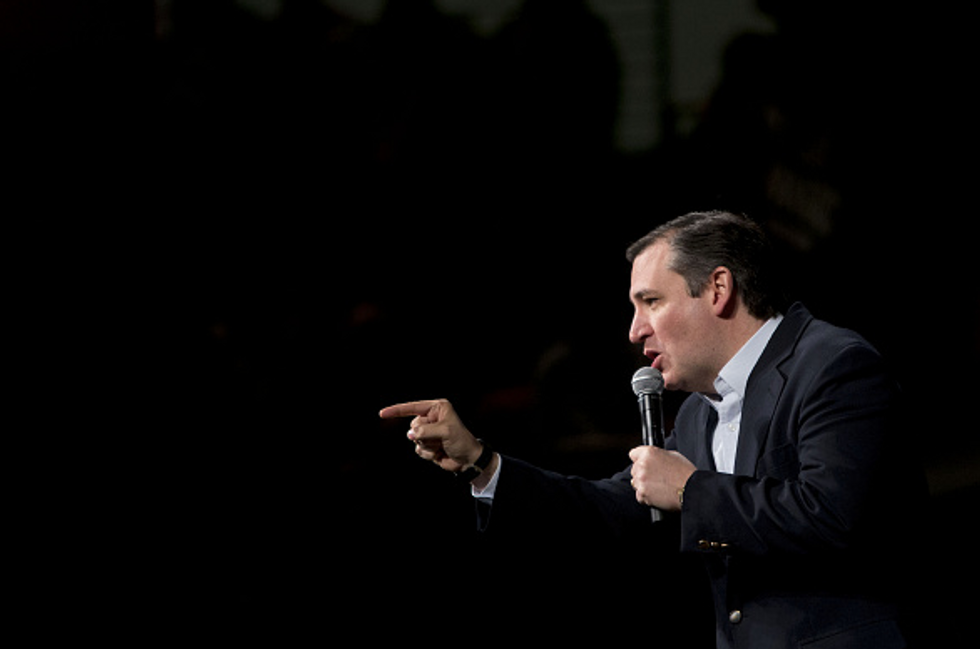 Texas GOP Sen. Ted Cruz speaks during a presidential campaign event in Aiken, South Carolina, Monday. (Daniel Acker/Bloomberg via Getty Images)
Cruz said it would require a change in mindset, vowing "not to double down on the failed military policies of the last seven years," which he pointed out included intervention in Libya that many Republicans supported.
"We will not expand the bloated bureaucracy that is stifling innovation and progress in the Department of Defense," he said. "The Department of Defense employs 12,000 accountants but is unwilling to submit to a simple audit."
This was a welcome statement for Navy Lt. Eli Heatherly of West Ashley, South Carolina, who believes Cruz will take on all bloated bureaucracies, including the Defense Department.
"I grew up on Ayn Rand, and I want to get a constitutionalist back into office," Heatherly told TheBlaze. "Sometimes constitutionalism can be to the detriment of conservatives. But at least it puts the people in charge instead of the despots, which we have now. I've been in the Navy 18 years. I've lived a type of socialism. It shouldn't be for everybody. It's always important to bring out the crony capitalism inside the U.S. military, which in itself is a bloated government bureaucracy."
Cruz further vowed to reverse the policy of allowing women in combat, saying, "Our military will not submit and bow to political correctness."
The senator further called for upgrading military equipment such as ships and missile defense, which he said is falling behind adversaries, as well as increasing the fighting force by 1.4 million active duty personnel.
In an apparent contrast from the administration of President George W. Bush, Cruz said, "We will not pick fights," or try to bring democracy to nations "with scant interest" in it. "The purpose of rebuilding our military will be to defend and advance the interest of the United States of America," Cruz said.
He also called for a military strong enough to be feared by enemies, reminiscent of former President Ronald Reagan's "peace through strength" view that defeated the Soviet Union in the Cold War.
In a statement, Florida GOP Sen. Marco Rubio's campaign called Cruz out for voting against several military funding bills.
"Senator Cruz will say or do anything to win an election including lying to cover-up his own weak record on national security," Rubio spokesman Joe Pounder said. "Senator Cruz is the only candidate in this race who has consistently sided against our military and intelligence professionals and whose foreign policy vision changes with his poll numbers. When it comes to our national security, Marco Rubio is the only candidate with the actual experience and policies needed to keep America safe."