UFC fighter Ronda Rousey revealed Tuesday that she contemplated suicide after her defeat to Holly Holm in November, which left her unconscious and hospitalized.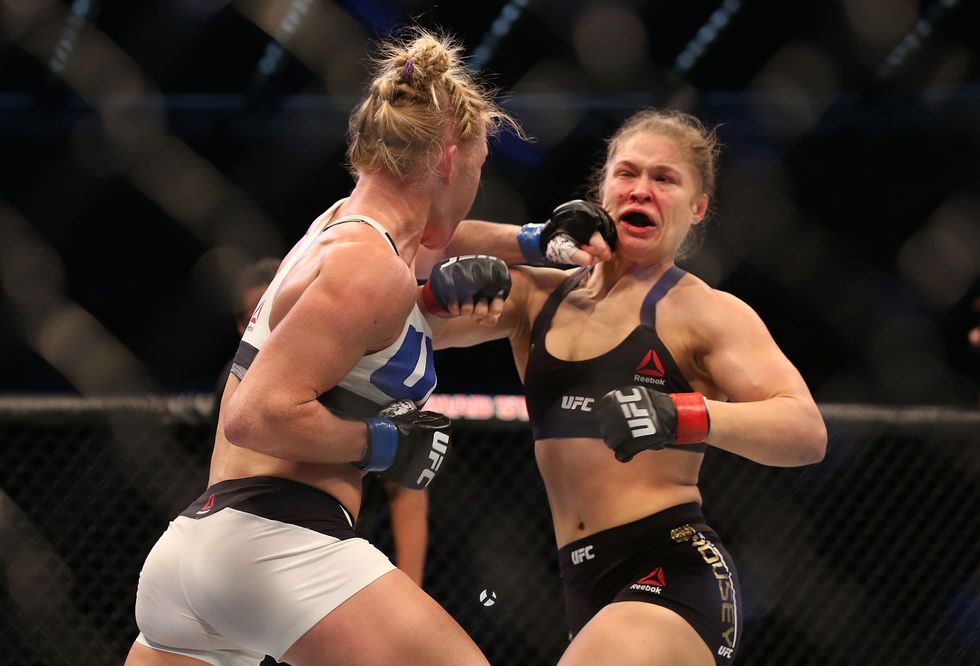 Ronda Rousey, right, and Holly Holm compete in their UFC women's bantamweight championship bout during the UFC 193 event at Etihad Stadium on Nov. 15 in Melbourne, Australia. (Quinn Rooney/Getty Images)
"I was literally sitting there and thinking about killing myself and that exact second I'm like, 'I'm nothing. What do I do anymore? And no one gives a s**t about me anymore without this,'" Rousey said during an interview with talk show host Ellen DeGeneres.
That's when the UFC fighter said she looked up and saw her boyfriend, Travis Browne, who is also a UFC fighter.
"I looked up at him and I was like, 'I need to have his babies,'" Rousey told DeGeneres. "I need to stay alive."
Rousey later added, "I haven't told anyone that. I think I only told him [Browne] that."
(Relevant portion begins at the 2:37 mark:)
Tuesday's interview was the first time in more than a month that Rousey has opened up about the brutal fight. In December, she told ESPN that she was "really f***ing sad" about the defeat, adding that it could be up to six months before she can return to the ring.
The November bout was Rousey's third title fight in just nine months, which, she said, is something "I don't think anyone has ever attempted."
(H/T: Daily Mail)