CAYCE, South Carolina – Ohio Gov. John Kasich sought to stamp out the view that he wasn't conservative enough during a town hall meeting, while at the same time pointing out that he thinks humans impact climate change, an unpopular opinion among many conservatives.
"Let's talk just for a second about this whole moderate business," Kasich said, just days ahead of the first-in-the-south primary. "When I was in Washington, I spent 10 years of my life to achieve something that very few people can say: We balanced the budget. I was the chief architect. When we did that, we cut the capital gains tax and we slowed the growth of government spending unlike what we've seen in a very, very long time. We also paid down half trillion dollars in the national debt."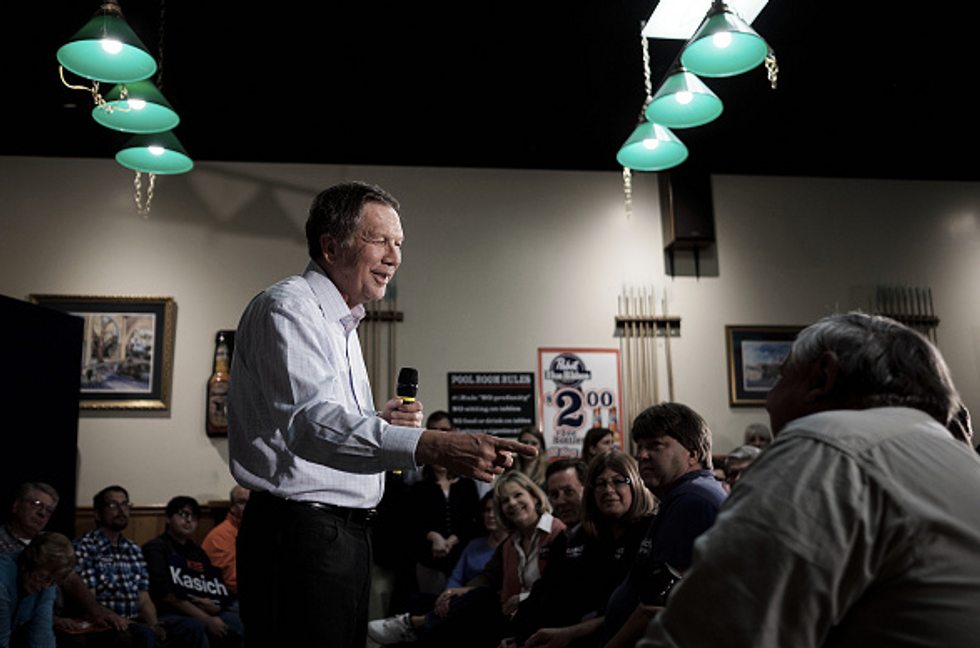 John Kasich, governor of Ohio and 2016 Republican presidential candidate, speaks during a town hall event at Murray's Neighborhood Bar and Grill in Cayce, South Carolina, U.S., on Tuesday, Feb. 16, 2016. After deploying an all-in strategy in New England, where he finished behind billionaire Donald Trump, Kasich has a huge challenge ahead of the Feb. 20 South Carolina primary and the other races that will rapidly follow. (T.J. Kirkpatrick/Bloomberg via Getty Images)
Kasich, speaking at Murray's Neighborhood Bar and Grill to about 200 people, said that his record as governor also does not reflect that of a moderate, adding that the state has cut taxes, balanced the budget, ran surpluses and enacted school choice.
"I've cut taxes more than any governor in America, including eliminating the income tax on small business and killing the death tax so you can pass your business on to your kids," Kasich said.
Kasich has beefed up his outreach to conservatives, joining forces with the influential Shirley & Banister Public Affairs, established by Reagan biographer Craig Shirley and Diane Banister. The Northern Virginia-based firm is noted for high profile conservative causes and clients.
"Am I not a conservative because I don't hate Democrats?" Kasich asked rhetorically. An audience member, jokingly said, "Yes."
He asked other rhetorical questions, including, "Am I not a conservative because I think human beings affect the climate? I'm for the environment."
The audience applauded at the climate remark.
The question was prompted when an audience member said she considered Kasich a moderate Republican, and asked why he defunded Planned Parenthood in Ohio.
Kasich explained he thought Planned Parenthood had become a disreputable organization, but he fully supported funding for women's health programs.
Kasich gained some momentum in the presidential race after finishing second place in the New Hampshire primary earlier this month. However, he is trailing badly in South Carolina, which holds its Republican primary on Saturday.
With regard to why some may not consider him a full-fledged conservative, Kasich said, "Maybe it's a little bit about tone. But I'm a happy guy."
He compared the last GOP presidential debate to a "demolition derby."
"They talk in the campaign about who is establishment or who is anti-establishment. I have never been in the establishment," Kasich said. "I'm not anti-establishment, but I've never been in it."
—