Last weekend, Philadelphia hosted the 18th annual Tattoo Arts Convention. From Friday to Sunday evening, the downtown convention center was filled with hundreds of tattoo artists plying their trade on the skin of thousands of people in attendance.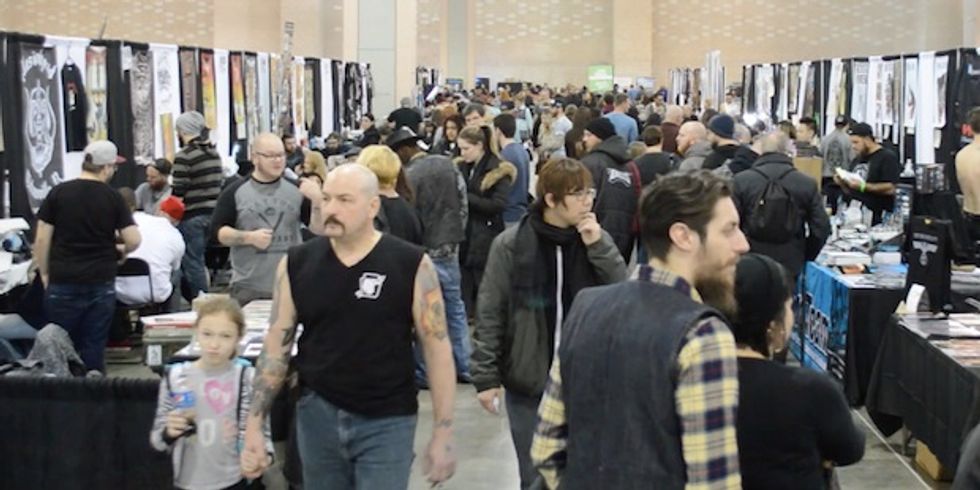 Mike Opelka/TheBlaze
At any given time, between 150-200 people were having their skin pierced and ink injected to create a design or memorialize a person or event in their lives. There were also a good number of people getting updates, corrections or covering up a memory or artwork no longer wanted.
Getting a tattoo requires considerable time as well as above-average pain tolerance. Of the people we spoke with, most expected to spend between two and four hours sitting or reclining as the tattoo artist worked on the desired image.
In the case of the man in the photo below, the chest tattoo he was receiving would ultimately require between four and six hours of time to complete. And according to more than one "inked" person we spoke with, chest tattoos are some of the most painful to get.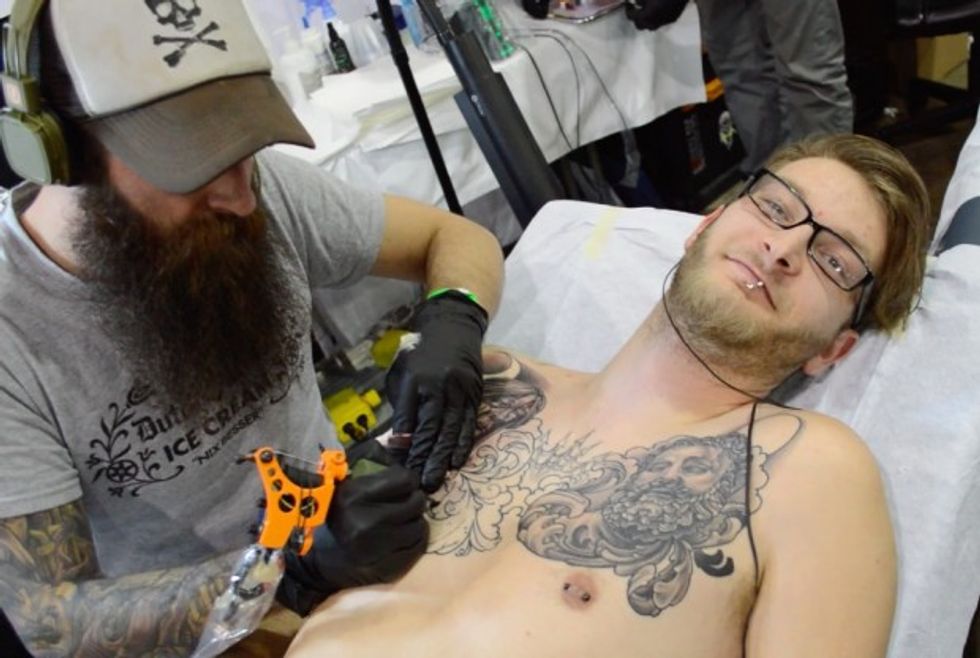 Mike Opelka/TheBlaze
In the course of a day at the convention, TheBlaze witnessed several couples debating the perfect design for their "matching tattoos," a father and son sharing a "new tradition" — dad got his very first tattoo when he was just 18 years old and this year he brought his son to get his first.
The proud father even captured the moment his son grimaced as the needle broke his skin for the very first time.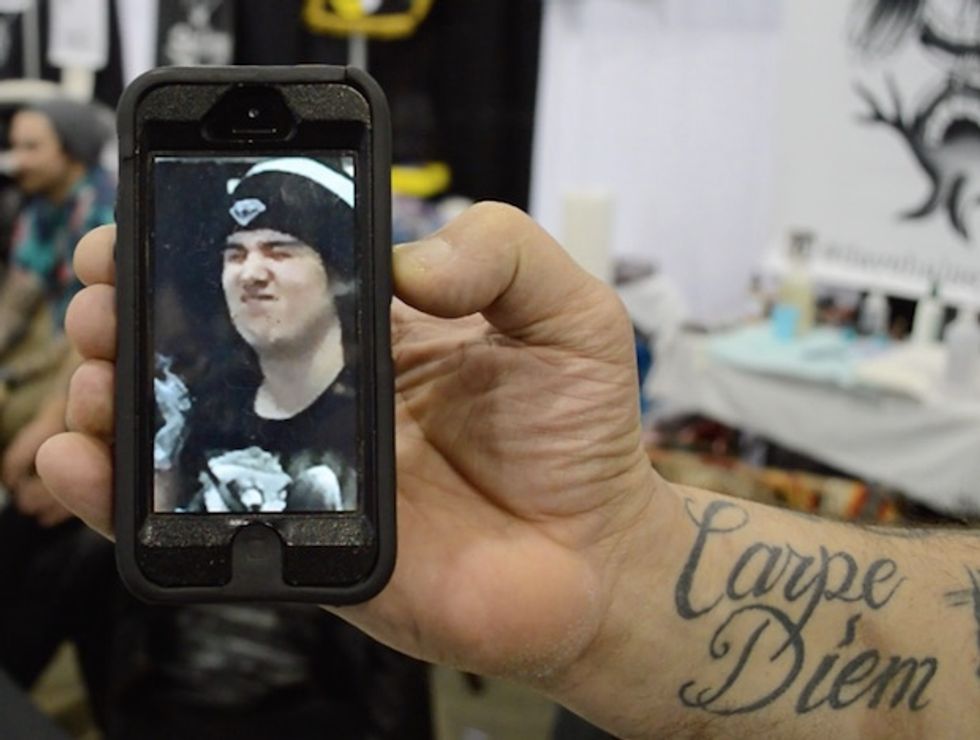 Mike Opelka/TheBlaze
As TheBlaze wandered from booth to booth and spoke with people in the process of selecting or getting a tattoo, we asked most of them if they have a "favorite" tattoo. The answer was typically their most recent one.
We also asked if there was a specific tattoo they regretted getting or wished they could remove or eliminate. Almost every person had a tattoo they wished that had not gotten or would like covered or removed.
"T.J." showed us his "regret tattoo," a crudely executed set of his initials inked on his right shoulder.  He told us that it was the very first one he had done, years ago. When we asked why he still had it on his body, T.J. said, "I'm leaving that there, so when my daughter wants to get a tattoo, I can show her that."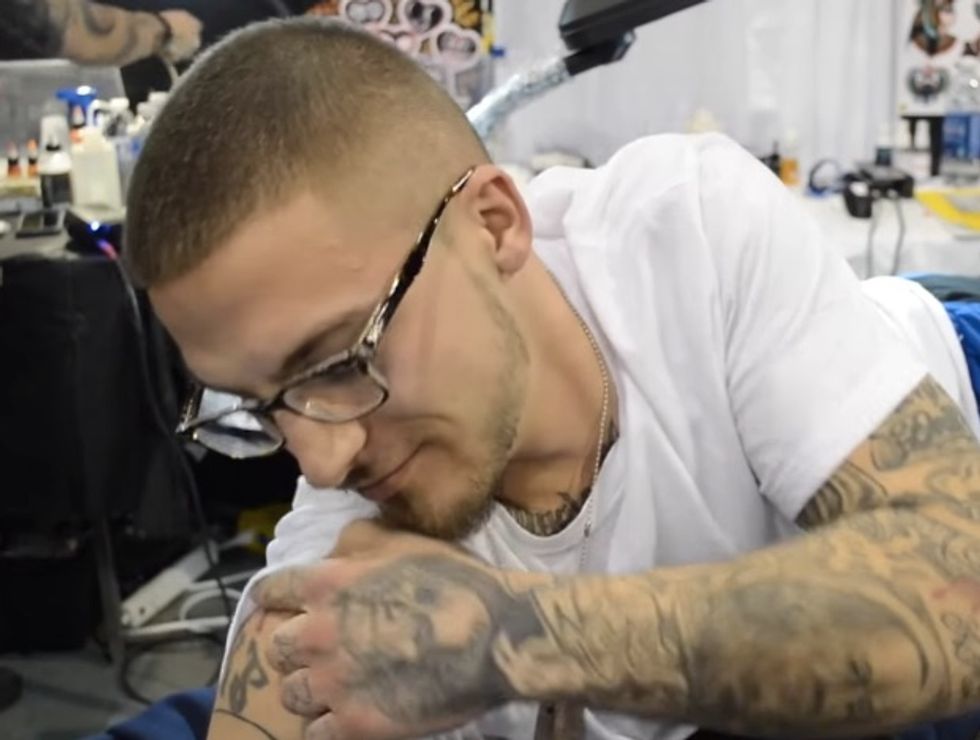 Mike Opelka/TheBlaze
TheBlaze witnessed several people visiting artists who specialized in making over or covering unwanted or unloved tattoos. While it is an option used by many, covering an unwanted tattoo is not the only way to deal with ink you wish could disappear.
In the convention center and doing a fairly strong business was a company called Tataway Studio.
As it was explained to TheBlaze by a Tataway rep, they use a special laser to break down the ink under the skin, helping to body to naturally remove the offensive or irritating artwork.
Of course, every tattoo is as different as each person and many factors play into the removal of a tattoo. Tataway's website claims the health of the person is directly related to the success of the removal.
The No. 1 item on the education section of their website reads: "95% of laser removal is actually done by your own immune system, so the health of your immune system is of utmost importance."
They showed us some "before" and "after" images, demonstrating just how well the system can work.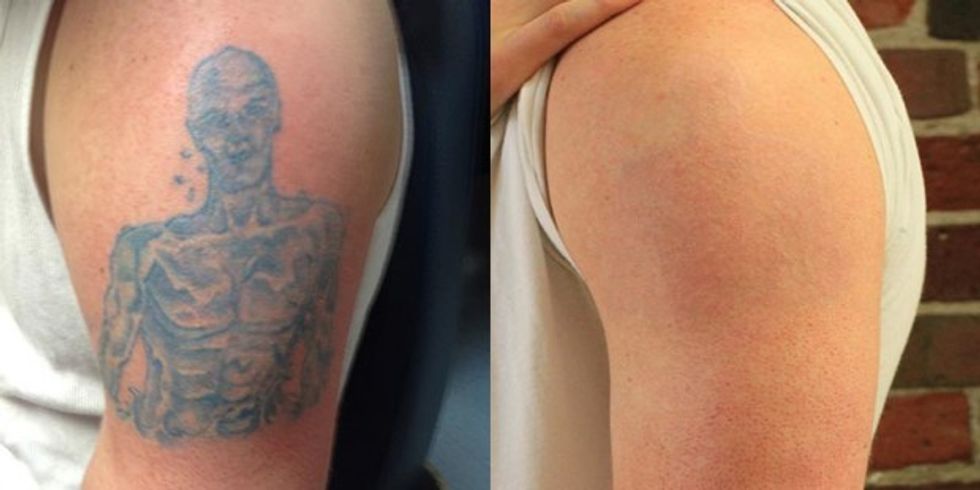 Image source: tataway.com
Does it hurt?
"Yes," replied the representative, adding, "but it's worth it."
In addition to the non-stop tattooing going on throughout the massive ballroom, a host of vendors offering T-shirts, custom designs you can take to your favorite ink artist and even a stage with entertainment going on from the time the doors opened to when it closed for the night.
We witnessed a performance by Paul Lawrence, a sideshow entertainer known as the Enigma. With his entire body covered in green puzzle-piece tattoos and his head displaying horns, Lawrence's show is a high-energy, fast-paced combination of comedy and juggling and illusion.
At one point, he performed the classic sword-swallowing trick, using a florescent light, light saber. And nobody got hurt.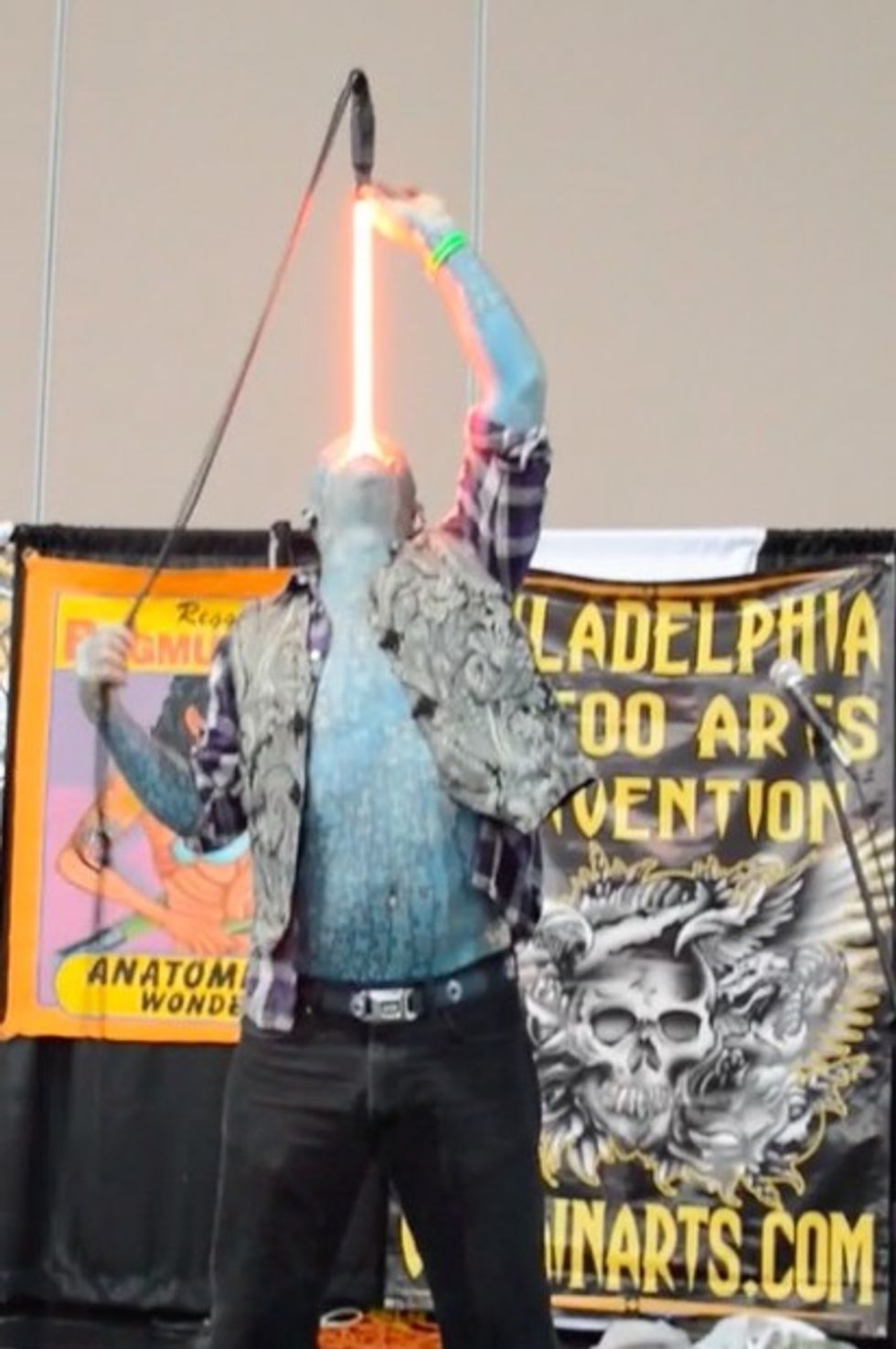 Mike Opelka/TheBlaze
Curious to know more? Watch our video from Philadelphia Tattoo Arts Convention.