At least two dozen veterans who called into the Veteran Crisis Hotline in fiscal year 2014 had their calls sent to voicemail and never returned, according to a new report from the Veterans Affairs Department Inspector General.
The report comes after the award-winning documentary "Crisis Hotline" was released in 2013. The HBO film highlighted the faulty practices of the VA and the dangerous consequences of failed government bureaucracy.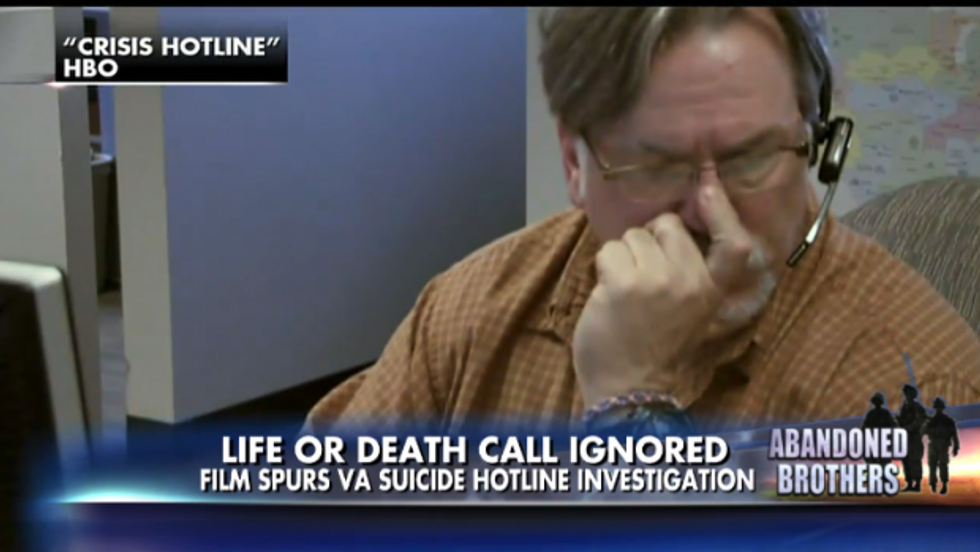 Image source: Fox News
According to the Military Times:
The VA watchdog's investigation into the hotline's performance launched last year also found that the centers responsible for the voicemail errors, who were contractors hired to provide backup services when the VA-run Crisis Line is operating at peak, may not have trained their counselors adequately to answer calls from those experiencing a mental health crisis.

But because the VA does not train the backup center employees or monitor the centers' training requirements, the department has no way of knowing whether their training is sufficient, the report noted.
The Crisis Hotline was established in 2007 as part of an effort to save the lives of veterans contemplating suicide. The hotline has answered more than 2 million calls and is credited with saving at least 50,000 lives.
However, according to Fox News' Pete Hegseth, who has done numerous reports on the VA's problems, the phone operators are not the ones to blame. Instead, Hegseth placed blame on the government.
"It's the bureaucracy that, on top of all of this, is incapable of delivering quality service," he said on Fox News' "Fox and Friends" Tuesday morning, adding that the operators are "wonderful people, trying to do the best they can."
"Just the thought of a veteran who's suicidal getting a voicemail — this is a powerful depiction of what a lot of vets face," he continued.
Despite the issues, the VA is making changes to the hotline process, which will reportedly include no waiting time for those seeking immediate help. The department has also hired additional staff and is upgrading their telephone and technology systems.
—
Follow the author of this story on Twitter and Facebook:
[facebook //www.facebook.com/plugins/like.php?href=