Popular conservative personality Glenn Beck, who's known for his outspoken commentary, opened up in interview about his personal story of abuse, something he does not often share.
Beck talked to WFAA-TV reporter Rebecca Lopez about his alcoholic mother's abusive behavior and the abuse she suffered when she became entangled in an abusive relationship with her boyfriend.
"She brought a man into our house that seemed like a really nice guy," Beck said.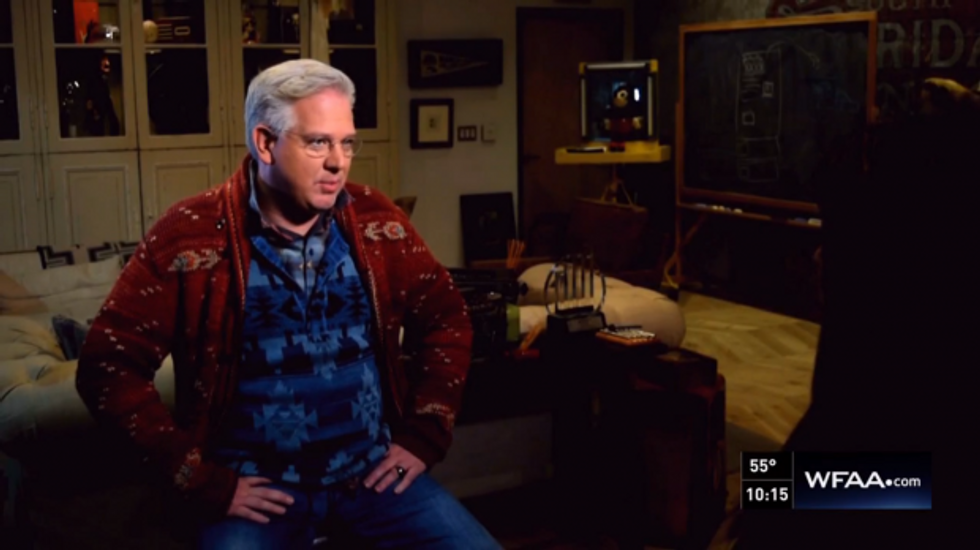 Image source: WFAA-TV
But that was not the case. He said he remembered seeing his mother with bruises and black eyes. There was one argument in particular in which he had to intervene.
"It happened so fast. He reared back and he was going to punch her, and I just found myself standing up in between them and I said get out of our house," he recalled.
The conservative firebrand said the violence escalated, but his mother refused to recognize her boyfriend's abusive streak. Several years later, Beck's mother and the boyfriend embarked on a boat trip. They never returned.
"My mother had left a note before they went out, and she knew she wasn't coming back," Beck said, recalling how he felt as a teenager when his mother disappeared. "We believe that she committed suicide."
As for the boyfriend, Beck believes he also killed himself.
The situation was just as bad on the other side of Beck's family. He described his paternal grandfather as a "very bad man," someone he said "terrified" him. Beck said his father was abused by both his grandfather and his mother.
"My mother was very abusive to him, verbally and mentally," Beck said.
But Beck told Lopez that he was committed to breaking the cycle of abuse in his own family.
"I told my family that abuse doesn't happen in our family anymore," Beck, who now serves on the board of directors for a domestic violence shelter in his hometown, said.
He described those women he encounters in the shelter as "brave to be able to walk out and say I'm worth more than this."
"I wish I could convince you how great it is on the other side, and how warm it is, and how much happiness there is," Beck added.
Watch the interview:
—
Follow the author of this story on Twitter: