During a press conference aboard his flight following his recent trip to Mexico, Pope Francis was asked by reporters if — given the church's teaching on abortion — contraceptives may actually be "the lesser of two evils" in combatting the Zika virus.
"Abortion is not the lesser of two evils. It is a crime," Francis relpied, according to CNA/EWTN News. "It is to throw someone out in order to save another. That's what the Mafia does. It is a crime, an absolute evil."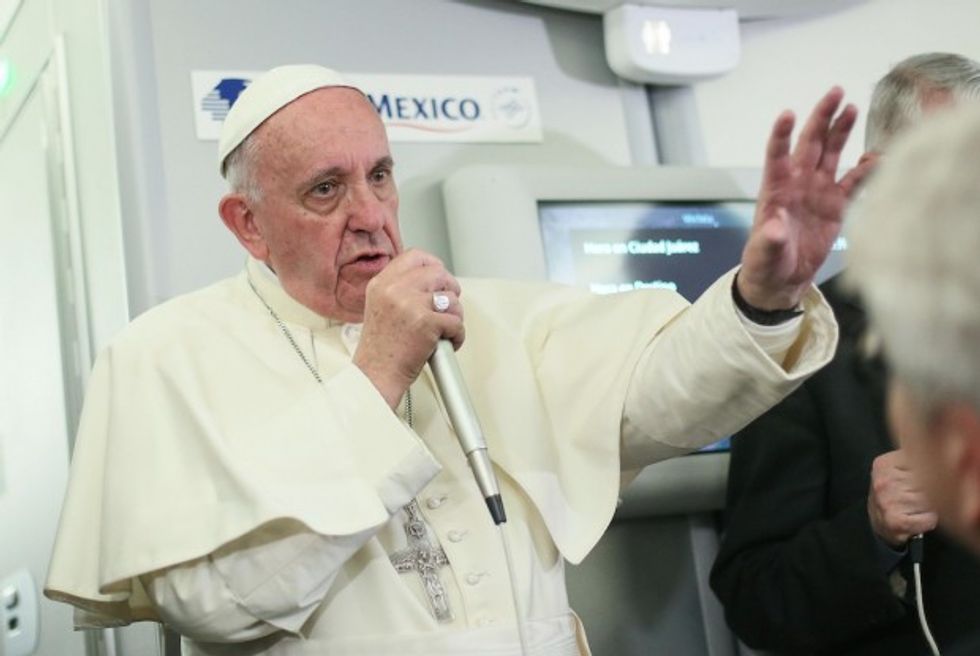 Pope Francis speaks to journalists aboard the flight from Mexico to Italy Thursday. (Alessandro di Meo/AFP/Getty Images)
"Don't confuse the evil of avoiding pregnancy by itself, with abortion," Francis continued. "Abortion is not a theological problem. It is a human problem, it is a medical problem. You kill one person to save another, in the best case scenario. Or to live comfortably, no?"
Some officials have called for abortion and contraceptives to be employed in the fight against the Zika virus, which can lead to birth defects in infants. According to the Associated Press, Catholic leaders in the region have maintained their opposition to both.
Catholic Church teaching forbids the use of artificial contraception — such as condoms or birth control pills — in most circumstances. The church teaches natural family planning, a method of determining the time during a woman's menstrual cycle in which she is fertile.
Francis said that merely avoiding pregnancy is "not an absolute evil."
"Paul VI, a great man, in a difficult situation in Africa, permitted nuns to use contraceptives in cases of rape," Francis said, adding, "In certain cases, as in this one, such as the one I mentioned of Blessed Paul VI, it was clear."
According to the Washington Post, during the 1960s, Pope Paul VI granted a dispensation to an order of nuns living in the Belgian Congo who were "being systematically raped" to use contraceptives.
In response to Zika, Francis added, "I would also urge doctors to do everything they can to develop a vaccine."