White House Press Secretary Josh Earnest on Wednesday was unable to rule out golfing as the reason President Barack Obama intends to skip Justice Antonin Scalia's funeral this weekend.
"The president has said that he is not always as sensitive as he should be on optics," one reporter asked Earnest during Wednesday's press briefing. "Can you rule out that he's going golfing on Saturday instead of the funeral?"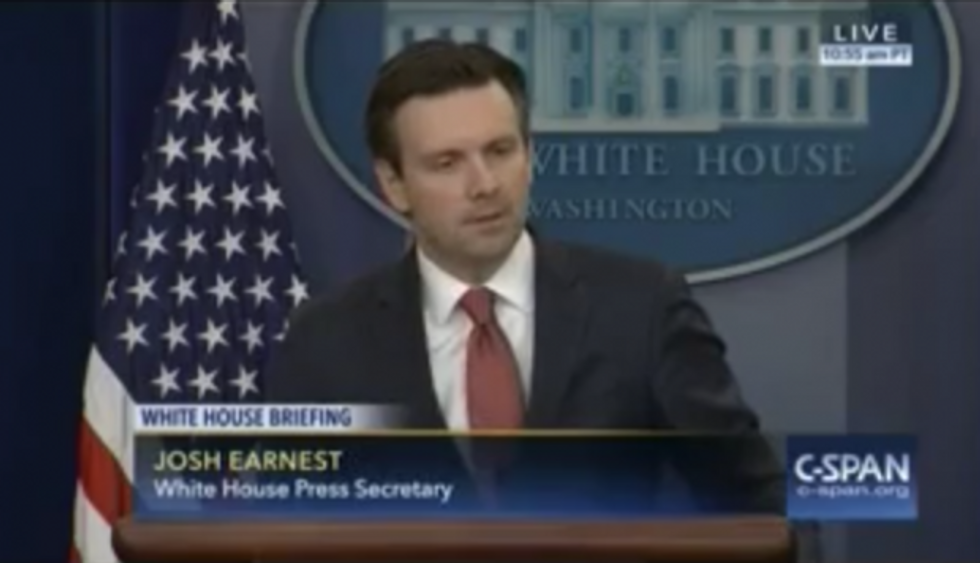 Image source: screenshot
"I don't have a sense of what the president's plans are for Saturday," Earnest began in reply. "The president obviously...believes it's important for the institution of the presidency to pay his respects to somebody who dedicated three decades of his life to the institution of the Supreme Court."
He added, "And the president gave some pretty thoughtful words in discussing Justice Scalia's service on the Supreme Court, not just Saturday night, but also yesterday in his news conference, and Friday will be an important opportunity for the president and the first lady to pay their respects to Justice Scalia."
The White House announced on Wednesday that Obama and First Lady Michelle Obama would not be attending Scalia's funeral service, which is slated to take place on Saturday. Instead, they intend to pay their respects while Scalia's body lies in repose in the Great Hall on Friday.
However, Vice President Joe Biden and his wife, Jill, are expected to attend the funeral.
Watch the exchange below:
—
Follow the author of this story on Twitter and Facebook:
[facebook //www.facebook.com/plugins/like.php?href=