Hillary Clinton drew ire from the crowd during Thursday's MSNBC town hall in Las Vegas after she suggested Bernie Sanders is a newcomer to the Democratic Party.
The moment came when the event's moderators, MSNBC's Chuck Todd and Telemundo's José Díaz-Balart, asked Clinton about Sanders' criticism of both President Barack Obama and former President Bill Clinton.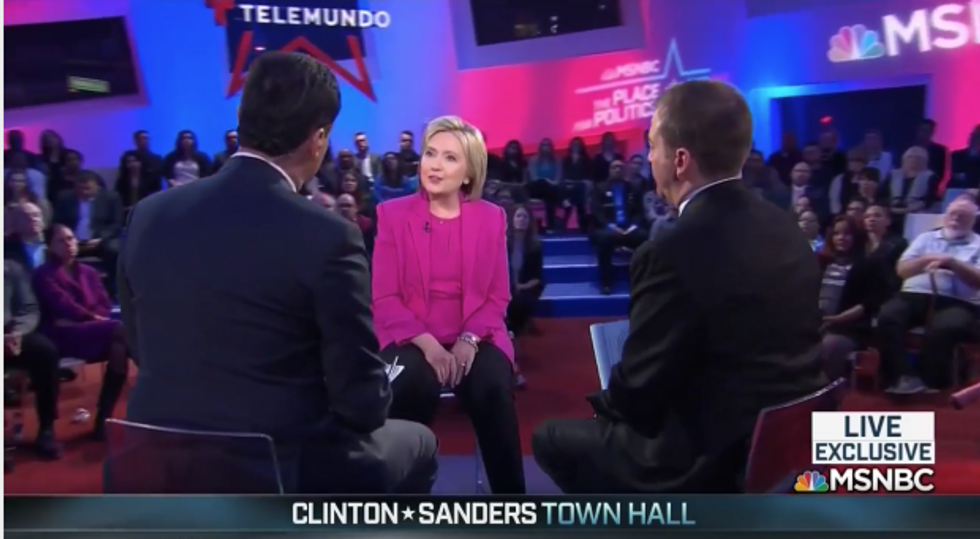 Image source: Youtube
"I just don't know where this comes from," Clinton began. "Maybe it's because Sen. Sanders wasn't really a Democrat until he decided to run for president."
Those comments are what incited the crowd to begin booing. But the resounding disapproval didn't stop Clinton from continuing to express her sentiment on the matter.
"He doesn't even know what the last two Democratic presidents did," she added. "Well, it's true, it's true. You know it's true. It happens to be true."
However, she quickly won back the crowd's approval when she praised the accomplishments of the last two Democratic presidents, Clinton and Obama.
"And I've got to tell you, I look at our last two Democratic presidents, were they perfect? No. No person is," Clinton remarked. "But I'll tell you I would take the two of them over any Republican anytime, anywhere."
—
Follow the author of this story on Twitter and Facebook:
[facebook //www.facebook.com/plugins/like.php?href=