GREENVILLE, S.C. — Ben Carson isn't giving up — neither after South Carolina nor Nevada.
Carson's campaign denied a claim by a Daily Beast reporter who tweeted that the retired neurosurgeon plans to suspend his campaign after Nevada, out of courtesy to his Nevada staffers.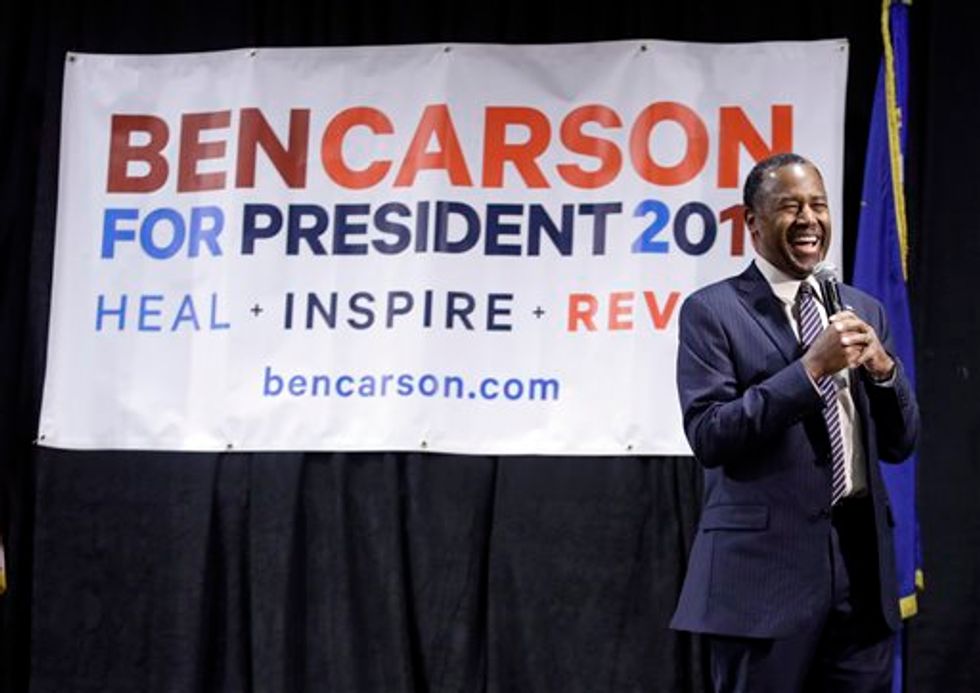 Republican presidential candidate Ben Carson smiles as he is introduced during a town hall meeting Sunday, Feb. 21, 2016, in Reno, Nev. (AP Photo/Marcio Jose Sanchez)
"There have been only three contests out of 56 so far; with the amount of grassroots and financial support, Dr. Carson still has a story to tell and will keep taking his message to 'We the People,'" a senior Carson campaign official told TheBlaze Sunday night. "In addition to large, enthusiastic crowds, Dr. Carson has many people pledging their continued support and pleading with him to stay in the race, as his alternative voice for representative government, not D.C. politics as usual, needs to be heard."
The official said that he's reached out to the Daily Beast reporter to inform him that his tweet is not indicative of the campaign's plans.
Been told that Carson has the infrastructure in Nevada and doesn't want to let staffers down there; will drop on Wednesday

— Gideon Resnick (@GideonResnick) February 21, 2016
"Carson left South Carolina at 'zero dark thirty' this morning to campaign in Nevada, after which he goes to Houston for the debate and then on to fly around to campaign in the SEC states, including Texas, Tennessee, Arkansas, Kentucky, Alabama, Georgia and Virginia," the campaign source said.
Carson finished last at Saturday's South Carolina GOP primary. Former Florida Gov. Jeb Bush ended his campaign Saturday evening.
—
Follow Kaitlyn Schallhorn (@K_Schallhorn) on Twitter