Florida Sen. Marco Rubio and his campaign are denying a report that former GOP presidential candidate Mitt Romney is set to throw his endorsement behind Rubio.
"That report is false," Rubio said Sunday morning during an interview on CNN. "I have no reason to believe he's anywhere near endorsing."
"I don't know where those reports are coming from," he said of the Huffington Post exclusive published early Sunday.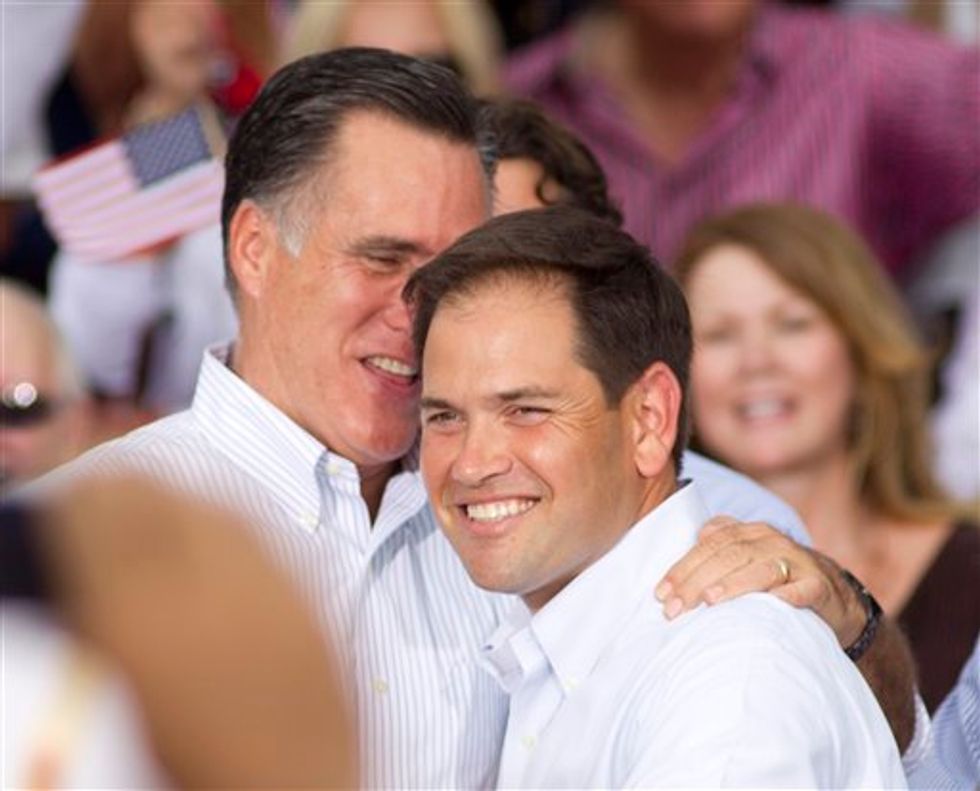 Mitt Romney, left, hugs U.S. Rep. Marco Rubio, (R-Fla.) after Rubio introduced him to the crowd during a campaign stop in Miami, Monday, Aug. 13, 2012. (AP Photo/J Pat Carter)
While denying the reports, Rubio said that he'd "love to have" Romney's endorsement.
A Rubio campaign spokesman also denied the claim in an email to TheBlaze Sunday morning.
According to the Huffington Post report, published Sunday morning, two Republican sources confirmed that that Romney was still working out the details of his endorsement but planned to throw his support behind Rubio. The report said that Romney waited until after former Florida Gov. Jeb Bush ended his campaign out of respect.
Rubio eked out a second place finish in South Carolina's Republican primary Saturday night while Bush announced the suspension of his campaign after a dismal fourth place finish.
.@marcorubio: Reports that @MittRomney will endorse me are "false" https://t.co/1FIKzrf8Kb #CNNSOTU https://t.co/oVYbZ4BIu4

— CNN (@CNN) February 21, 2016
—
Follow Kaitlyn Schallhorn (@K_Schallhorn) on Twitter