A graphic posted on Facebook by Democratic presidential candidate Vermont Sen. Bernie Sanders in more than a dozen languages appeared to have a boomerang effect, at least in its Hebrew version, which offered Israelis the opportunity to school Sanders in the history of socialism, collectivism and fascism that they argued was evoked by his post.
The poster showed a silhouette of Sanders, right fist raised, with the silhouettes of the masses drawn inside him, bearing the title, "Not me, us" along with the  message, "America becomes a greater nation when we stand together and say no to racism, hatred, and fanaticism." (Note that Sanders' English language poster used the word "bigotry" in place of "fanaticism.")
While Sanders received some positive feedback in Hebrew, multiple Israelis blasted his "fanatical," "disturbing" and "disgusting" ideology that they argued harkened back to the worst days of the Soviet Union.
Here are some of the comments translated to English:
Reuven Beshada wrote, "Say no to racism, hatred, and fanaticism? But socialism increases racism and hatred when it sticks every sector into the pocket of the second sector and everyone into each other's pocket, something that inspires enmity between different groups in society."
Bashada called Sanders' socialism "a fanatical ideology that defames entrepreneurs, businessmen and the wealthy in general."
Bashada went on to write that a "socialist government uses violence against working people to nationalize the fruits of their labor. And it converts the charity that was donated voluntarily with kindness and received with gratitude into welfare forcibly collected … and received ungratefully — since it's a right, I deserve it."
Omri Hen called Sanders' message "disgusting collectivism," a sentiment echoed by Yuval Cohen who called it "disturbing collectivism! There is no 'us' without the 'me!'"
Alon Shemesh wrote, "What is common to all dictators in history is that everyone erased the 'me' and of course they were all socialists. Scary to think what will remain of the free world if the president of the U.S. will be a socialist who doesn't see … the 'me.'"
Eli Eliach wrote, "This collectivist wants to destroy the land of freedom. Shame!"
Others accused Sanders of expressing a theme previously embraced by fascists. "Hitler and Stalin said it way before him," Lior Boord wrote.
Idan De Eretz wrote, "Such things are the connecting line between socialism and nationalism/fascism — relating to man only as part of a collective."
Tamir Perl wrote, "LOL. The U.S. grew on the basis of 'me' and only after that 'we.' Someone here created a meme before learning history!"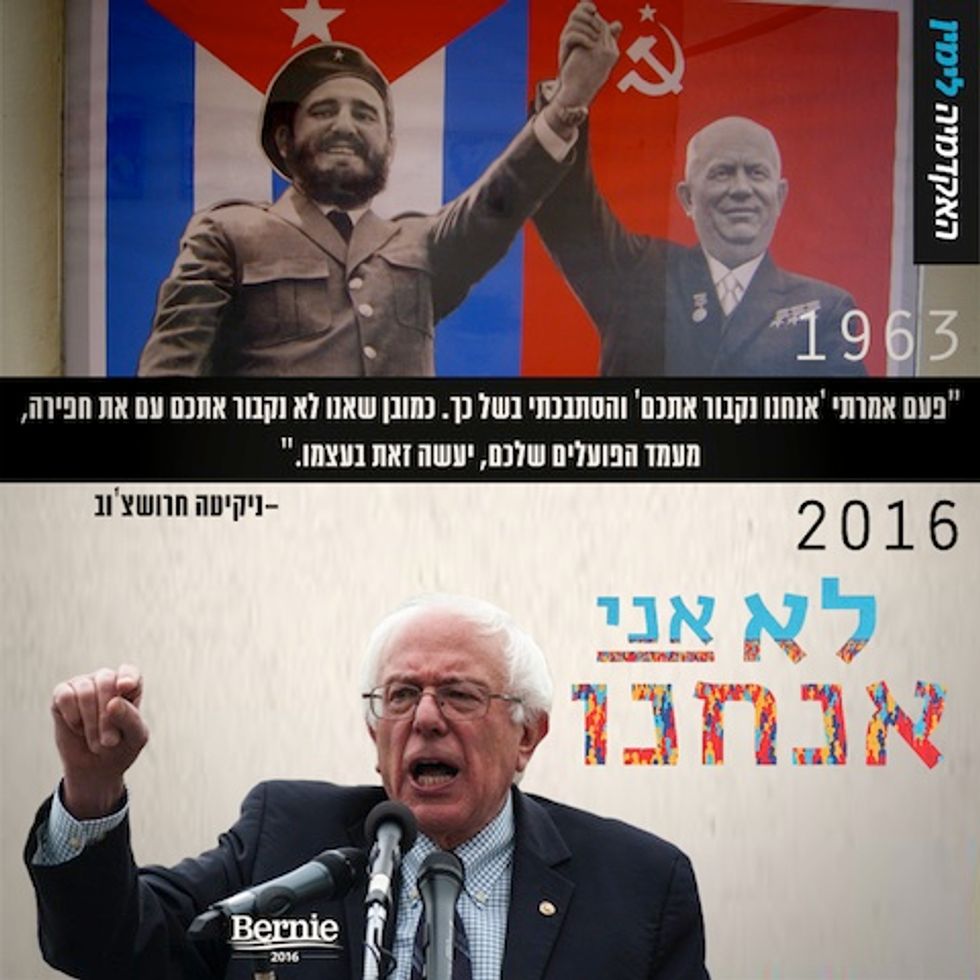 Academia LeYamin, an Israeli anti-socialism organization that promotes economic freedom, posted these images on Facebook warning Sanders' message had chilling similarities to darker historical times. (Image via Facebook/Academia LeYamin)
The Academia LeYamin, or Academy to the Right — an organization that describes itself as promoting the principles of economic freedom known as classical liberalism — compared Sanders' post to the famous declaration in 1963 by then-Soviet leader Nikita Kruschev who said, "I once said, 'We will bury you,' and I got into trouble with it. Of course we will not bury you with a shovel. Your own working class will bury you."
The right-wing economic group posted a photo of Sanders below one of Kruschev and Fidel Castro, also with raised arms.
"The growing strength of the declared radical socialist Bernie Sanders in the Democratic Party of the U.S. gives chilling reinforcement to the words of Nikita Khrushchev the communist," Academia LeYamin wrote.
The anti-Sanders' comments appeared to be fueled in part by the economic travails Israel has suffered following its founding decades of socialist economic planning.
(H/T: JTA)