The organizers of the Conservative Political Action Conference criticized Sen. Marco Rubio's campaign Tuesday for not being "organized" enough to commit to a speaking slot at next week's conference.
"I take them at their word when they tell me that they want to be there, but they simply seem unable to commit to anything that is a week away," said Matt Schlapp, chairman of the American Conservative Union.
"We'd like to have them there, but we think it's curious that every other campaign is organized enough to set a time — we think they should be too," Schlapp told TheBlaze. "Four out of five of these presidential campaigns have worked with us to get a time that's mutually agreeable, we would have loved Marco Rubio to do the same thing."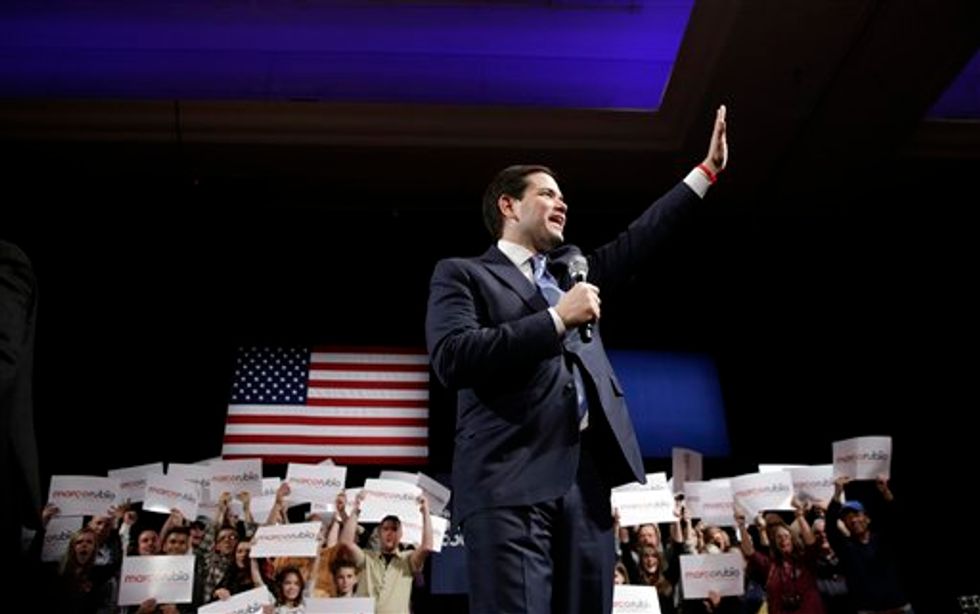 Sen. Marco Rubio, R-Fla, speaks at a rally Monday in Reno, Nev. (AP/Marcio Jose Sanchez)
CPAC, which is being held in National Harbor, Maryland, next Wednesday through Saturday, ran into scheduling trouble when the Republican National Committee scheduled a debate in Detroit, Michigan, on the conference's opening day.
So far, businessman Donald Trump, Texas Sen. Ted Cruz, neurosurgeon Ben Carson and Ohio Gov. John Kasich have committed to speaking slots at CPAC, despite Wednesday's debate in Detroit.
CPAC's organizers were working with Rubio's campaign on a speaking slot and had plans to announce it. But on a phone call this morning, Rubio's campaign still couldn't finalize a time, Schlapp said.
"The conference is a week away. Everybody else is set, we've got four other candidates, and we just can't wait any longer to nail this down," he said. "And so I called his campaign this morning to say, look: 'In or out.' And they said, 'We just simply can't commit to any times in March.' 'I said, 'Look, that cannot work, we are putting a conference on.'"
This afternoon, a story popped up on Breitbart.com, with a statement from the ACU knocking Rubio for making a "rookie mistake" by choosing to "hide at the very moments when activists who comprise the heart and soul of the movement assemble and organize." The outlet also claimed Rubio had made a decision to "skip" the convention, which has yet to be seen.
Reached Tuesday, Rubio spokesperson Alex Conant said that the campaign told CPAC's organizers this morning that they want Rubio to attend the conference and are working on their March schedule.
"This is bizarre behavior," he said.
—
Follow the author of this story on Twitter and Facebook:
[facebook //www.facebook.com/plugins/like.php?href=