AUSTIN, Texas (AP) -- Texas' highest criminal court tossed the second and final felony charge against former Gov. Rick Perry on Wednesday, likely ending a case the Republican says helped sink his short-lived 2016 presidential bid.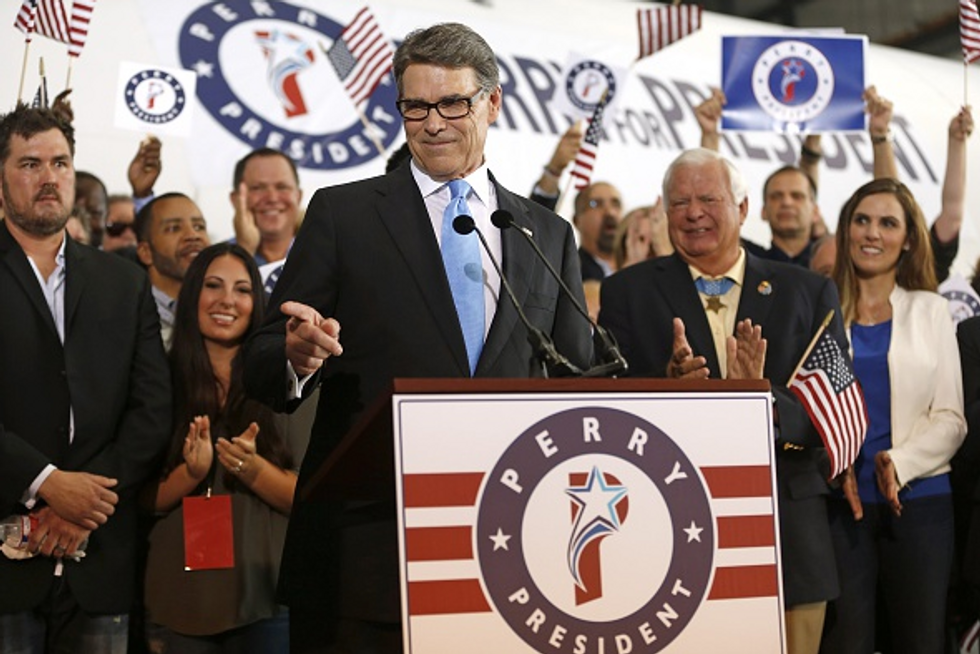 Former Texas Governor Rick Perry points to a supporter after announcing that he will run for president in 2016 June 4, 2015 in Dallas, Texas. Rick Perry is the tenth Republican to join the race for president in 2016, and also ran for the presidency in 2012. (Photo by Ron Jenkins/Getty Images)
The Texas Court of Criminal Appeals dismissed the abuse-of-power charge, which was filed after Perry threatened - and then carried out - a veto of state funding for a group of public corruption prosecutors after the Democratic head of the unit refused to resign.
A lower appeals court dismissed the other charge, coercion by a public servant, in July.
The longest-serving governor in Texas history, Perry left office in January 2015 while facing a felony indictment handed down the previous summer by a grand jury in Austin, a liberal bastion in otherwise mostly deeply conservative Texas.
Perry made just one court appearance in the case, which stems from 2013, when Perry publicly threatened to veto $7.5 million in state funding for Public Integrity Unit prosecutors. His move came after Travis County District Attorney Rosemary Lehmberg, who headed the investigative group, rebuffed Perry's calls to resign after she was convicted and jailed for drunken driving.
Perry dismissed the case as a "political witch hunt," while legal scholars from across the political spectrum raised objections about it. Still, the Republican judge overseeing the case repeatedly refused to throw it out on constitutional grounds, prompting Perry's appeals.
This was a political witch hunt from the beginning. We're proud of @GovernorPerry for standing strong! https://t.co/Mzxisp3LaB

— Texas GOP (@TexasGOP) February 24, 2016
Michael McCrum, the San Antonio-based special prosecutor who secured Perry's indictment, long maintained that the matter was built on evidence - not politics - and deserved to go to trial. He can appeal, but that would be a lengthy process. Combined, the original charges carried a potential maximum penalty of 109 years in prison.
Despite his legal problems, Perry formally announced he was running for president in early June, hoping to convince GOP primary voters he deserved a second chance after his 2012 bid was undone by a series of public gaffes. But his second White House campaign lasted barely three months, and Perry formally dropped out of the race in September.
The former governor spent more than $2 million on top defense lawyers. His latest White House campaign raised barely half that much in its first month, and it quickly became so cash-strapped that it could no longer afford to pay staffers in key states with early presidential primaries or caucuses.
Perry blamed the criminal indictment for his sluggish fundraising. But polls showed he was badly trailing in the race despite numerous visits to Iowa, New Hampshire and South Carolina. He was the first candidate leave a GOP field jammed with 17 presidential hopefuls at the time.
–