The president of Oberlin College in Ohio said that his institution "respects" the right of professors to express their views following the revelation that one of his faculty members placed anti-Semitic posts and 9/11 conspiracy theories on social media, and even claimed that the Islamic State group is not a jihadist terrorist group but rather a CIA and Mossad operation.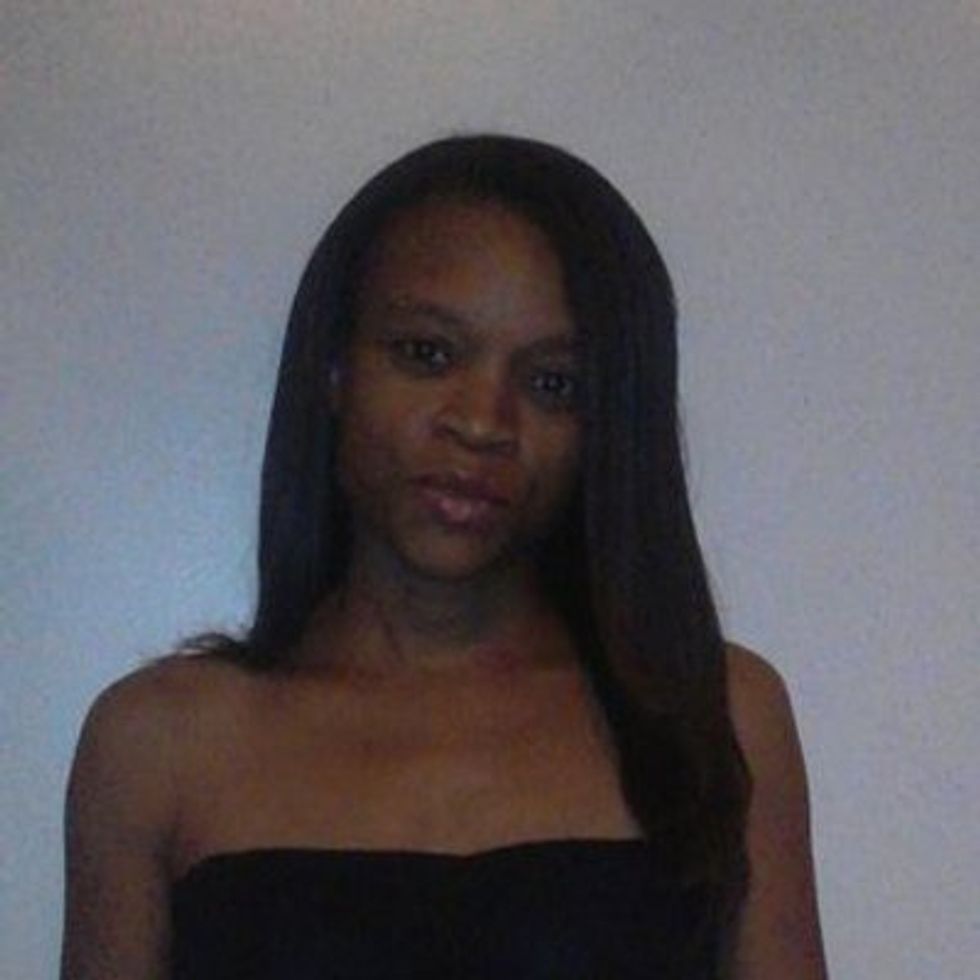 Image source: Twitter/JoyKarega
The statement by Oberlin's president was noteworthy as it stood in stark contrast with the statement of California State University's president regarding the CSU-Los Angeles campus appearance by conservative writer Ben Shapiro. When he conceded in a statement that Shapiro would be allowed to speak on campus Thursday after initially forbidding it, President William A. Covino added, "I strongly disagree with Mr. Shapiro's views."
Following an extensive report published Thursday by The Tower on controversial Facebook posts by Joy Karega, an assistant professor of rhetoric and composition, Oberlin President Marvin Krislov issued a statement which notably did not criticize the content of her posts.
"Oberlin College respects the rights of its faculty, students, staff and alumni to express their personal views," Krislov said.
"Acknowledgement of this right does not signal institutional support for, or endorsement of, any specific position. The statements posted on social media by Dr. Joy Karega, assistant professor of rhetoric and composition, are hers alone and do not represent the views of Oberlin College," Krislov added.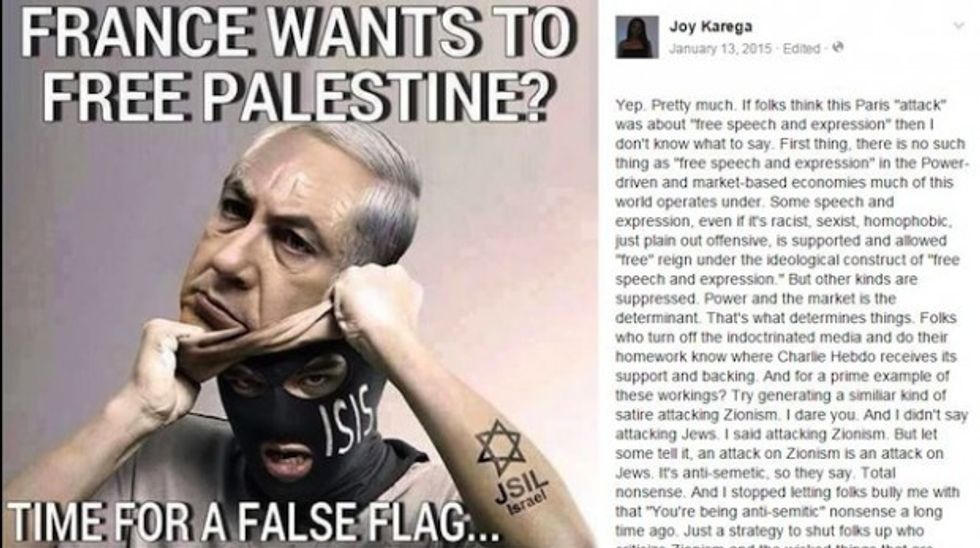 Screenshot captured by The Tower
The Tower reported that Karega's social media posts have included blaming Israel for the deadly attack on the Charlie Hebdo magazine office in Paris and promoting a video in which Nation of Islam leader Louis Farrakhan said that "Israeli and Zionist Jews [were] in key roles in the 9/11 attack."
Several of her posts focused on the Rothschilds, a banking family of Jewish heritage that often comes up in anti-Semitic online forums.
One post appeared to blame the "Rothschilds" for the spread of AIDS. In the same post, it appeared that by "Rothschilds," Karega intended to castigate Jews and/or Israelis.
"It seems obvious that the same people behind the massacre in Gaza" were behind the 2014 shooting down of the Malaysian Airliner over Ukraine, she argued.
The same post concluded with this statement: "With this false flag, the Rothschild-led banksters, exposed and hated and out of economic options to stave off the coming global deflationary depression, are implementing the World War III option."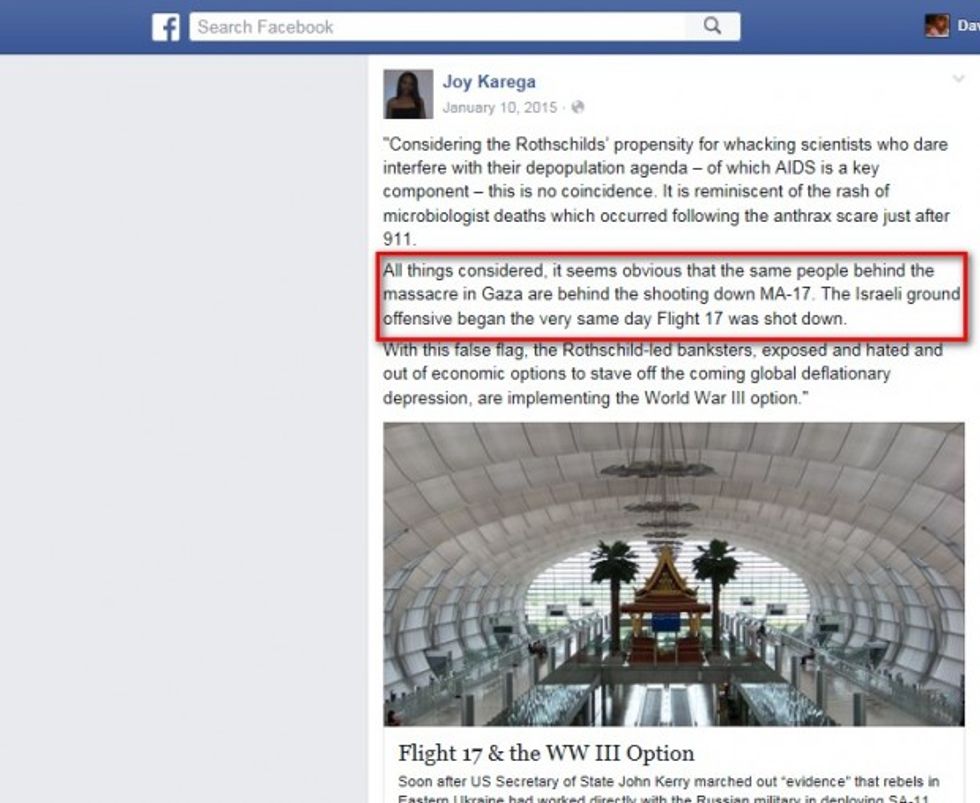 Screenshot captured by The Tower
In one of her Facebook posts, the professor at the $50,000-per-year tuition school noted that she taught a "Social Justice Writing" class.
Harvard Law School Professor Emeritus Alan Dershowitz told The Tower that the Oberlin College response would likely have been far different had the target of the professor's criticism been blacks, Muslims or gays.
"If Karega had expressed comparably bigoted views about blacks, Muslims or gays, the President of Oberlin would not have posted the boilerplate he posted. He would have condemned those views, even if he defended her right to express them," Dershowitz said.
Karega did not respond to requests for comment from The Tower; however, JTA reported that she posted a statement on Facebook which read in part: "Trust, when I come up out of my Unbothered state of being, I'll have a lot to say (analysis, no doubt) about the kinds of intimidation and silencing tactics that are rhetorically enacted in digital spaces, through email, through telephone communication, and propagandized editorial articles, masquerading as 'journalism,' and how common it is for Black women, who are early in their career on the tenure track as part of the professoriate, to be prime targets for these kinds of activities and practices."
Karega's Facebook page was not accessible for public vieweing as of this writing.
See the full report along with photos of the controversial Facebook posts at The Tower.