Former Texas state Sen. Wendy Davis held an estate sale last Friday in Fort Worth, Texas.
Included in the sale was a pair of pink sneakers made famous by the failed 2014 Democratic gubernatorial candidate during her June 2013 filibuster in the state Senate against her Texas' wide-ranging abortion restrictions.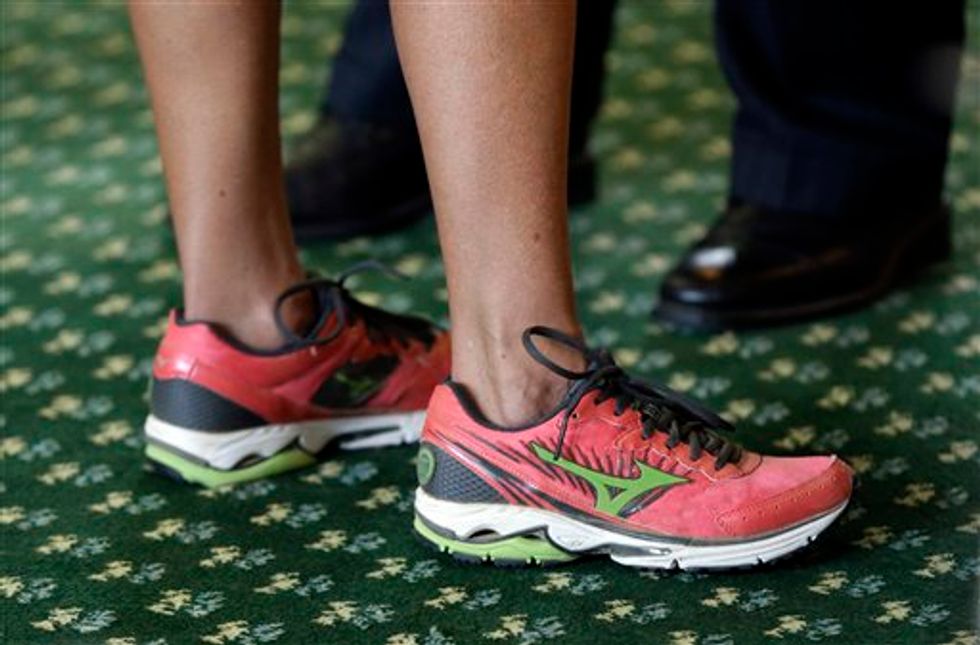 AP Photo/Eric Gay
Despite the failed filibuster, liberal commentator and lawyer Sally Kohn deemed Davis' pink sneakers "a talisman of feminism."
That talisman now belongs to Washington Free Beacon reporter Brent Scher.
Scher found out about the sale at Davis' house through an advertisement he saw on EstateSales.net. When he saw the shoes, he knew he had to go.
In his account of the event, published on the Free Beacon website, Scher described feeling slightly self-conscious showing up an hour and a half early for the sale, which primarily featured women's clothing and jewelry: "The costume jewelry is where the crowd will rush first, I was told. I acted interested in an effort to not show my hand, but I knew what I wanted—the pink sneakers she wore during her 11-hour pro-abortion filibuster."
Though Scher heard a few other attendees discussing the sneakers while the they were waiting to be let in, he was pretty confident they would be his — he had arrived before anyone else.
"My confidence fell, however, when a reporter from the Fort Worth Star Telegram showed up with a camera crew and started asking people why they showed up for the sale," he wrote. "A few of of the women interviewed said they were there for the shoes, too."
Scher can been seen in the background of the Star Telegram video:
As soon as the doors opened, Scher asked to be pointed directly to the pink Mizuno sneakers, which he purchased for $120:
I felt pretty good about my purchase, even though the order form that accompanied the shoes revealed that I just paid money for a pair of shoes that Mizuno had provided to Davis for free in February 2014 through a company spokesman known as the "Mizuno Shoe Guy." The company says it has "provided promotional products to numerous public figures" and that "any donation of product should not be seen as an organizational endorsement of anyone's political views."
Also for sale were a variety of coffee table books, board games, a Guitar Hero game, a "hangover chill pill" eye pillow, various articles of clothing (including a tub full of "risqué lingerie") and about 60 copies of Davis' memoir, "Forgetting to Be Afraid," Scher noted.
"I found myself wondering why anybody in Davis' situation would hold this sale," Scher wrote. "The only political case I could think of remotely similar to Davis' estate sale was when Hillary Clinton, who Davis was campaigning for this past weekend, deducted $2 from her taxes for donating used underwear to charity. So maybe the sale was Hillary's idea?"
Wendy Davis (Erich Schlegel/Getty Images)
Scher noted that after Davis' loss to current Texas Gov. Greg Abbott (R), she ended her law partnership so that she could focus on her "policy passions." The firm was her primary source of income while she was serving in the state senate, a job that pays $7,200 annually.
Davis is now a public speaker with the Harry Walker Agency, but according to her page, only five groups have booked her for a speech, three of which were Planned Parenthood groups.
According to Scher, Davis listed the Fort Worth house as her permanent address during her time in the senate but also lived in Austin, where the legislature met.
A 2014 Free Beacon investigation revealed that Davis had spent more than $130,000 in campaign funds to live in luxury accommodations during her months in the state capital.
Davis, who no longer holds an elected office, will now have to pay for her Austin home with her own money, which Scher suggested as a likely explanation for Friday's sale.
With this in mind, Scher decided to grab a few more items before leaving:
I was drawn to the stack of Forgetting to Be Afraid, and when I got to it I noticed that it was also being offered as an unabridged audio book. I grabbed both, but neither had a price.

When I checked out, the pair was offered to me for $10 — but my inherent New York values led me to negotiate the cashier down to $8.

Sorry, Wendy.
(H/T: Washington Free Beacon)