NEW YORK — The day after Super Tuesday, Democratic presidential candidate Hillary Clinton was all smiles and brought her message of positivity to an audience of union workers looking for a fix of the economy.
"Yesterday was one for the history books," she said of Super Tuesday, adding that her campaign went "nationwide" yesterday. Clinton won seven of the 11 states up for grabs between her and Vermont Sen. Bernie Sanders during Tuesday's caucuses and primaries.
"As long as you are fighting for working class families in America, I will be in the trenches fighting alongside you," Clinton, who has a strong backing from labor workers, said to chants of her name from the crowd. "I want you to know this, too — labor will always have a seat at the table when I'm in the White House."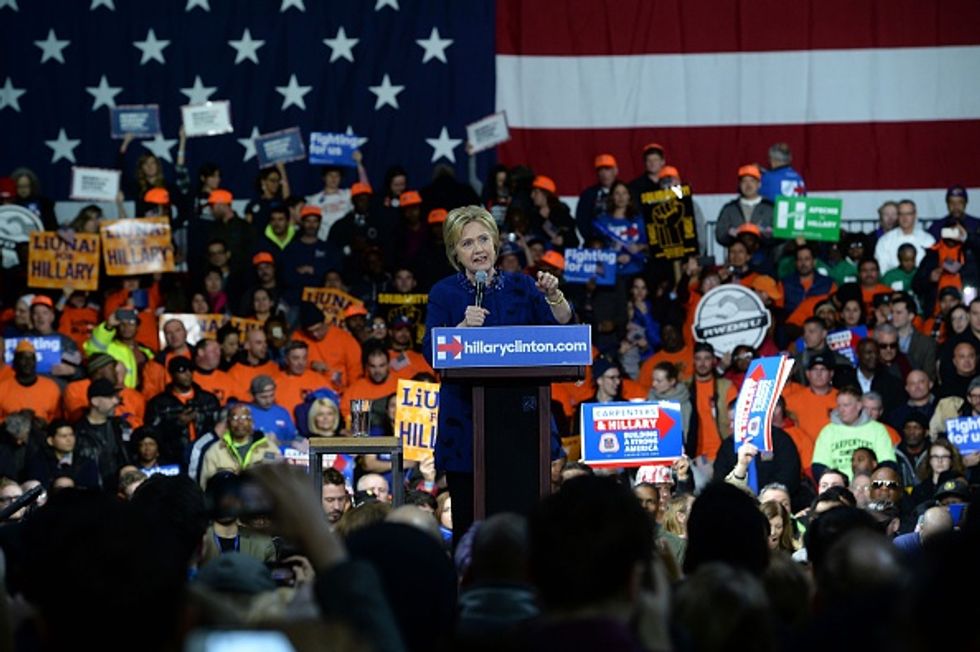 US Democratic presidential candidate Hillary Clinton speaks during a post-Super Tuesday rally in New York on March 2, 2016.
"My respect for working men and women run deep, and I've always believed that when unions are strong, families are strong and America is strong," Clinton said. "That is not a slogan from me. That is a statement of fact. You created the strongest middle class in the world. You led the fight for affordable healthcare more than half a century ago. And today, you're leading the fight to raise the minimum wage which will lift 35 million working Americans out of poverty."
Clinton's short message to those gathered at the Javits Convention Center in Manhattan heavily focused on her promise of raising the minimum wage and adding more jobs for middle class workers.
"We have a lot of work to do which is why I thought it would be a great idea to get everybody together and set this event for the day after Super Tuesday, and boy am I glad it worked out so well," Clinton said, her remarks following over an hour of briefer speeches made by various labor union workers and leaders. Noticeably, their speeches largely attacked Republican presidential candidates — not Sanders.
"We will fight back against attacks on workers, and supporting workers means supporting unions," a hoarse-sounding Clinton said, adding it was a message she wanted to convey to Republican governors across the country.
"The other side has a very different vision about what our country should look like, how we should treat each other," Clinton said. "I tell you, this is serious business. It really matters when you're running for president what you say, and boy does it matter when you are president what you say and how the rest of the world hears you."
She also took a jab at former President George W. Bush and his plan to privatize social security, asserting that "your fights are and were my fights."
Clinton was preceded on stage by New York City Mayor Bill de Blasio and New York Gov. Andrew Cuomo who rallied the crowd in support of the former New York senator.
"Our America is willing to work with anyone willing to work with her. That's why we believe anyone who works full-time deserves a decent life and decent wage," Cuomo said. "That's why we believe that everyone has civil rights that should be protected and love does not discriminate."
After the rally, Clinton headed to nearby Radio City Music Hall to attend a concert featuring performances by Katy Perry, Elton John and Andra Day. Tickers for the event started at $125 per person.
—
Follow Kaitlyn Schallhorn (@K_Schallhorn) on Twitter