Reince Priebus, chairman of the Republican National Committee, pledged that whoever the Republican presidential nominee is, he will have the "full backing and 100 percent support of the Republican Party." He offered the assurances during an interview with Fox News' Sean Hannity on stage at the Conservative Political Action Conference on Friday.
"The odds of a contested convention are very small," Priebus said.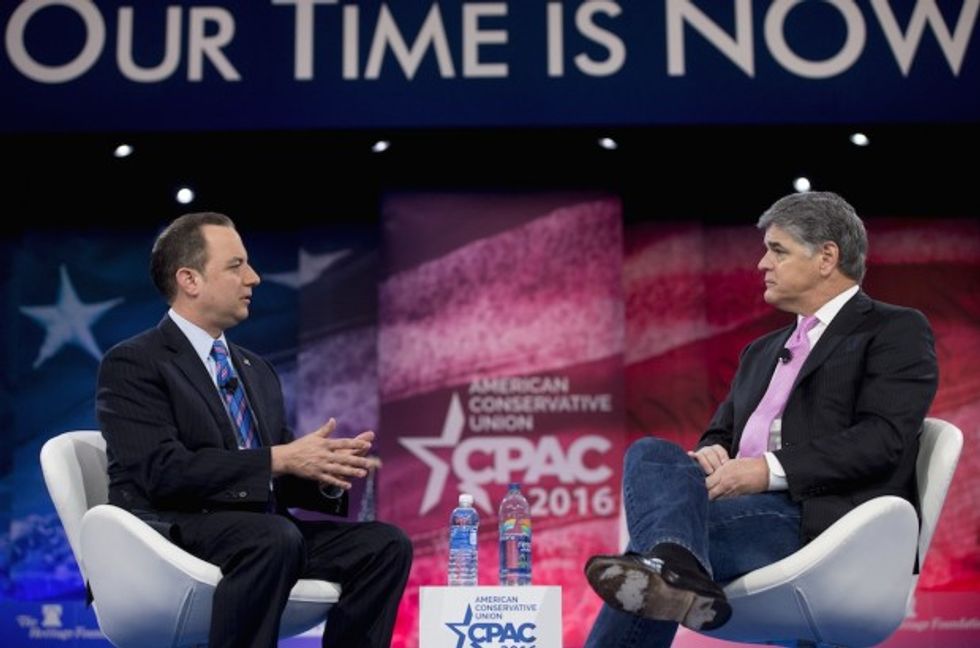 Reince Priebus, left, chairman of the RNC, speaks with Fox News host Sean Hannity during the annual Conservative Political Action Conference at National Harbor just outside Washington, D.C., Friday. (Saul Loeb/AFP/Getty Images)
Hannity asked Priebus about the controversy surrounding the possibility that no candidate will receive the 1,237 delegates necessary to become the Republican nominee, resulting in a contested convention.
"I don't think I'd want your job right now," Hannity said as Priebus laughed.
Priebus said that he is neutral and that whoever wins will have his full support, adding that a contested convention is "highly unlikely."
"We don't take sides, regardless of what you might think or read," Priebus said. "There [are] no sides that we take at the Republican Party."
His role, he said, is to make sure that the nominee has the "ground game" to win the general election.
Prompted by Hannity, Priebus put the odds that a contested convention "won't happen" at 85-90 percent.
Hannity reiterated his belief in the need to support the Republican nominee — whoever it might be — and criticized former Massachusetts Gov. Mitt Romney for advocating a strategy to defeat front-runner Donald Trump in the Republican primary.