NATIONAL HARBOR, Md. – Rep. Steve King (R-Iowa) said that Republican presidential frontrunner Donald Trump should release his tax returns now before the Obama administration does so during the heat of the general election campaign.
"The Democrats will pull this all out," King, a supporter of Texas Sen. Ted Cruz's presidential campaign, told TheBlaze. "His tax returns will be exposed. If they are not brought out by Donald Trump, they will be exposed by somebody who leaks them out of the IRS in the Obama administration for the benefit of Hillary. So let's get them out there."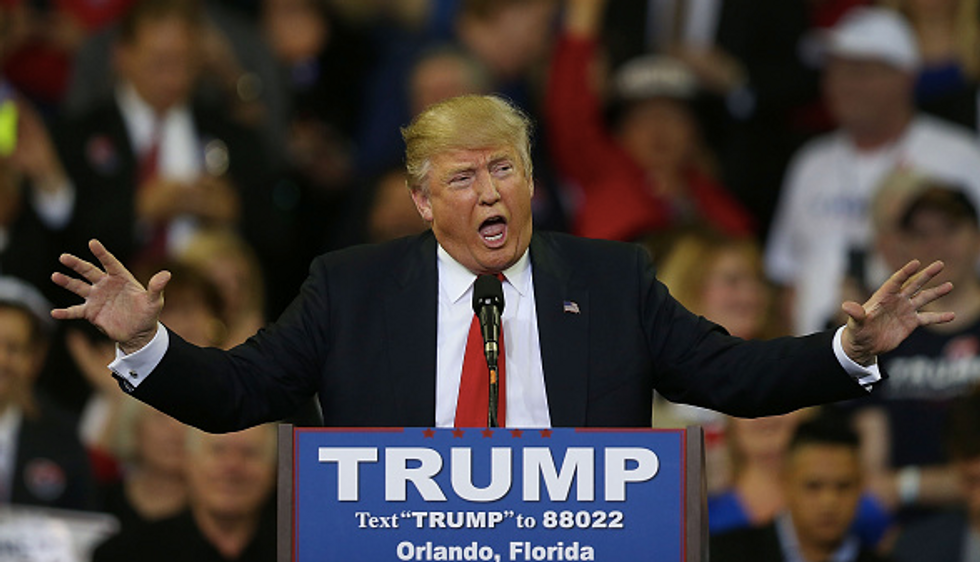 Republican presidential candidate Donald Trump speaks at the CFE Arena during a campaign stop on the campus of the University of Central Florida on March 5, 2016 in Orlando, Florida. Primary voters head to the polls on March 15th in Florida. (Joe Raedle/Getty Images)
The Internal Revenue Service, under the Obama administration, has been known to act in a politicized way, and in at least one case, leaked out the private information of a conservative group.
He added that Trump's financial disclosure forms, released last year, were not reviewed by a certified public accountant.
"What I've seen of his financial reporting documents that causes me to have all kinds of questions," King said. "Those financial statements that he put out filed two or three months ago, it's not a CPA-audited statement. It's not a CPA-reviewed statement at all. It's a compiled statement. That means they wrote the numbers down that he gave them. That's not good enough."
King says "the numbers allow" for Cruz to win the GOP presidential nomination without going to a brokered Republican National Conventionn.
"What's happening is, the more people see of Donald Trump, the harder it is for him to hold his coalition together," King said. "I'm not one who says we ought to have an anybody-but-Trump movement going on, but that movement began and it began in earnest on Wednesday morning of this week after the Super Tuesday primary. That tells me there were an awful lot of people on their email and on their phone texting all night after that as they saw the results coming in."
He noted that Trump has had an easy go of it thus far in terms of real scrutiny – which would not be the case if he becomes the party nominee.
"There is that possibility always [anti-Trump effort started too little, too late]. There were numbers that came out near the New Hampshire primary that showed there were $220 million spent by super PACs and that only 4 percent of that was spent against Trump. He'd been given somewhat of a pass in the negative attacks. I'm not one who is for them. I have weathered them. But what they do is begin to expose vulnerabilities. If Trump has a series of vulnerabilities, and the negative attacks can be turned up in earnest, we are going to find out what they are."