With a little more than two weeks remaining to pass a budget in Kentucky's legislative session, Republican Gov. Matt Bevin headed over to the state House chambers to check in — and found an empty room.
"It is 11 o'clock on a Monday. There is nobody in here," Bevin said in a video posted to his Facebook page. "There are 19 days left now for this House to be in session together with the Senate, and there's nothing being done. There's not a soul in here except for me. What are people doing?"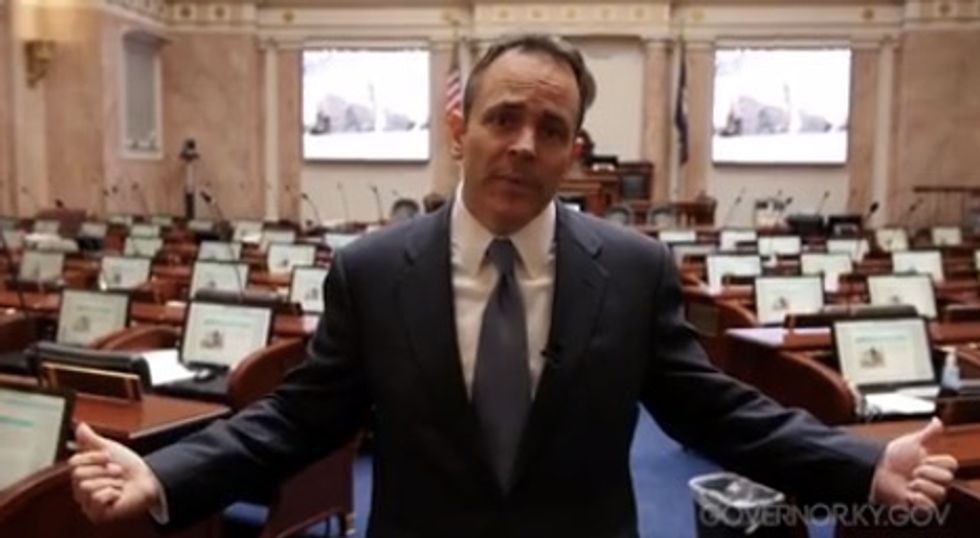 Image via Facebook/GovMattBevin
"You are paying all of these people to work," the first-term governor continued. "They've been in session for just over an hour per day this entire legislative session. They're being paid to be here full-time."
Bevin added that it is "completely unacceptable" that the House hasn't delivered a budget to him and specifically criticized Democratic House Speaker Greg Stumbo. In the video, Bevin implored him to "get serious about putting out a budget, to work with the people in this House and the Senate, to actually take care of our financial problems."
Brian Wilkerson, Stumbo's communication director, told TheBlaze that the House rarely is in session that early on a Monday morning as several lawmakers have to travel to Frankfort from all over the state. He also said that lawmakers attend meetings — including meetings about the budget — in other buildings outside of the chamber. According to the legislative calendar, the House is expected to convene at 4 p.m. Monday.
Wilkerson, in turn, criticized Bevin's office for withholding pertinent information about various points in the budget from lawmakers.
"The fact is, we're not having a lot of information given to us by [Bevin's] administration," Wilkerson told TheBlaze. "It's made it more difficult to come up with a budget proposal."
Wilkerson contended that "everything is still on track" as there "is still plenty of time" to come up with a budget proposal by mid-March.
"We've been moving forward, it's just that we've just been hampered by not having as much information as the administration," Wilkerson said. "They present the budget, the governor does, and then they should be able to defend it, and that's something we've not been able to see. What are your details on some agencies? How are you going to implement the cuts the governor is recommending? They can't or necessarily won't tell us."
Kentucky House Democrats also fired back at Bevin in a series of tweets Monday.
House Leaders at work on budget, have been on nights, weekends, despite no answers to ?s for @GovMattBevin's staff. pic.twitter.com/WOVXA2kdKt

— KY House Democrats (@KYHouseDems) March 7, 2016
.@GovMattBevin's empty parking lot at 8am this morning (last week, too). @KYHouseDems #HereAndWorking on budget. pic.twitter.com/PXT1tnXLLe

— Vote KY House Dems (@VoteKYHouseDems) March 7, 2016
@KYHouseDems Thanks for your hard work! Could someone show @GovMattBevin where the budget work takes place?

— KY Democratic Party (@KyDems) March 7, 2016
Meantime, @LASmithReports, @KYHouseDems are hard at work while Bevin is playing TV reporter in the wrong place. pic.twitter.com/AIGBBNjDxW

— KY Democratic Party (@KyDems) March 7, 2016
As of Monday afternoon, Bevin's video had amassed more than 100,000 views on Facebook. He released his own budget proposal on Jan. 26 during his State of the Commonwealth Address.
"The people of Kentucky deserve better than this," Bevin concluded in the video, as he pointed at the empty seats around him.
—
Follow Kaitlyn Schallhorn (@K_Schallhorn) on Twitter