NASA has officially responded to a complaint from more than a dozen Christian employees who claim that officials at the Johnson Space Center in Houston, Texas, banned Jesus' name from a staff e-mail, with an attorney for the space agency saying in a Feb. 18 letter that NASA "does not prohibit the use of any specific religious names in employee newsletters or other internal communications."
The letter acknowledges that a conversation did unfold about the appropriateness of a message that was sent on behalf of the space center's Praise and Worship club, but that NASA does not currently have a policy that would preclude Jesus' name from appearing in internal memos — an affirmation that is being praised by a conservative legal firm involved in the case.
"We commend NASA and are grateful that they've done the right thing here," Mike Berry, senior counsel at First Liberty, exclusively told TheBlaze on Tuesday. "Ensuring that all of their employees are able to enjoy religious freedom and the protections of federal law."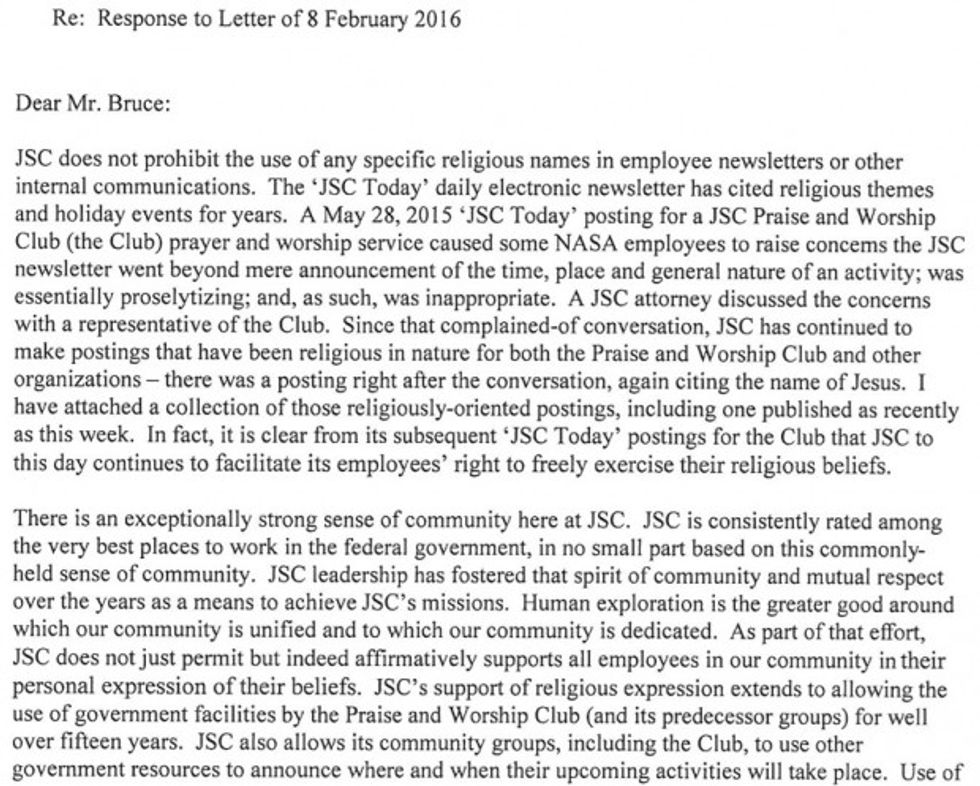 A portion of the letter from Bernard J. Roan, chief counsel of the Johnson Space Center
As TheBlaze previously reported, the dispute began in May 2015 when organizers of the Praise and Worship club submitted a routine announcement to JSC Today, a daily e-newsletter featuring information about campus events that is sent to all space center employees.
"Join with the praise and worship band 'Allied with the Lord' for a refreshing set of spring praise and worship songs on Thursday, June 4, from 11:15 a.m. to noon in Building 57, Room 106," the notice read. "The theme for this session will be 'Jesus is our life!' Prayer partners will be available for anyone who has need. All JSC civil servants and contractors are welcome."
The announcement ran, but NASA lawyers reportedly reached out to the group and explained that including "Jesus" in e-communications that were sent out would no longer be permitted, as it was considered a violation of the First Amendment.
Photo credit: Shutterstock/Songquan Deng
A June 2015 email exchange between NASA staffer Michael FitzPatrick — a member of the Christian worship group — and Rebekah Reed, an attorney for the Johnson Space Center at the time, included FitzPatrick laying out what he was purportedly told by Reed.
Here's what he wrote:
Rebekah,

Since our conversation was verbal and things can easily get misconstrued I wanted to summarize what was discussed to insure we are both on the same page. Please correct me on any point that I missed or mis-stated.

JSC Legal's position is that using the name "Jesus" in the JSC Today JSC Praise and Worship Club Announcement is sectarian (or denominational if that's the word you'd prefer) and would be in an objective observer's opinion a perceived government endorsement of one religious group over another and would violate the "Establishment Clause" and therefore I must stop using the name "Jesus" in the JSC Praise and Worship Club announcements
I offered to put a disclaimer in the JSC Praise and Worship Club Announcement that this notice was from a private group and not endorsed by the government. However this was insufficient to resolve the issue in JSC Legal's opinion
Previous no:ces of the JSC Praise and Worship club that did not use the name of "Jesus" (even though it was acknowledged by both myself and JSC Legal that these no:ces were obviously religious in nature and therefore indirectly dis:nguished between religious and non-religious) were generic enough to be acceptable and not violate the "Establishment Clause" in JSC Legal's opinion
I acknowledged JSC Legal's opinion and while disagreeing with that opinion, agreed to keep the no:ces generic while pursuing other legal opinions, and ader that pursuit I reserved the right to readdress this issue
FitzPatrick then apologized if he was short or "curt," saying that he is passionate about the subject.
Reed then wrote back with the following: "Thank you for your note Mike. No need to apologize, I understand that this is a sensitive issue and one about which you feel strongly. I am happy to talk further if you decide you want to do so."
First Liberty, a conservative legal firm, stepped in alongside firm Fish & Richardson to defend the NASA employees who are part of the worship club, but in his Feb. 18 response letter, Bernard J. Roan, chief counsel of the Johnson Space Center, said that specific religious names aren't precluded from inclusion in staff newsletters and internal communications.
Roan proceeded to offer his version of events that led to the clash between the two parties, providing examples of times in the past year in which Jesus' name was permitted to be included in the newsletter.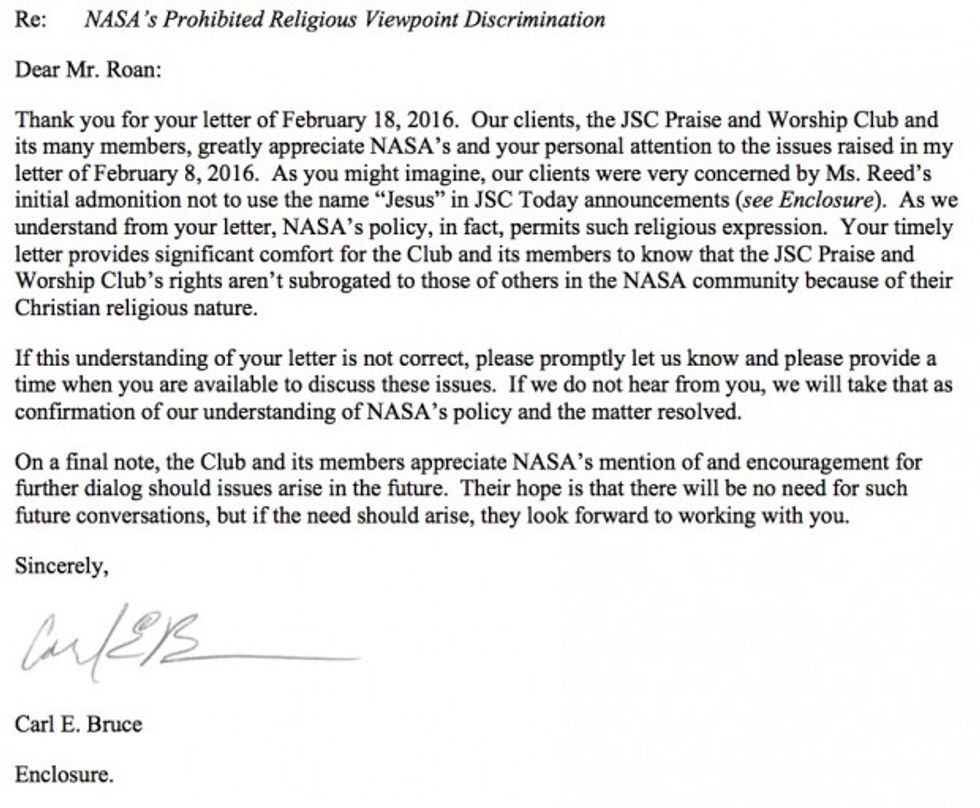 A response letter to NASA from attorneys at Fish & Richardson
"A May 28, 2015 'JSC Today' posting for a JSC Praise and Worship Club ... prayer and worship service caused some NASA employees to raise concerns the JSC newsletter went behind mere announcement of the time, place and general nature of an activity; was essentially proselytizing; and, as such, was inappropriate," he wrote. "A JSC attorney discussed the concerns with a representative of the club."
Roan said that postings that included Jesus' name were permitted to be published beyond that point, as the attorney affirmed that the Johnson Space Center supports employees "personal expression of their beliefs."
This response was reflective of a statement that NASA released to Fox News' Todd Starnes last month, saying that there is not a specific ban on religious names.
"NASA does not prohibit the use of any specific religious names in employee newsletters or other internal communications. The agency allows a host of employee-led civic, professional, religious and other organizations to meet on NASA property on employee's own time," it read. "Consistent with federal law, NASA attempts to balance employee's rights to freely exercise religious beliefs with its obligation to ensure there is no government endorsement of religion. We believe in and encourage open and diverse dialogue among our employees and across the agency."
Dys told TheBlaze last month when the incident first touched off that he was hopeful that the Christian club — and its 16 individual members who are being represented by the First Liberty — would "be allowed to continue to use the name of Jesus." It appears that this is now the case.
In a follow-up statement exclusively offered to TheBlaze this week, Dys also responded to Roan's letter by saying that it proved that NASA attorneys had "expressed concerns to the JSC Praise and Worship club over announcements including the name 'Jesus,' citing fears that the announcements were 'proselytizing' and 'inappropriate.'"
The First Liberty statement also said that NASA has confirmed that Jesus' name won't be prohibited in future announcements.
"Although NASA's initial censorship of the name 'Jesus' gave the Praise & Worship Club cause for alarm, we are grateful NASA took subsequent corrective action, and now clarifies its policy permitting religious expression by its employees," Dys said, reflecting comments made by Berry on the matter. "Whether for an employee praise and worship club email announcement or the words spoken by an astronaut in orbit, employees in America enjoy religious liberty at work."
--
Front page image via Shutterstock.com.
--
Follow the author of this story on Twitter and Facebook: