BALTIMORE (AP) — A Baltimore police officer charged in the death of Freddie Gray must testify against his colleagues while he awaits a retrial, Maryland's highest court ruled Tuesday.
The Court of Appeals did not give any reason for the decision, saying it would issue an opinion later. The case was unusual because Officer William Porter's first trial ended with a hung jury. As he was awaiting a retrial, a judge ruled he had to testify against some of the officers charged in the Gray case but not others.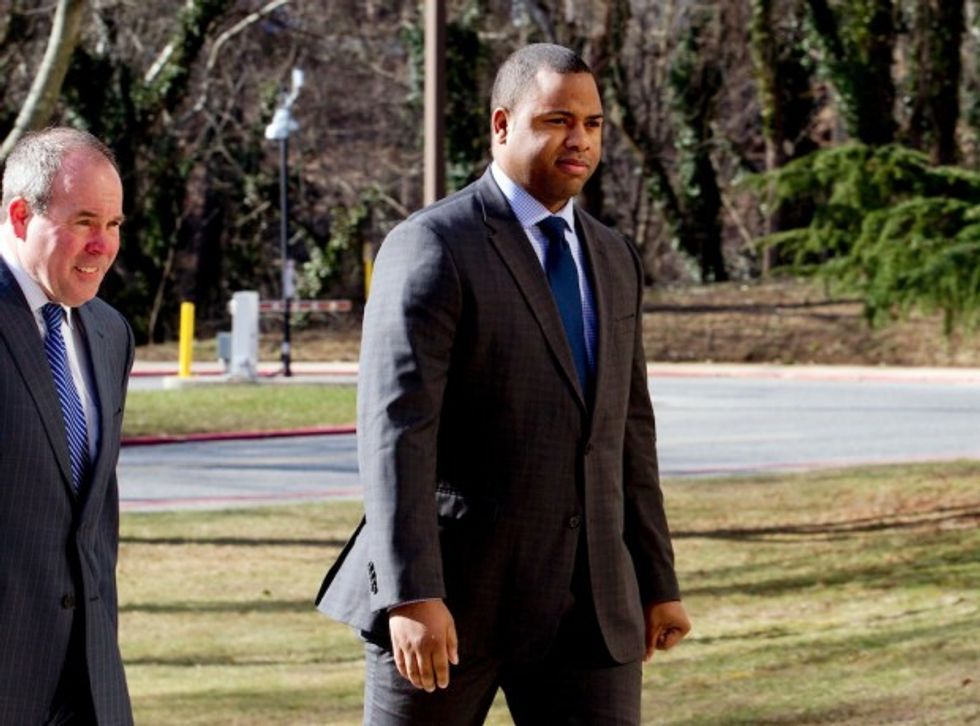 In this March 3 file photo, Officer William Porter, right, one of six Baltimore city police officers charged in the death of Freddie Gray, arrives to Maryland Court of Appeals in Annapolis. Maryland's highest court ruled Tuesday that Porter must testify against his colleagues while he awaits retrial. (AP Photo/Jose Luis Magana)
The appeals court said he had to testify in all of the officers' trials.
Porter took the stand at his trial and said he didn't do anything wrong during Gray's arrest. He told a jury that it was the van driver's responsibility to make sure Gray was secured in a seat belt.
Gray died in April, a week after his neck was broken in the back of a police transport van while he was handcuffed and shackled but left unrestrained by a seat belt.
Porter was the first officer to stand trial, but the issue of whether Porter could be compelled to testify against his colleagues halted the other trials while appeals were pending.
Tuesday's rulings mean the cases will be sent back to a lower court and the trials can move forward.
The court issued two rulings. The first ruling agreed with Baltimore Circuit Judge Barry Williams' decision to force Porter to testify against Sgt. Alicia White and Officer Caesar Goodson, all of whom face manslaughter, assault, reckless endangerment and misconduct in office charges. Goodson, the van driver, faces the most serious charge, second-degree murder.
A second order reversed Williams' decision that Porter did not have to testify against officers Garrett Miller, Edward Nero and Lt. Brian Rice. They face misconduct in office, reckless endangerment and assault charges. Rice also faces a manslaughter charge.