Patti Davis, daughter of former President Ronald Reagan and first lady Nancy Reagan, recalled an interesting anecdote at her mother's funeral Friday as former President George W. Bush sat in the audience.
It was about Bush's top political adviser, Karl Rove.
"I had gone up to her house and found her quite busy making phone calls to elected officials trying to gain their support for stem-cell legislation, something she was quite passionate about. She ended one phone call and gave me a somber look," Davis said.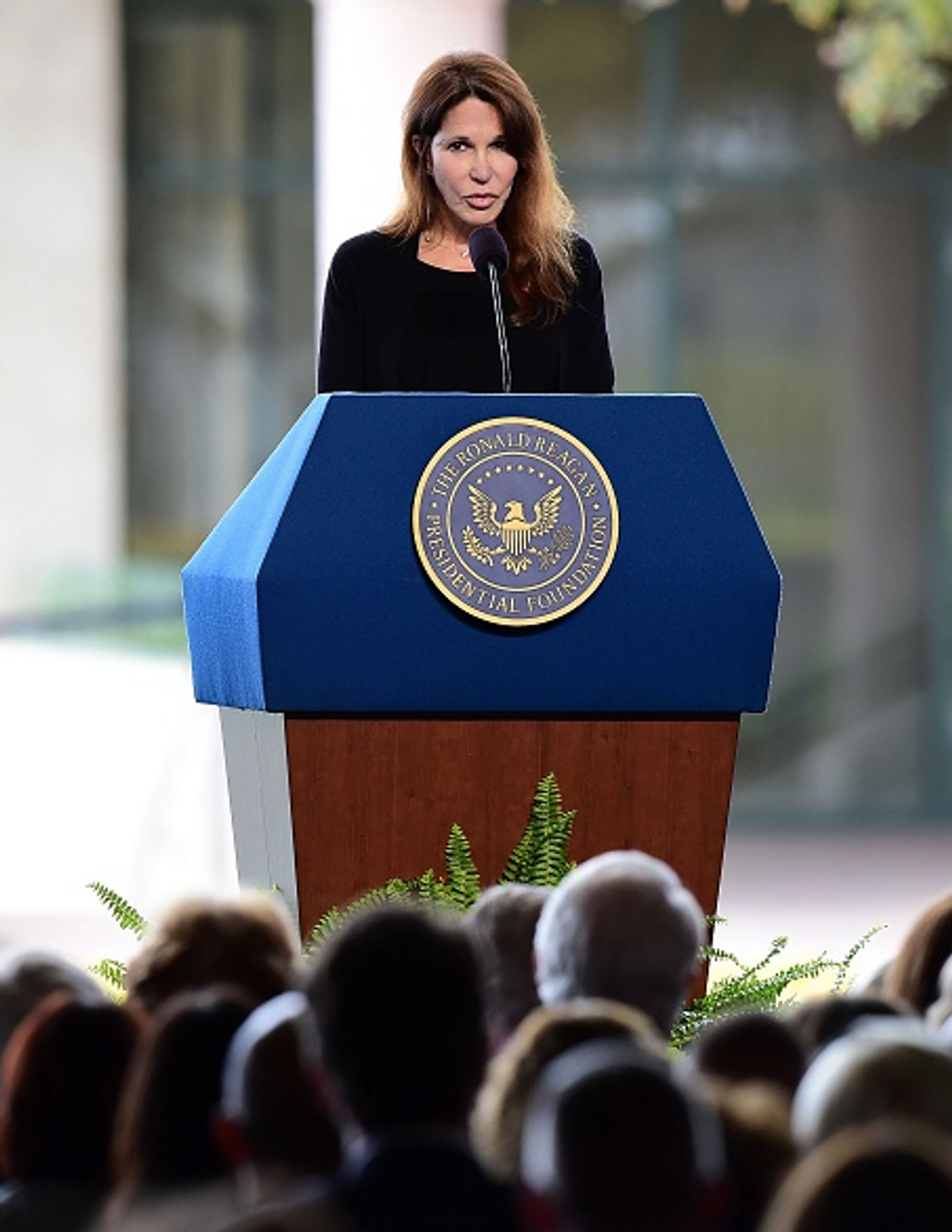 Patti Davis speaks at the funeral service for her mother, former US First Lady Nancy Reagan, on March 11, 2016 at the Ronald Reagan Presidential Library in Simi Valley, California. (FREDERIC J. BROWN/AFP/Getty Images)
She recounted the conversation: "'Well,' she said in a calm tone. 'Karl Rove is dogging my phone calls. Everyone I call, he calls right after and tries to get them to oppose stem-cell legislation.'"
Davis said she responded: "'Right after?' I asked. 'Are you sure your phone isn't bugged?'"
She said the former first lady answered, "No, I had the Secret Service check on that." This prompted laughter from those in attendance.
After former President Reagan was diagnosed with Alzheimer's, the former first lady became a strong advocate for expanding federal funding for embryonic stem-cell research. The Bush administration, and much of the Republican Party, opposed additional funding.
Patti Davis recalled her conversation with her mother: "'You must be furious,' I told her, puzzled by the fact that she didn't seem furious at all."
"She shook her head no. It was not only calm. It was practically Zen," Davis said. "Even people who have never met my mother will know that the word Zen has never been applied to Nancy Reagan."
"There is no time to get upset," Davis quoted her mother as saying. "There is work to be done. I can't get distracted. I have to keep moving forward."
Many of the speakers at the funeral Friday noted that Nancy Reagan could be volatile and was not someone anyone wanted to be on the wrong side of.
"I admit I did say, 'Who are you and what have you done with my mother?'" Davis said, to laughter.