If even the president of the United States is making fun of it, you know it didn't escape the eyes of "Saturday Night Live" writers.
This week's "SNL" episode lampooned Ben Carson's endorsement of Republican presidential front-runner, Donald Trump and managed to work a Trump Steak into the skit.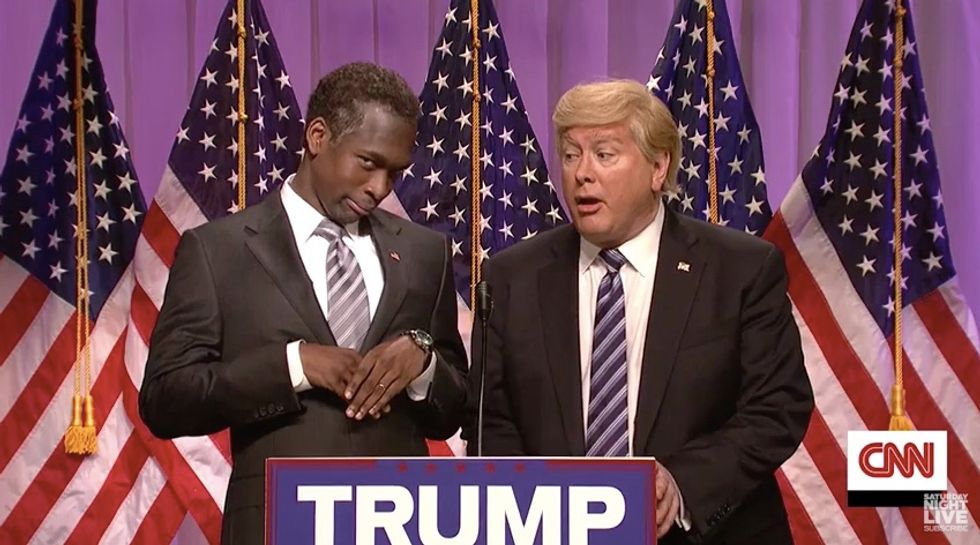 Image source: YouTube/Saturday Night Live
The skit began with CNN's Jake Tappper (Beck Bennett) interviewing Trump (Darrell Hammond) at a rally in Florida, where he is joined by his newest supporter, Dr. Ben Carson (Jay Pharoah).
"My guest today is so tremendous. Dr," Trump began. "Ben Carson is a very special man. And for once, I don't mean that as an insult to the mentally challenged."
"Yes, Donald and I are very different. We're like night and day, ebony and orangey," Carson began. "Sure, we've had our — you know, we've had our polite disagreements. I question his knowledge on health care, and he called me a psycho and a child molester."
After Carson announced his endorsement, the show cut to Democratic presidential candidate and Vermont Sen. Bernie Sanders (Larry David, who gave an extremely candid account of how his campaign has been holding up.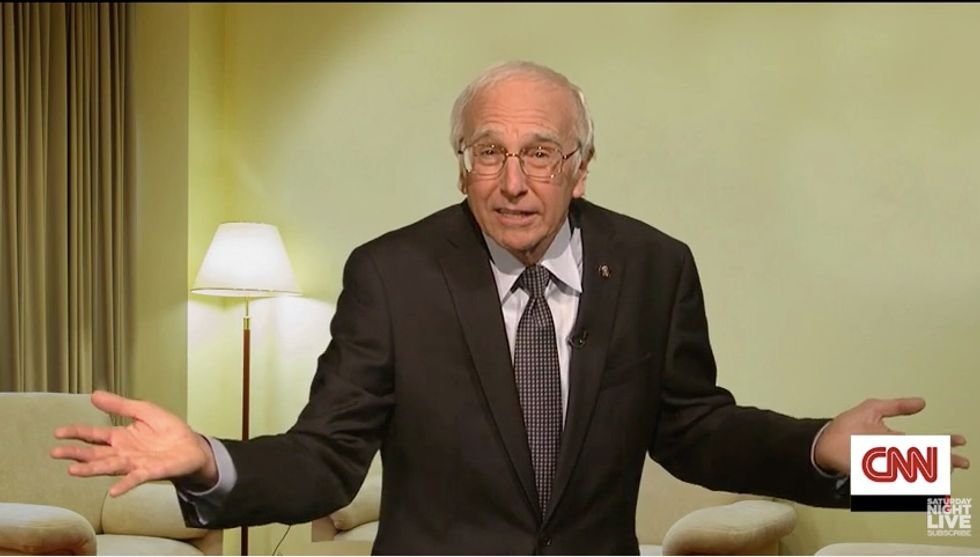 Image source: YouTube/Saturday Night Live
"I have the voters — my message is resonating with a very diverse group of white people," he said. "And I've got supporters of all ages — 18-year-olds, 19-year-olds. That's it. The young people love me, Tapper, because I'm like them. I've got a lot of big plans, and absolutely no idea how to achieve them."
After the interview, "CNN" cut back to the Florida Trump rally, where an "incident of violence" has just occurred. Tapper announced that Dr. Carson "was attacked by an angry mob that mistook him for a protestor."
"Guys, what did I say? Not this one. This is one of the good ones!" Trump shouted.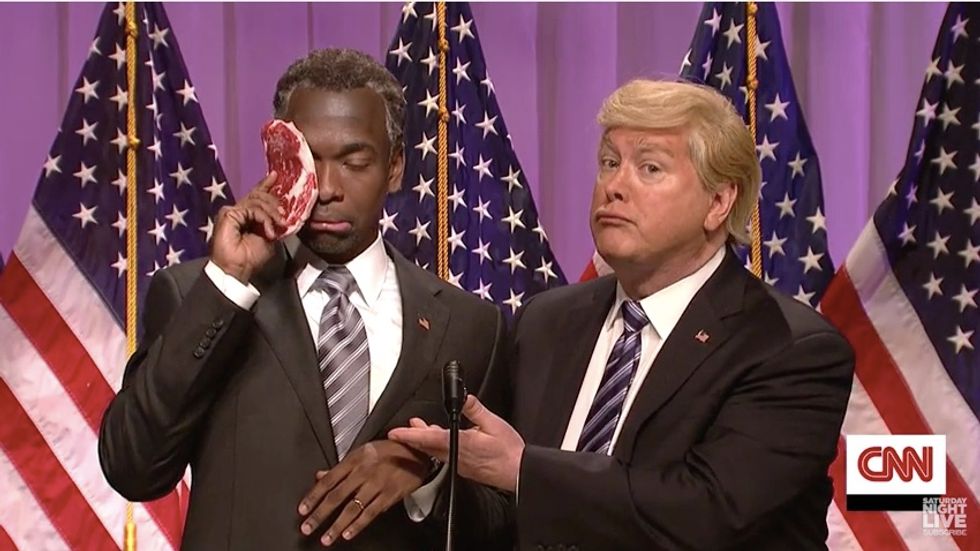 Image source: YouTube/Saturday Night Live
The skit parodied Friday's violent protests in Chicago, where a CBS News reporter was arrested for no apparent reason after following protestors out of the arena after the rally was cancelled.
"Don't worry," Trump said. "We've got a very classy Trump Steak on his eye."
"SNL" wasn't the first to joke about the Republican front-runner's self-titled t-bones. After Trump spent considerable time plugging Trump Steaks, Trump Water, Trump Wine and Trump Magazine in his lengthy press conference following his Super Tuesday 2 victories, more than one news report referred to the event as an "infomercial."
President Barack Obama spoke at a Democratic fundraiser Saturday in Austin, Texas, where devoted a portion of his speech to mocking Trump, mocking the presidential candidate for using his Super Tuesday 2 success as an opportunity to plug his various obscure-yet-successful business ventures.
Watch: