President Barack Obama hasn't been shy in reminding Democratic donors that the crowds of thousands — sometimes tens of thousands — of people showing up at Republican presidential candidate Donald Trump's rallies aren't that impressive.
And a comparison between the two campaigns would show Obama is correct.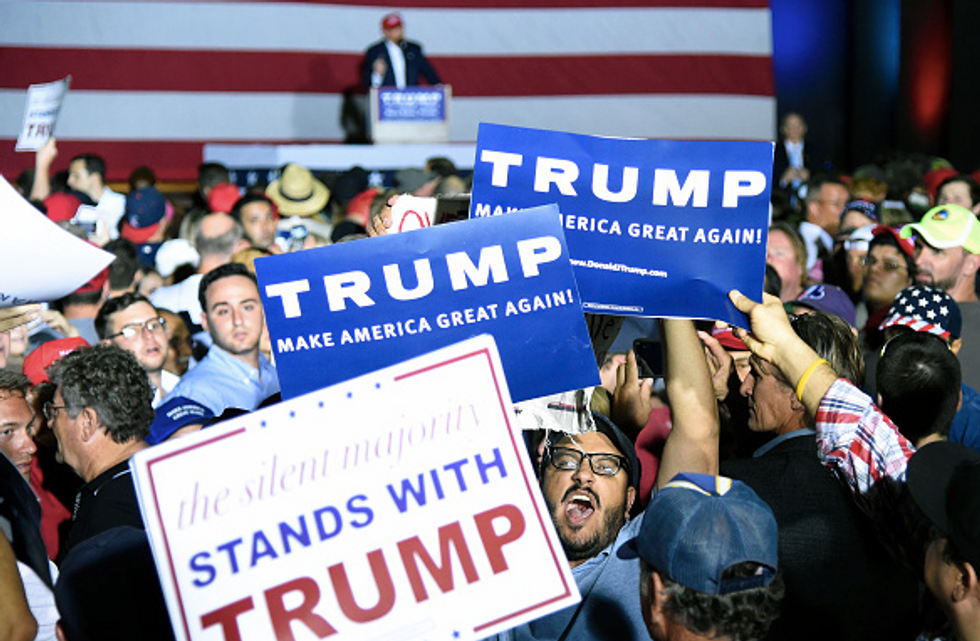 A protester is surrounded by Trump supporters as he tries to disrupt a rally for Republican presidential candidate Donald Trump on Sunday in Boca Raton, Florida. (Rhona Wise/AFP/Getty Images)
Trump has consistently boasted about his crowd sizes, which reached at least 30,000 early in the campaign but have leveled off considerably in recent months despite easily surpassing crowds of all other Republican rivals and Democratic front-runner Hillary Clinton.
"In 2008, we had rallies with 50,000, 80,000, 100,000 people. I'm not bragging, I'm just saying we had some big rallies," Obama told Democratic donors in Austin, Texas, Saturday. "Sometimes you hear folks say, 'Oh, that rally is big.' I say, 'I don't know. We had some pretty big rallies.' I'm just saying."
Trump said the planned rally in Obama's home town of Chicago — which was cancelled because of violent protesters — would have gotten 25,000. In January, he asserted his political movement was bigger than that of Ronald Reagan's movement because of the crowds.
The projected Chicago crowd was smaller than Trump's August crowd in Mobil, Alabama, where after multiple changes in venue to accommodate, 30,000 people attended.
In Pensacola, Florida, one of the most heavily Republican areas of the state, Trump drew more than 10,000. Trump has also drawn big crowds in heavily Democratic areas. He gained a crowd of 8,000 in Lowell, Massachusetts, meanwhile, well over 2,000 attended a Trump rally in Burlington, Vermont, which is the home state of Sen. Bernie Sanders, a Democratic presidential candidate.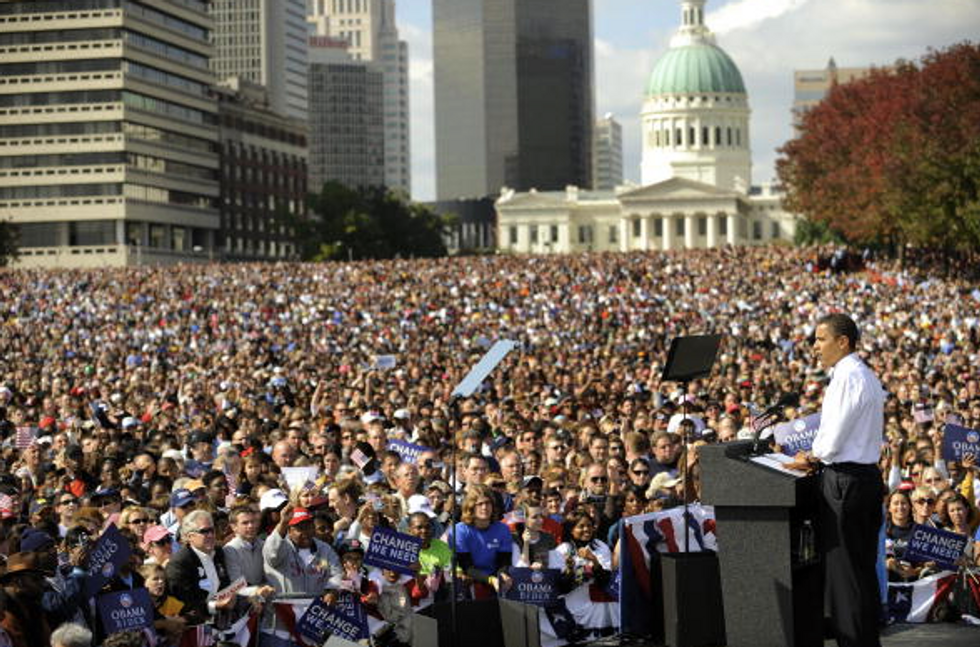 Then-Democratic presidential candidate Illinois Sen. Barack Obama speaks in front of some 100,000 people during a rally under the Gateway Arch in St. Louis, Missouri, Oct. 18, 2008. (Emmanuel Dunland/AFP/Getty Images)
Trump claimed he got 12,000 at a Little Rock, Arkansas, rally, however, that claim came under considerable question. Trump also got a crowd of 4,200 at a Phoenix rally.
These were all impressive crowds. Only Sanders comes close, having had some crowds of more than 10,000.
But these events don't come close in size to some of the Obama rallies of 2007 and 2008.
In October 2008, Obama got his largest crowd in the United States, when 100,000 attended a rally in St. Louis.
Of less importance, Obama drew 200,000 in Berlin that year, though the overwhelming majority were not voters.
In Portland, Oregon, 72,000 turned out to see Obama in May 2008. And he drew 35,000 for a rally in Philadelphia in April 2008.
Just as Trump has drawn big crowds in Democratic states, Obama got 20,000 for a rally in Austin in September 2007 in the lead up to the Democratic primary, which he lost to Hillary Clinton. He also lost the state to 2008 Republican nominee John McCain in the general election. In December 2007, Obama drew 29,000 at a Columbia, South Carolina, rally. He won the state's Democratic primary but lost in the general.