Notorious hacker group Anonymous has published what it says are GOP presidential front-runner Donald Trump's cell phone number, Social Security number and otherwise private information about him and his family.
The group announced the dox — or the publishing of information generally with a malicious intent — in a video Thursday night in which it blasts Trump as a candidate who promotes "an agenda of fascism and xenophobia, as well as the religious persecution of Muslims through totalitarian polices."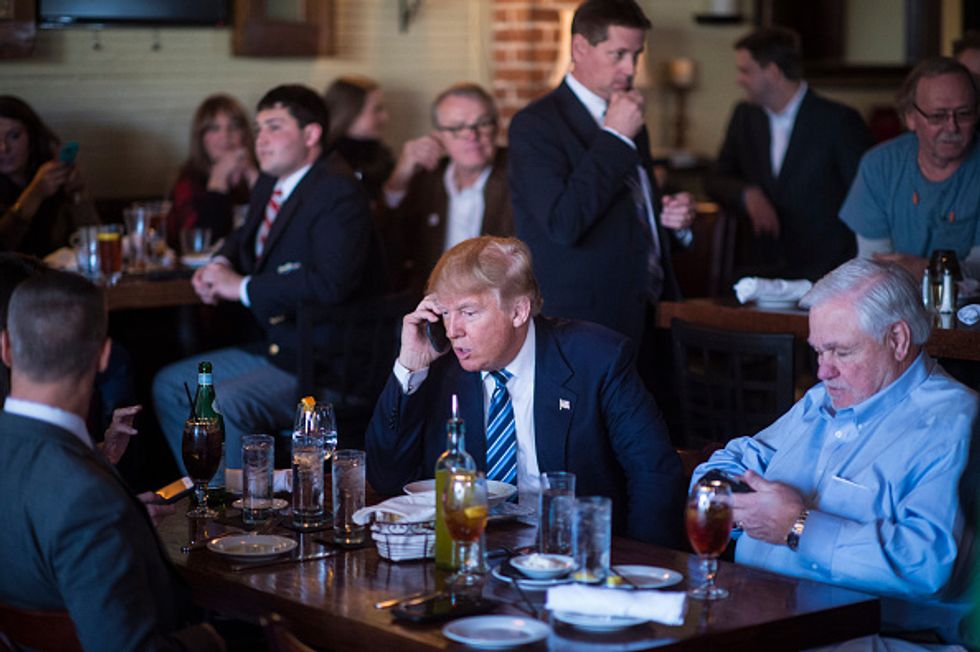 Republican presidential candidate Donald Trump talks talks on the phone while making a stop for lunch between campaign events at Fratello's Italian Tavern in North Charleston, South Carolina, Feb. 18. (Jabin Botsford/The Washington Post via Getty Images)
In links posted along with the video, Anonymous published what it claims to be Trump's personal cell phone number, his Social Security number and contact information attributed to his family members, agent and legal representative.
When TheBlaze called the cell phone number listed for Trump, it went straight to voicemail with a full mailbox. CNN Money reported that it had reached one of the family members listed who confirmed the authenticity of the telephone number.
The cell phone number listed was the same that Gawker published in August. Trump eventually set the phone to play a campaign message for callers, but that message was not played Friday morning.
Thank you @gawker! Call me on my cellphone 917.756.8000 and listen to my campaign message.

— Donald J. Trump (@Donald J. Trump) 1438702705.0
"The government and law enforcement authorities are seeking the arrest of the people responsible for attempting to illegally hack Mr. Trump's accounts and telephone information," Hope Hicks, Trump's communications director, told TheBlaze Friday morning.  
Anonymous declared a "total war" on the Republican presidential candidate and urged the group's followers to shut down Trump's websites with an attack on April Fool's Day. 
"This candidate has openly promoted violence against peaceful protesters, and his words have even been considered as possibly illegal incitement to violence and rioting by law enforcement," a voice in the video posted by Anonymous said. "Members of the military and law enforcement — even Secret Service — must remember their oaths to defend the Constitution itself, and the nation, against enemies 'both foreign and domestic.'"
"Donald Trump is an enemy of the Constitution and the natural rights it enshrines," the video continued.
Anonymous also posted public information pertaining to the billionaire businessman, such as the phone number and address to the Trump Organization in Manhattan.
—
Follow Kaitlyn Schallhorn (@K_Schallhorn) on Twitter