The man whom the Donald Trump campaign blamed for grabbing a protester at one of his rallies over the weekend apparently works for the billionaire businessman and presidential candidate.
Man Trump Blamed for Grabbing Protester Instead of Campaign Manager Also Works for Trump https://t.co/RQlDrXzVB2 https://t.co/1AkNkwpZ9j

— Mediaite (@Mediaite) 1458505410.0
Although Trump campaign manager Corey Lewandowski was widely accused of being the one who yanked a protester by the collar, Trump's campaign came out with a statement afterward, saying Lewandowski was not responsible for the incident.
Statement from Trump campaign RE video of campaign manager grabbing protestors collar. pic.twitter.com/jzqK5ZwQFk

— Jacqueline Alemany (@JaxAlemany) March 20, 2016
Instead, the campaign pinned the blame on the individual "reacting to the man who pulled, not Lewandowski."
But it appears as though that person also works for the Trump campaign. Here's a photo of a Trump security staffer detaining a man in Chicago for running up on the stage.
Look familiar?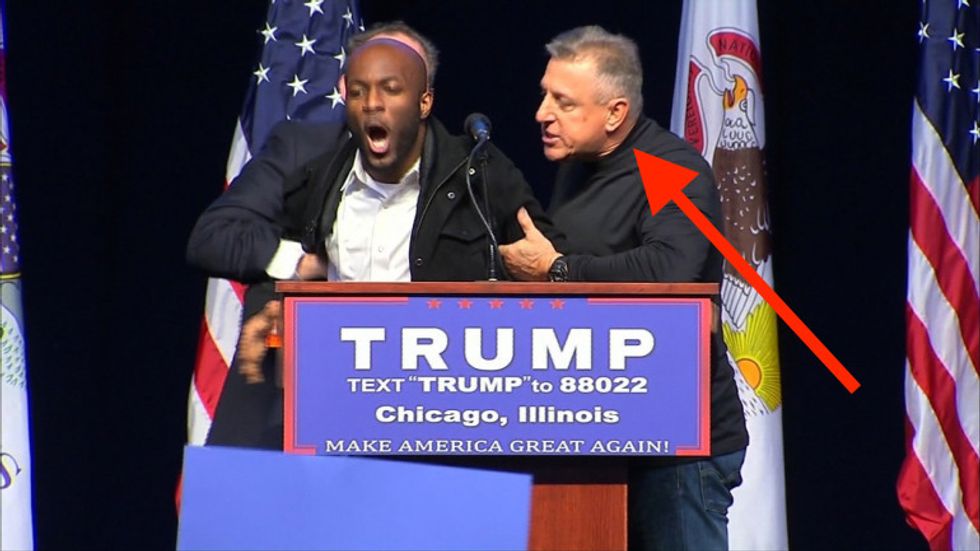 Image source: YouTube
When asked by Politico why it did not disclose that the second individual was also a staffer, the Trump campaign said, "Although we did not identify this individual, we did not make any suggestion as to his affiliation or lack thereof."
(H/T: Mediaite)
–
Follow the author of this story on Twitter and Facebook: