Belgian prosecutor Frederic Van Leeuw on Wednesday identified two brothers as the suicide bombers in Tuesday's deadly attacks in Brussels as law enforcement probes for possible connections to the Paris attackers.
The brothers are Ibrahim El Bakraoui, a suicide bomber at the airport, and Khalid El Bakraoui, who attacked the metro station.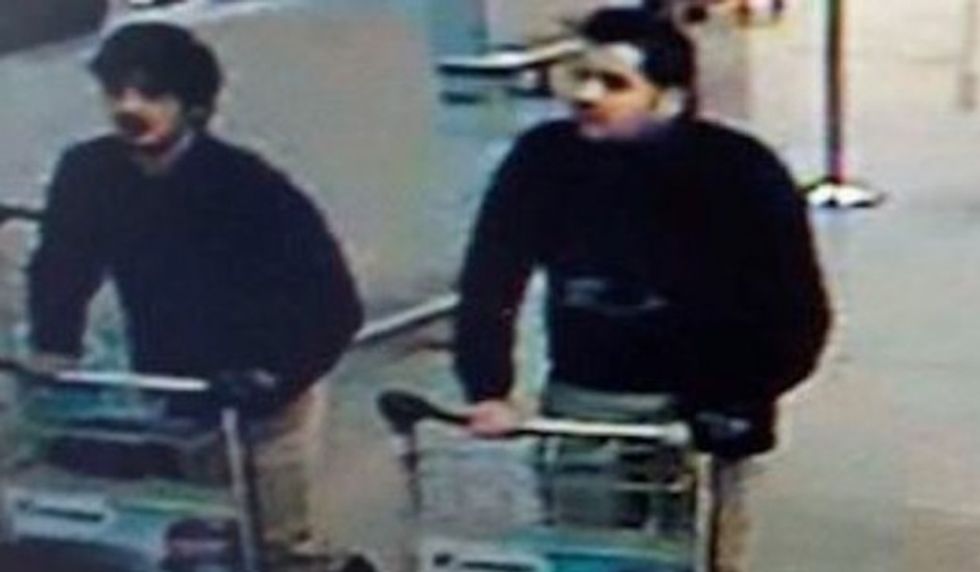 Image source: Belgium Police
Quoting an unnamed source, RTBF reported that the brothers are known to police for criminal activity, according to a translation of the report by Britain's Telegraph.
CNN airing images of El Bakraoui brothers obtained by Belgian newspaper DH pic.twitter.com/z8dhd5vAbY

— Oliver Darcy (@oliverdarcy) March 23, 2016
Britain's Guardian, citing the Belgian report, said that the brothers had "had clear links to November's Paris attacks."
According to the report, there were three separate apparent connections to the Paris attacks. The first: that one of the brothers rented an apartment in the Forest area of Brussels which police raided last week where Paris attacks suspect Salah Abdeslam had been present.
In the raid of the apartment, police found an Islamic State flag, a rifle, detonators and a fingerprint of Salah Abdeslam. He was arrested later last week.
The second connection to Paris, per the Guardian citation of the Belgian report, was that one of the brothers named as a Brussels airport attacker had rented a hideout in Charleroi in Belgium for the Paris attack team. Two of the squad members were named as Paris ringleader Abdelhamid Abaaoud and Bilal Hadfi, one of the sports stadium suicide bombers.
The third alleged connection to Paris: RTBF reported that one of the brothers is believed to have collected weapons for the Paris attacks which killed 130 people.
The Guardian called the reported connection of the men to last week's police raids in Brussels looking for the key fugitive in the Paris attacks "a very significant development."
Though the brothers have criminal records, they had not been linked by the police to terrorism until now according to RTBF.
TheBlaze's Oliver Darcy contributed to this report.