Former Secretary of State Hillary Clinton and her presidential campaign staff have insisted that she did not use her private email address for official business until March 2009. However, on Thursday, an email between the then-secretary and her chief of staff from February 2009 surfaced.
The message between Clinton and her chief of staff, Cheryl Mills, dated Feb. 13, 2009, was about Clinton's BlackBerry and the security issues surrounding it. Government watchdog group Judicial Watch obtained the email through a Freedom of Information Act lawsuit.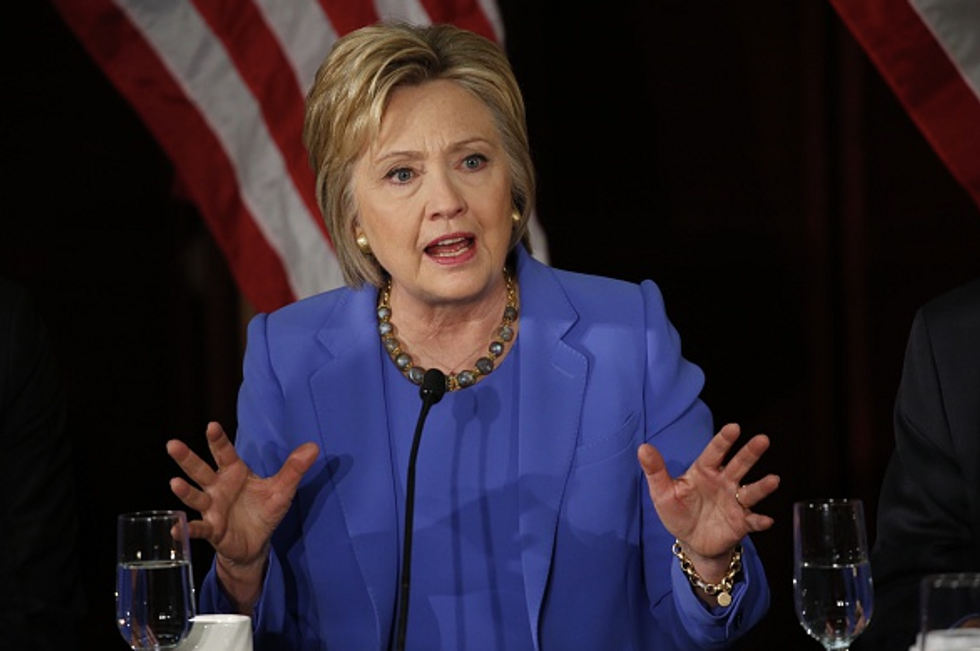 Al Seib/Los Angeles Times
The Hillary Clinton campaign site, under the heading of "The Facts About Hillary Clinton's Emails," says:
On December 5, 2014, 30,490 copies of work or potentially work-related emails sent and received by Clinton from March 18, 2009, to February 1, 2013, were provided to the State Department. This totaled roughly 55,000 pages. More than 90% of her work or potentially work-related emails provided to the Department were already in the State Department's record-keeping system because those e-mails were sent to or received by "state.gov" accounts.
In response to a court order in other Judicial Watch litigation, Clinton said in a statement under oath:
I, Hillary Rodham Clinton, declare under penalty of perjury that the following is true and correct:

1 While I do not know what information may be "responsive" for purposes of this lawsuit, I have directed that all my e-mails on clintonemail.com in my custody that were or potentially were federal records to be provided to the Department of State, and on information and belief, this has been done.

2 As a result of my directive, approximately 55,000 pages of these emails were produced to the Department on December 5, 2014.

3 Cheryl Mills did not have an account on clintonemail.com. Huma Abedin did have such an account which was used at times for government business.
The Feb. 13, 2009, email from Mills to the hdr22@clintonmail.com address about Clinton's BlackBerry, referred to as "BB," said: "In meeting with the NSA person today ([Redacted] NSA's rep to DOS) — she indicated they could address our BB so that BB could work in the sciff [Sensitive Compartmented Information Facility] and be secure based upon some modifications that could be done to each BB (more below)."
"So now we know that, contrary to her statement under oath suggesting otherwise, Hillary Clinton did not turn over all her government emails," Judicial Watch President Tom Fitton said in a statement.  "We also know why Hillary Clinton falsely suggests she didn't use clintonemail.com account prior to March, 18, 2009 — because she didn't want Americans to know about her February 13, 2009, email that shows that she knew her Blackberry and email use was not secure."
Clinton responded via email the same day, saying, "That's good news."
Previous emails obtained by Judicial Watch show the National Security Agency resisted initial attempts for Clinton to do public business on a BlackBerry.
The Clinton campaign did not immediately respond to inquiries from TheBlaze.