Syndicated columnist Ann Coulter and Donald Trump campaign manager Corey Lewandowski on Friday tweeted out a link to a hoax news story.
The parody news story was hosted on a website that aimed to mimic the look of ABC News and was about a Trump protester who said he was given $3,500 to demonstrate at a rally.
Again, the story was entirely false. There was even a note at the bottom strongly hinting at it.
But, that didn't stop Coulter or Lewandowski from spreading the story.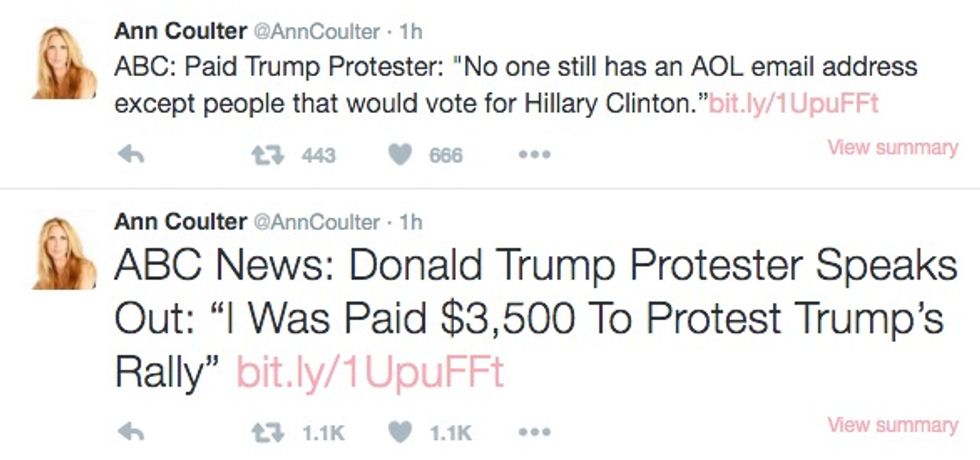 Image source: Twitter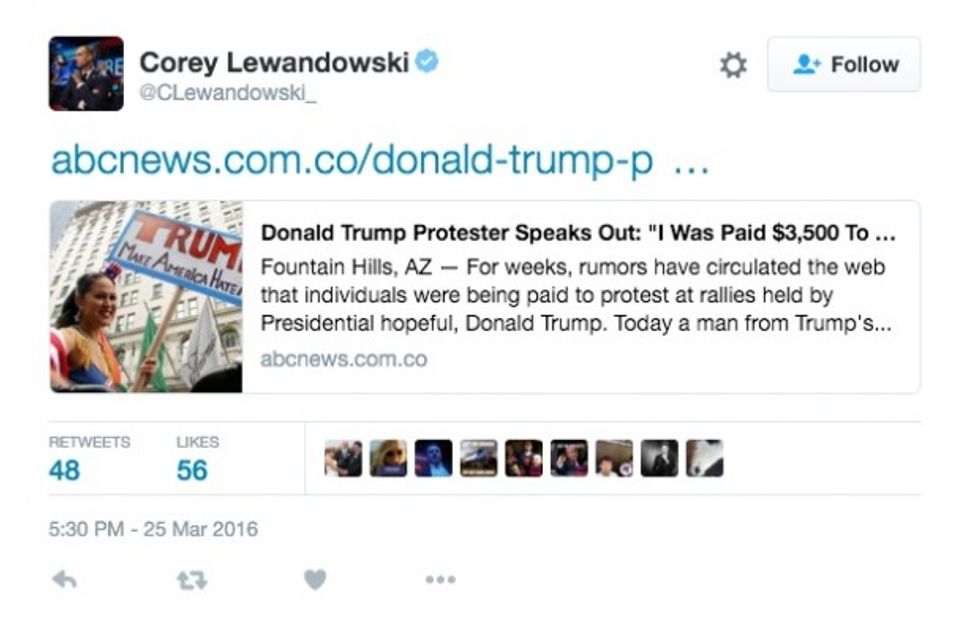 Image source: Twitter
Immediately after posting the tweets, many Trump supporters, seemingly unaware it was a hoax story, wondered why the "mainstream media" wasn't investigating.
@brithume @howiekurtz @neilcavuto #SpecialReport @JoeNBC @wolfblitzer @AC360 #Dobbs Will u report? https://t.co/UVOUUxJ2VH via @ABC News

— 🇺🇸Joan Pitre Text TRUMP to 88022 (@🇺🇸Joan Pitre Text TRUMP to 88022) 1458943623.0
@KatyTurNBC What Katy won't tell followers: 37-y/o Paul Horner said he was paid $3,500 to protest at Trump rally. https://t.co/gxjfDA8Sxt

— Nicholas Kadar (@Nicholas Kadar) 1458943256.0
Finally, about an hour after Coulter posted the pair of tweets, she removed them from her account. No retraction was issued.
At the time of publication, the link remained active on Lewandowski's account. A spokesperson for Trump's campaign was not immediately available for comment.
UPDATE, 7:02 p.m. ET: Coulter later acknowledged in a tweet that the story was "fake."
You're right, fake site. AOL quote was hilarious though. https://t.co/epof1cFWqf

— Ann Coulter (@Ann Coulter) 1458946014.0
UPDATE, 7:09 p.m. ET: Lewandowski removed the tweet from his account.
—
Follow the author of this story on Twitter and Facebook: