Tens of thousands of people have signed a petition to call for a special addition to the Republican National Convention in Cleveland this summer — guns.
More than 42,000 people have added their names to a Change.org petition, which noted that, despite Ohio's open carry laws, the Quicken Loans Arena — the convention's venue — explicitly forbids "firearms and other weapons of any kind" on the grounds.
"This is a direct affront to the Second Amendment and puts all attendees at risk," the petition states. "As the National Rifle Association has made clear, 'gun-free zones' such as the Quicken Loans Arena are 'the worst and most dangerous of all lies.' The NRA, our leading defender of gun rights, has also correctly pointed out that 'gun free zones ... tell every insane killer in America ... (the) safest place to inflict maximum mayhem with minimum risk.'"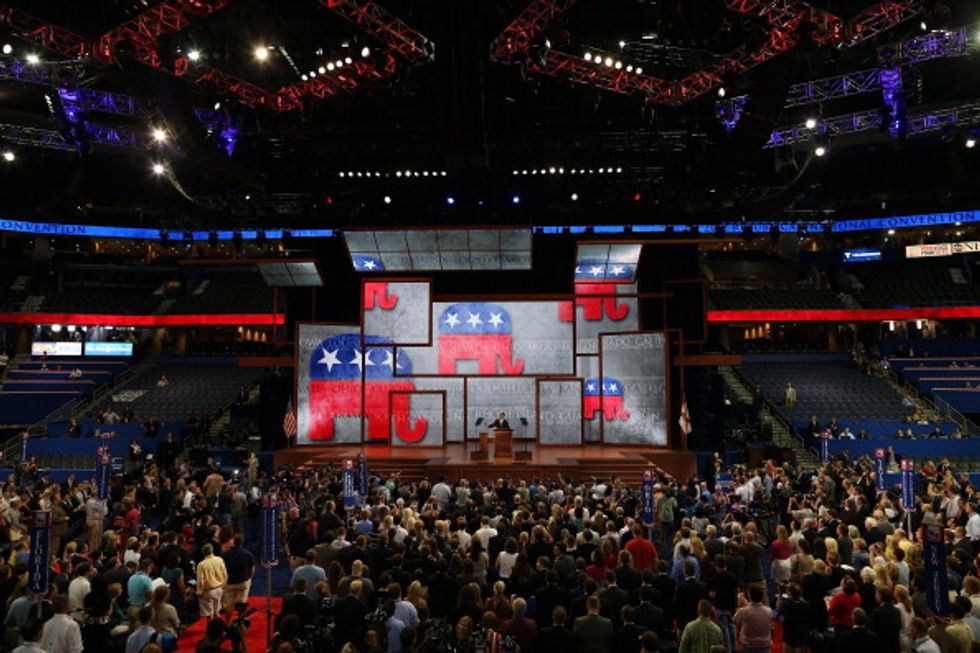 RNC Chairman Reince Priebus bangs the gavel to start the 2012 epublican National Convention at the Tampa Bay Times Forum in Tampa, Florida. (Photo by Mark Wilson/Getty Images)
Max Burns, a spokesman for Change.org, told TheBlaze that the petition has "picked up nearly 10,000 signatures in the past 24 hours, and the pace of growth is accelerating." Burns said a whole variety of media outlets and online sites have reported on the petition — ranging from Gawker to Fox News to 4chan.
"The big debate I'm seeing seems to be whether it's satire or not — outsider groups (4chan, some left of center media) are definitely treating it as sarcasm/trolling, but I've seen some cogent debates about the merits of the petition as serious," Burns observed.
Many of the comments on the petition appear to support the theory that it was created in as an epic trolling of Republicans.
"Because I think I think nothing bad can happen when Angry armed drunk republicans are in the same arena [sic]," Charlie Monsanto of Brooklyn wrote.
"Let's see if your candidates are so desperate to kiss your asses that they'll appear in front of a sea of armed rednecks," Allen Hanford of Philadelphia commented.
"Why am I signing? You NRA retards asked for it. I am all for a flood of toothless inbreds taking loaded firearms into the GOP Convention. AMERICA!!" signed Nicholas Stafford of East Lansing, Michigan.
The petition has also garnered strong social media commentary.
Help may this RNC the safest convention in history! https://t.co/1eq5uyYM2t via @Change

— Danny Zuker (@Danny Zuker) 1459019498.0
Let them live with their own delusion https://t.co/uTptJZXG3O

— Sir Arthur Palgrove (@Sir Arthur Palgrove) 1458934277.0
I love the creator of this petition https://t.co/7UkJo8ff1n

— Christina Cauterucci (@Christina Cauterucci) 1458934197.0
If guns make us safe—and more guns make us more safer—then the RNC should totally want #OpenCarry at GOP convention: https://t.co/cfFLnJvHUk

— Dan Savage (@Dan Savage) 1458859717.0
The petition draws on comments that each of the remaining GOP presidential candidates have made regarding gun-free zones, including heralding Ohio Gov. John Kasich as a "leader in this movement" to eradicate gun-free zones and praising his "brave decision to fight the Democrats and end 'gun-free zones' at the National Guard facilities in Ohio."
GOP presidential front-runner Donald Trump responded to the petition on Sunday with a promise to look closer at it. During an interview with ABC's "This Week," Trump said that was the first that he had heard of the petition but as he's a "very, very strong person for the Second Amendment," he would look into it.
"I have not seen the petition. I want to see what it says. I want to read the fine print," Trump said.
The petition states:
Cleveland, Ohio is consistently ranked as one of the top ten most dangerous cities in America. By forcing attendees to leave their firearms at home, the RNC and Quicken Loans Arena are putting tens of thousands of people at risk both inside and outside of the convention site.

This doesn't even begin to factor in the possibility of an ISIS terrorist attack on the arena during the convention. Without the right to protect themselves, those at the Quicken Loans Arena will be sitting ducks, utterly helpless against evil-doers, criminals or others who wish to threaten the American way of life.

All three remaining Republican candidates have spoken out on the issue and are unified in their opposition to Barack HUSSEIN Obama's "gun-free zones."
Firearms were reportedly banned at the 2012 convention held in Tampa. 
The creator of the petition was unable to be reached Monday.
—
Follow Kaitlyn Schallhorn (@K_Schallhorn) on Twitter