After an Easter Day shooting in Detroit resulted in the death of a 3-year-old child, with two others injured, Mayor Mike Duggan voiced his grief regarding the city's widespread violence.
"I don't know what the world's coming to that on Easter Day you kick in a door and start shooting up a house with children," Duggan told WWJ-TV Monday.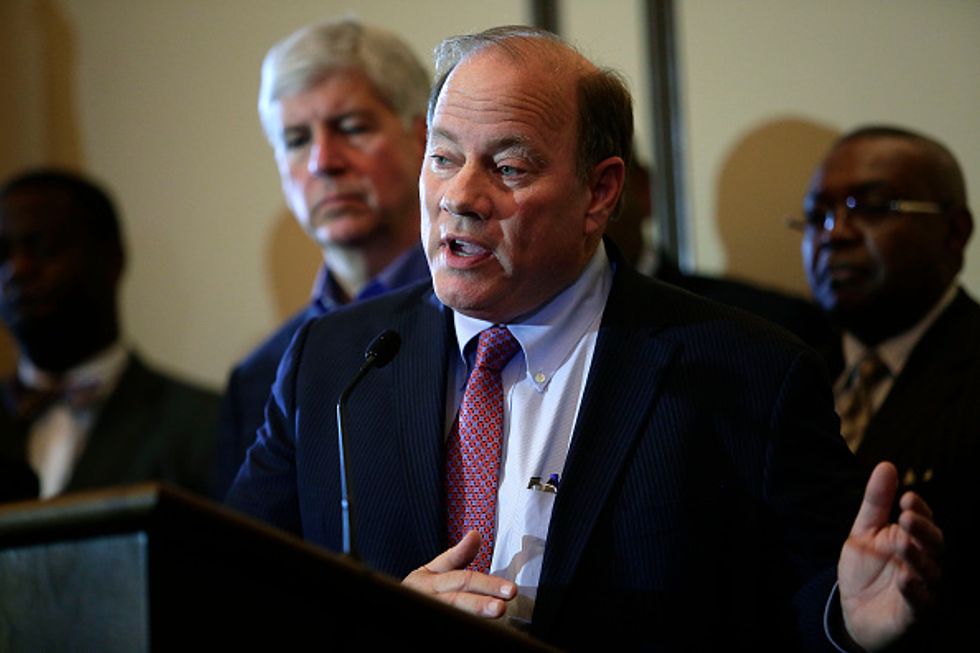 Detroit Mayor Mike Duggan. (Joshua Lott/Getty Images)
Detroit police have arrested two people in connection with the shooting, WWJ reported.
According to police, the first shots were fired Sunday morning shortly after the suspected gunmen burst into a home.
"It's just a terrible event, and I know the police department is on top of it, but … this city is just much too violent," Duggan said.
They stopped to reload, police said, and then shot some more, killing the toddler.
Victims in the shooting included the 3-year-old, later identified as Anaiya Denise Montgomery, as well as two men, ages 26 and 39. WWJ reported Monday that the 39-year-old remained hospitalized and was in critical condition. The 26-year-old victim was reported as stable.
The Wayne County Medical Examiner ruled Anaiya's death a homicide.
According to WWJ authorities had initially described the suspects in custody as two 23-year-old men. Police have deemed the men "persons of interest" and are still searching for a third suspect — another man, around 6 feet tall, who wore all gray clothing and drives a light-colored Mercury Grand Marquis.
Police did not offer any further information regarding a possible motive or any potential connection between the shooters and victims.