State Department spokesman John Kirby was quick to shut down questions today regarding a supposed U.S. plot to execute a coup of Turkey's government ahead of President Recep Tayyip Erdogan's visit to Washington.
A reporter at Monday's State Department briefing pressed Kirby on reports that the U.S. government has attempted to overthrow Erdogan's own government. The journalist said that the reports ran in outlets that are "very close to Erdogan government," including in a Russian publication. Which means that "there is no way the editorial can be run without President Erdogan and the government's knowledge," he added.
Kirby tersely shut down the accusation and said he was "not going to dignify it with an answer."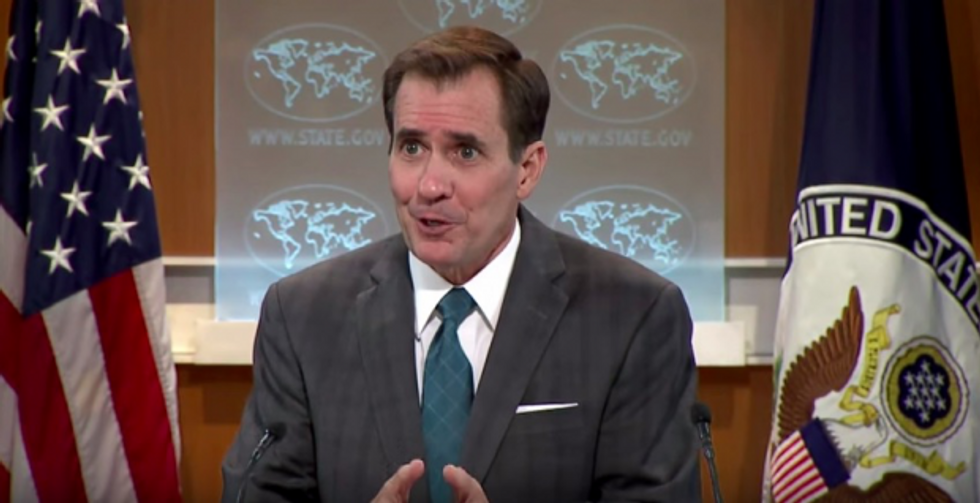 State Department spokesman, John Kirby, quickly shuts down a reporter's question regarding an alleged plot by the U.S. to overthrow Turkey's government. (Image source: YouTube)
"I don't care who [the reports are] coming from," Kirby said. "It's ridiculous and it doesn't merit a response by the United States of America."
Erdogan's visit to the U.S. as he attends President Barack Obama's nuclear security summit was marked with an ordinance Tuesday by the State Department and Pentagon for families of U.S. diplomats and military personnel to vacate the southern part of Turkey due to security concerns.
There are no plans currently in place for Obama and Erdogan to have a one-on-one meeting while the leader of the U.S. NATO ally is in the country.
Kirby told reporters Monday that the relationship between the U.S. and Turkey "is a very important bilateral relationship" to the American government.
"We take it very, very seriously as we know the Turks do as well," he said. "There is an awful lot to talk about. We've talked before that we don't always agree on everything — media freedom is one of them. But that's the strength of a healthy relationship when you can disagree and still have productive discussions about the things that are common threats and challenges — such as terrorism, such as Daesh."
—
Follow Kaitlyn Schallhorn (@K_Schallhorn) on Twitter