The National Border Patrol Council, a union representing border patrol agents, endorsed Republican presidential candidate Donald Trump on Wednesday.
The endorsement is the organization's first in a presidential primary.
"I am ... especially honored that they would break with their past precedent of not endorsing in presidential primaries in order to endorse my candidacy," Trump said in a statement. "This endorsement represents a total rejection of the corrupt politicians who have allowed transnational gangs and cartels to terrorize American communities."
Trump called the union "the official body representing America's front-line Border Patrol Agents" who "sacrifice every day, under intolerable political restraints, to keep America safe."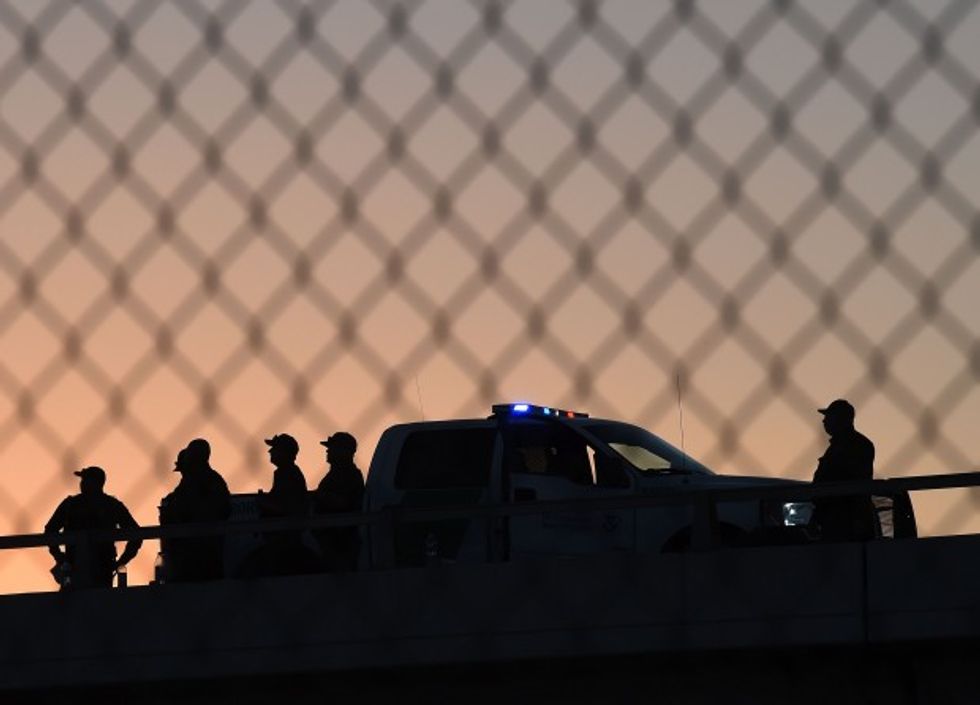 US Border Patrol officers keep along the border fence separating US and Mexico in the town of El Paso, Texas on February 17, 2016. (Photo: MARK RALSTON/AFP/Getty Images)
"The NBPC provides the vital outlet to learn the truth - not the political spin from bureaucrats - about what is really happening on our border," Trump said. "And the NBPC has been the one outlet these agents have to prevent their voice from being drowned out by big money special interests. As President, I will work tirelessly with the NBPC and their rank-and-file agents to secure our border once and for all."
In a statement, the NBPC said that Trump has "pledged to bring about aggressive pro-American change."
"Mr. Trump is as bold and outspoken as other world leaders who put their country's interests ahead of all else," the NBPC said. "Americans deserve to benefit for once instead of always paying and apologizing. Our current political establishment has bled this country dry, sees their power evaporating, and isn't listening to voters who do all the heavy lifting. Trump is opposed by the established powers specifically because they know he is the only candidate who actually threatens the established powers that have betrayed this country."
"There is no greater physical or economic threat to Americans today than our open border," the NBPC said. "And there is no greater political threat than the control of Washington by special interests. In view of these threats, the National Border Patrol Council endorses Donald J. Trump for President – and asks the American people to support Mr. Trump in his mission to finally secure the border of the United States of America, before it is too late."
The union represents about 16,500 agents.
According to their website, the NBPC "is restricted by federal regulations from making political contributions to political parties or candidates."