Police in Austin, Texas, are investigating a video that shows two of its officer punching a man in the head while he's on the ground just moments after he was pulled over and cops discovered he had a felony warrant.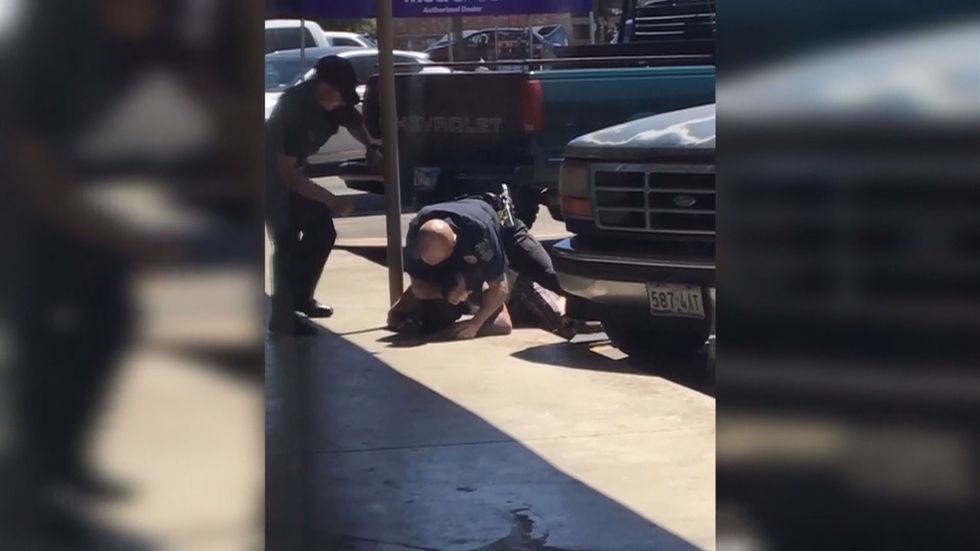 Image source: KVUE-TV
"The one cop, as you can see from the video, was actually pulling his arm," one woman, who did not want to be identified, told KVUE-TV. "He was on the ground saying 'I'm down, I'm not a threat.'"
But that's when the woman said police "slammed him into the vehicle and busted his face some more."
"Just punching him in the head and screaming for the other officer to punch him in the face," the woman added. "You can see his hesitation in the video and then he punched him in the face."
The man, whose identity was not immediately clear, had been pulled over for driving backward.
Police discovered after stopping him that he had a felony warrant. His previous alleged crimes include assault, driving while intoxicated, possession of a dangerous drug, theft, failure to identify, burglary of a vehicle, evading arrest, aggravated robbery and attempted assault on a public servant.
Despite the man's record, however, the video has raised new questions about the use of force by police. In this instance, the woman who spoke with KVUE said police might have taken their job a step too far.
"There's a fine line between abuse and protecting," she said.
(H/T: KVUE-TV)
—
Follow the author of this story on Twitter and Facebook: