The vast majority of Americans believe that the Bible is "sacred literature" that "contains everything a person needs to know to lead a meaningful life," with 80 percent of the public embracing this sentiment, according to the "State of the Bible 2016" study.
The Bible's continued impact and pertinence is clear, specifically during an election year in which candidates' faiths and beliefs are often under a public microscope, with the survey, conducted by the Barna Group on behalf of the American Bible Society, also finding that 51 percent of the public believes that politics would be more civil if politicians regularly read the scriptures.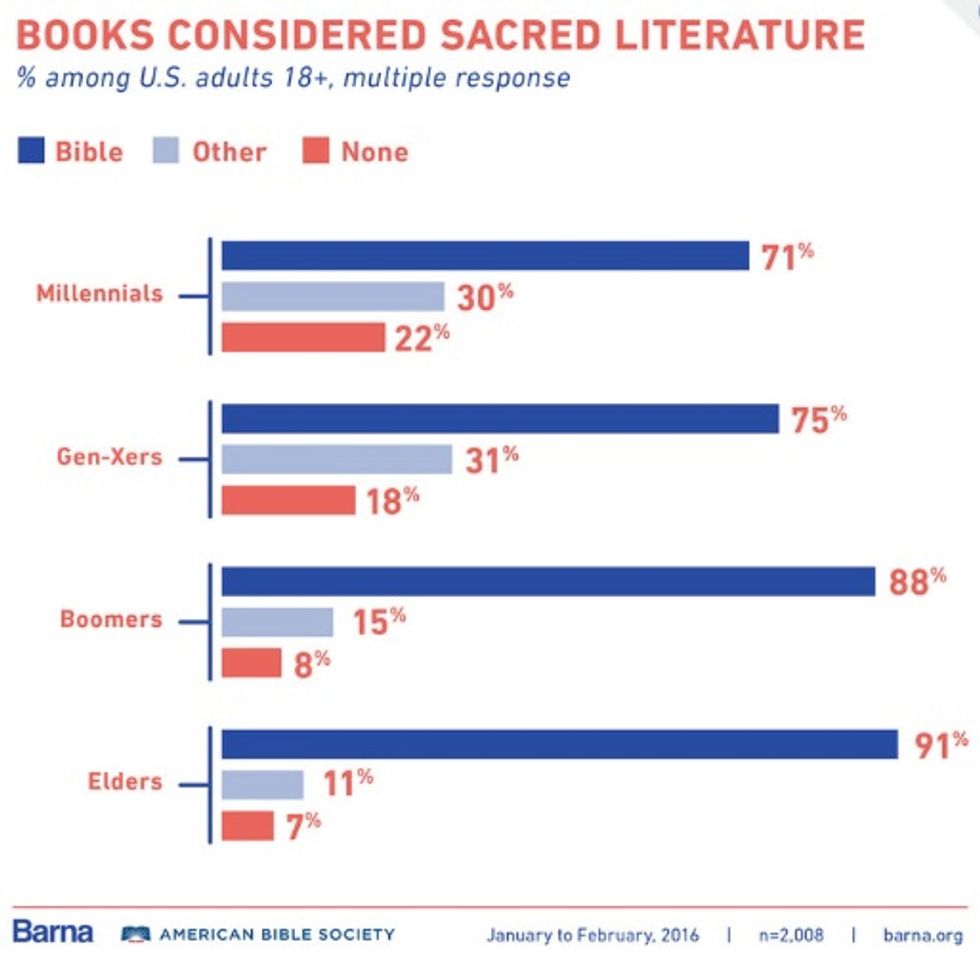 American Bible Society/Barna
And the intriguing findings don't end there.
Fifty-three percent of Americans also believe that politicians, themselves, would be more effective if they regularly read the Bible, with 46 percent of respondents saying that they wish that the Bible had a greater impact on society more broadly.
"From the ten commandments to the golden rule, the Bible certainly contains principles for political discourse — even for the non-Christian," Roxanne Stone, editor in chief of Barna Group, said in a statement. "And for Americans, who are steeped in both a historical and present Christian cultural influence, the Bible remains an important moral document, not just a religious one."
Photo credit: Shutterstock 
While there is broad support for the Bible overall, the Millennial generation's views on the effectiveness of the Bible differ a bit from older cohorts, as they express more skepticism about whether Bible reading would assist in societal and political effectiveness.
Only 31 percent of Millennials (those ages 18 to 31) believe that politics would be more civil with increased Bible reading, compared to 66 percent of Baby Boomers; similar dynamics unfolded among other indicators as well.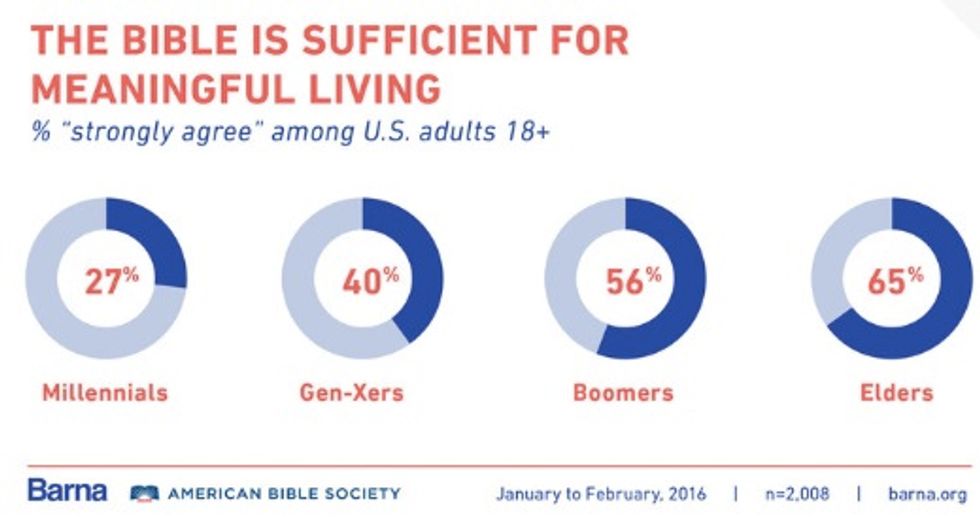 American Bible Society/Barna
"As Gen-Xers and Millennials — and the generation following them — grow skeptical of the Bible's value, they also question its role in society," Stone explained. "In a world where the blending of religion and politics is seen as increasingly dangerous and extreme, it's not a surprise to see young people hesitant about granting political influence to a religious document of any kind."
Read more about the results here.
To collect these results, the Barna Group conducted two surveys — one via phone and one online — between January and February of 2016.
--
Front page image via Shutterstock.com.
--
Follow the author of this story on Twitter and Facebook: